In a bid to increase live viewers, Saturday Night Live plans to reduce commercials by 30% — and data from YouGov Profiles suggests it's a good move
Last week, NBC's Saturday Night Live announced plans to cut two entire commercial breaks from each 90-minute episode, amounting to a 30% deduction in advertising interruptions per broadcast. The change is scheduled to begin next fall, when the sketch comedy institution enters its 42nd season.
SNL creator and executive producer, Lorne Michaels, said the shake-up should make the program easier to watch live, as over the decades commercials have received more and more airtime. To recoup lost revenue, SNL will offer companies the opportunity to co-create original branded content, which will air six times per year.
While the move away from traditional ads in favor of branded content isn't entirely new, it's a trend that's gaining momentum across several mediums (Turner and A&E's Viceland, for example, also have plans to cut back on primetime ad minutes). For Saturday Night Live in particular, the decision is a wise one. Data from YouGov Profiles shows that people who like SNL tend to be more hostile to conventional advertising than the average person. 84% of SNL fans, for instance, feel bombarded by various ads and promos, while more than 50% press the mute button during commercial breaks, anyway.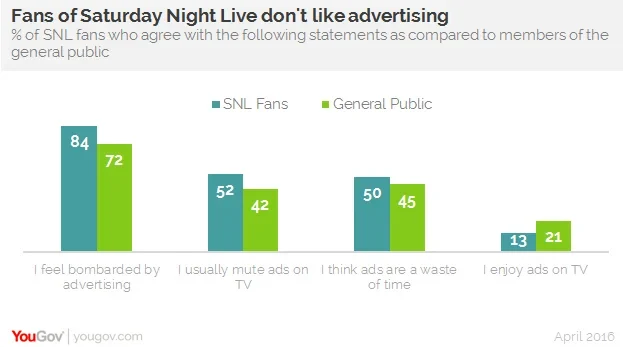 So, what types of ads might SNL fans like? If branded content is the future, what would they enjoy watching? YouGov Profiles shows that this demographic prefers "real-looking" folks and, unsurprisingly, ads that entertain. Shouldn't be a problem for the cast and crew of Saturday Night Live.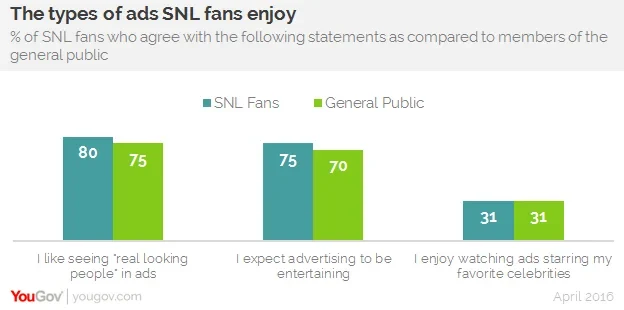 With smartphones, tablets, and various streaming services growing more pervasive by the minute, a fragmented media landscape where everyone watches his or her favorite shows at different times throughout the day might feel inevitable. With a little data-based innovation and willingness to experiment with branded content, however, fans of Saturday Night Live might continue watching their favorite show then: live, on Saturday night.