Data from YouGov Profiles suggests that, even after the acquisition, Microsoft users will require more convincing before signing up for the career-centric social network
On Monday, Microsoft announced that it had acquired the social networking site LinkedIn for $26.2 billion in cash, making it one of the biggest deals in tech history. According to Microsoft CEO Satya Nadella, the essential idea is to unite the tools professionals use to work (Microsoft Office) with the platform professionals use to discuss work (LinkedIn). It sounds like a sensible plan to boost engagement for both parties.
New data from YouGov Profiles, however, reveals a potential challenge in the strategy: it turns out each company's customer base is composed of quite different kinds of people.
A review of customers who've used either Microsoft or LinkedIn in the past 90 days suggests first and foremost a divergence in attitudes toward their careers. 51% of LinkedIn users, for example, are willing to sacrifice their spare time to advance their career, and the same percentage are motivated more by career progression than money. Both of these are substantially above the national average. Microsoft users, on the other hand, come in at 45% and 40%, respectively — the latter percentage falling below the national average. Overall, Microsoft customers are actually less career-minded than the average American, let alone LinkedIn customers.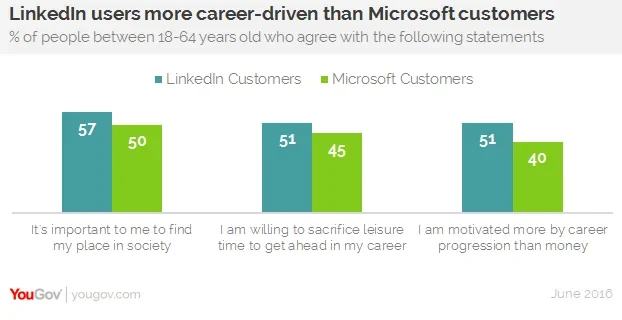 Taken from a different viewpoint, LinkedIn customers are more metropolitan and self-conscious. They are more concerned with how they appear on social media platforms, and more inclined to say it's important to feel attractive. In addition, nearly 70% of Microsoft customers claim they don't care what other people think about them, while that's true for only 55% of the LinkedIn crowd. Although these datapoints aren't career-specific, they do suggest a proclivity for LinkedIn users to want to win over strangers and participate in networking-like situations, which may not come naturally to most Microsoft customers.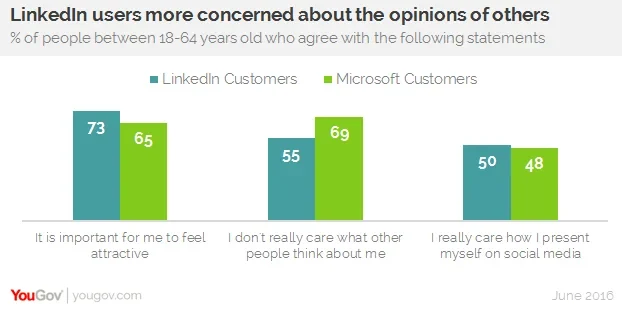 At present, LinkedIn has a reported 430 million users, yet only a modest percentage tend to engage with the social network on a regular basis. Microsoft is hoping to change this by transforming the service from a platform where people go to find a new job to an integral part of office life, like Word or Excel.
The challenge, however, will be converting people with a Microsoft mindset who may not buy into the concept or brand values of a professional social networking site like LinkedIn.