As the UFC hits mainstream, new data reveals the cars, clothes, spirits, and tech that fans of the sport are likely to buy next
After Hollywood talent agency WME | IMG bought Ultimate Fighting Championship for $4 billion this past July, it became difficult to deny that mixed martial arts had hit the bigtime. Now that the UFC is scheduled to host its first event at New York City's legendary Madison Square Garden on November 12, denial is impossible.
Major sponsors, such as Anheuser-Busch InBev, Harley-Davidson, and Reebok, have already taken advantage of people's growing devotion to the sport that Adweek reports is now "bigger than baseball." But what other brands show signs that they, too, could benefit from partnering with the UFC?

New data from YouGov Profiles shows that 70% of people who've either attended a UFC event or watched one on TV within the past year are males aged 18-49 — probably not surprising given all the blood and violence on display. When comparing these UFC fans to American males aged 18-49 as a whole, however, different attitudes toward specific brands emerge.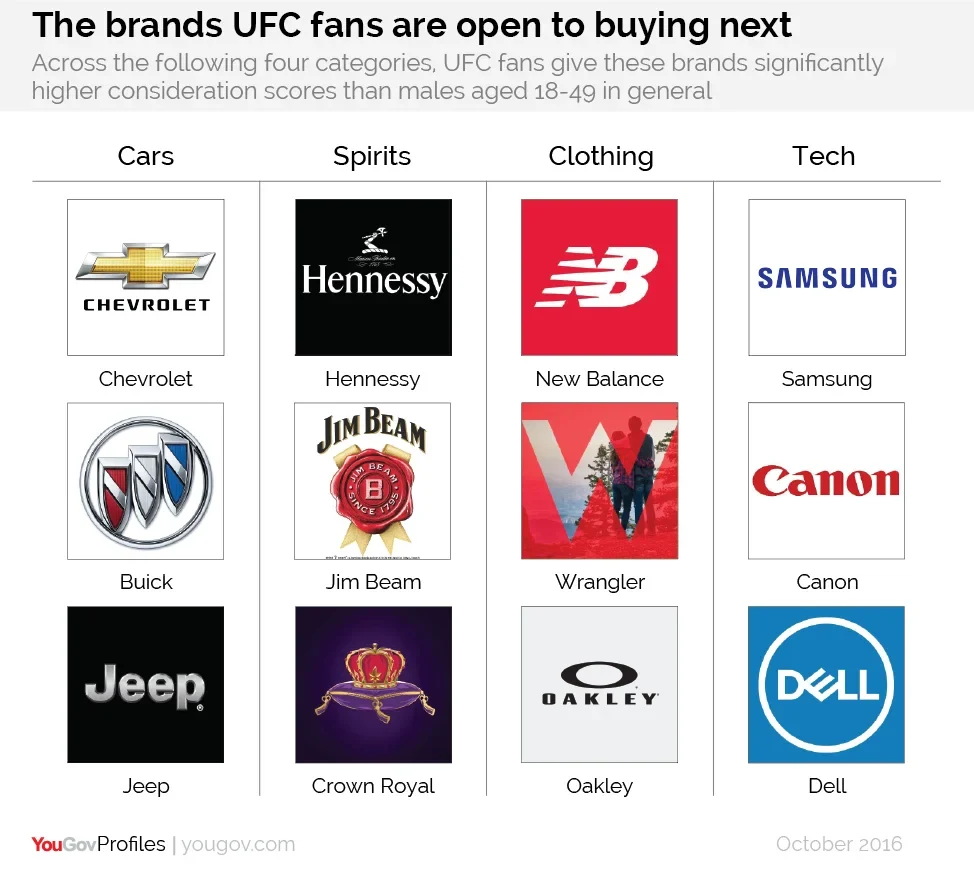 A look at multiple tech brands, for example, reveals that 49% of UFC fans would consider purchasing a Samsung product when next on the market for a new device, compared to just 37% of men aged 18-49.
Other brands that UFC fans are significantly more likely to consider purchasing than individuals who share a similar background include Chevrolet, Buick, and Jeep for cars, Hennessy, Jim Beam, and Crown Royal for spirits, and New Balance, Wrangler, and Oakley for apparel.
Two people fighting in a cage might not appeal to all segments of society, but the spectacle has achieved mainstream status. The potential for marketers looking to reach particular members of a sought-after demographic is enormous.