The hand tools industry is experiencing a quality perception decline as spring gardening and repair season is in full swing, and the economy is well into its recovery.
The quality perception average for the major household hand tool sector, which includes brands such as Black & Decker, DeWalt, Milwaukee, Makita, and Husky, has been gradually trending down since January 2014.
Showing particularly troubling signs is Craftsman. Only 10 years ago, Craftsman was named "America's Most Trusted Brand," well-known for its lifetime warranties, sold in Sears stores. Fast forward to present: Craftsman not only is the new property of Stanley Black & Decker, but displaying the largest decline in quality perception and purchase consideration in the category.
That said, Craftsman still maintains the highest quality perception in the category. YouGov BrandIndex measured quality perception with its Quality score, which asks respondents: "Is it high quality or low quality?" A score can range from -100 to 100 with a zero score equaling a neutral position.
Craftsman's Quality score dropped six points, from 61 to 55, since January 2014, second place Black & Decker dropped by three points, and third place DeWalt fell by 2 points.
On the other hand, three brands bucked the declining trend over that time: Husky's quality perception increased by two points, from 13 to 15. Milwaukee and Hilti remained flat.
Of even more concern is Craftsman's declining purchase consideration after its $900 million sale to Stanley Black & Decker. Purchase consideration is YouGov BrandIndex's key metric for potential sales revenue. In 2014, 57% of consumers would consider buying Craftsman the next time they were in the market for tools – that percentage is now down to 47%, the biggest decline in the category. By comparison, the sector average was down by three percentage points.
Quality: Craftsman, Black & Decker, DeWalt, Tools (Household) Sector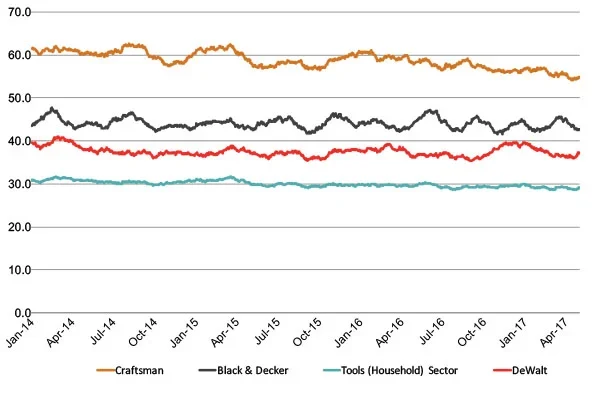 Consideration: Craftsman, Black & Decker, DeWalt, Tools (Household) Sector