Study examines audio/visual brands that are trending for better or worse.
When it comes to audio/visual brands, arts and entertainment professionals have a thing or two to share. Several brands in the audio visual space are making impressions for better or worse. Impressions include positive or negative things about an audio visual heard in the last 90 days through talking to friends and family or traditional advertising channels.
A recent study of YouGov Profiles showed that technology giant Apple was the most buzzing brand being heard about or discussed positively with 27% of respondents from the arts, entertainment and recreation industry. However, Samsung was a close second only a point behind. Sony's Playstation also made waves with 19% of respondents hearing something positive about the brand in the last 90 days.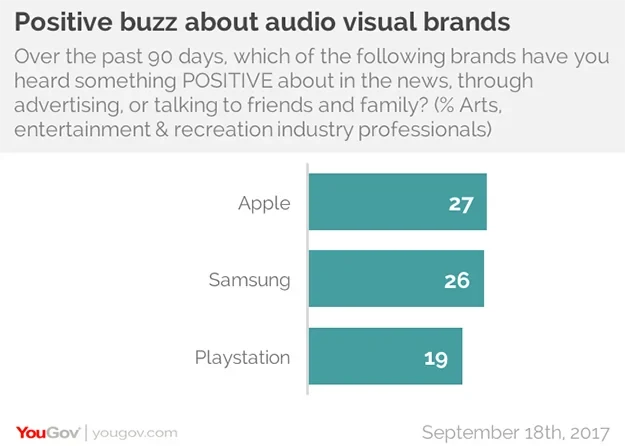 We also looked at which AV brands were buzzing in a negative way among arts, entertainment and recreation pros. Two headphones brands made the list, Beats by Dre the and Skullcandy, with 10% and 7% respectively. Samsung made both lists, with 8% of respondents having heard something negative about the South Korean tech giant.