47% of people think reducing the deficit is more important than cutting taxes
As the President and Congressional Republicans roll out their new tax plan, Americans say they would definitely like a tax cut. But there is a caveat in the latest Economist/YouGov Poll: the public is more concerned about the reducing the deficit than cutting taxes, and support for tax cuts drops if they increased the deficit.

Many say they are overtaxed. Four in ten say they pay more than their fair share in taxes. But just about the same percentage disagree.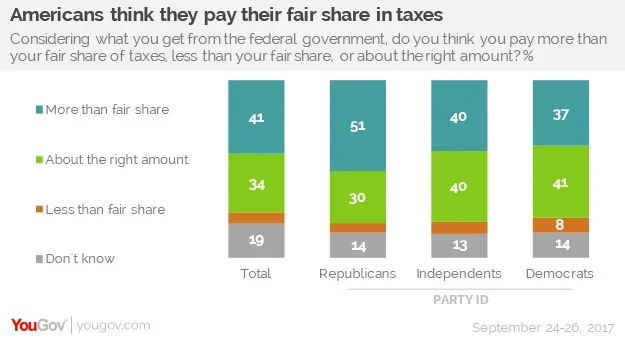 Republicans feel especially tax-burdened. So do a majority of conservatives (52%) and those who voted for President Trump in 2016 (55%), as well as 49% of those with family incomes above $100,000 a year. Republicans have consistently expressed more concern about taxes – 8% call it the country's most important issue, four times the percentage of Democrats who say this.
Republicans also express more support for reducing everyone's tax burden. While a majority overall favors tax cuts for all (at least in principle), three in four Republicans do. Democrats are closely divided on this.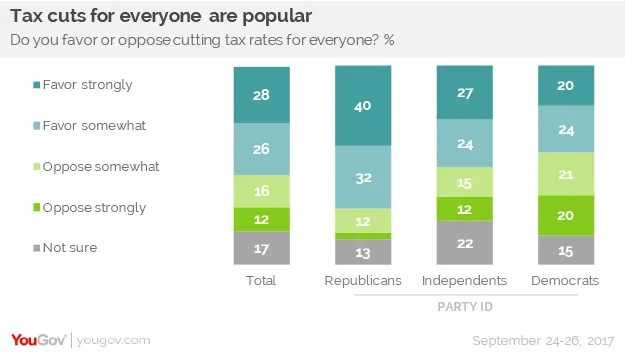 But that support drops when the issue of the budget deficit is introduced. The deficit is something two in three Americans say they are concerned about. When asked if they would still support tax cuts for all if it increased the deficit, a third of tax cut supporters overall and one in four Republican supporters change their minds. What that means is that the percentage favoring tax cuts for all drops by more than half, to 25% overall, if it means increasing the budget deficit. Republican support is also cut in half, to 36%.

In fact, Americans prioritize reducing the budget deficit over cutting taxes, though Republicans are closely divided. Any tax cut plan that increases the deficit could lose favor, despite the overwhelming support for reducing taxes overall.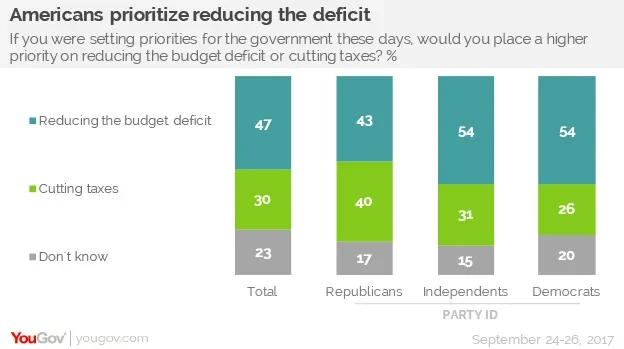 Read more from this week's Economist/YouGov poll here