38% of millennials say they had to keep a budget to pay off existing debt
Nearly every aspect of money management is difficult to discuss openly. From how much one makes every month to how much debt he or she is sitting on, Americans, like many around the world, feel that it's taboo to divulge financial information. Yet, YouGov Omnibus has found that many are willing to talk about how they save and budget. Are people still keeping years of receipts under their beds or has the money management landscape turned digital?

More than half of Americans keep a budget (55%) and nearly the same amount say that they know roughly how much they spend every month (50%). Four in ten Americans aren't satisfied with having a "rough idea" of their finances and say that they keep a very close eye on what they spend each month and account for every penny (41%).

Age gaps exist between how generations handle money. More Americans over the age of 55 say they carefully track their spending (46%) compared to those younger than that age (39%). Compared to a 2016 YouGov poll that examined if Americans had a budget, millennials are nine percentage points more likely to say they have a budget this year (54%) than the last (45%). Across every age group, the number of people who said they don't have a budget has decreased since last year. What may be spurring the younger group to be more financially responsible is their increasing debt, particularly their student loans after leaving college. In fact, millennials are ten percentage points more likely to say that they keep a budget to pay off existing debt this year versus last (from 28% to 38%).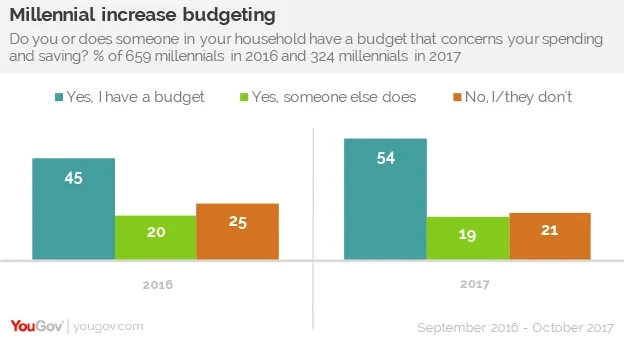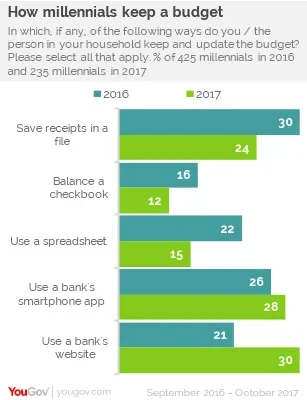 Data from this YouGov Omnibus poll also reveals how people keep track of their budgets. Standing the test of time is the age-old method of saving receipts in one location (35%), followed by balancing a checkbook (32%), and using a spreadsheet (22%). Americans are also relying more on digital methods, particularly a bank's website (27%) or smartphone app (18%) to monitor their spending.
While Americans over the age of 34 have stayed consistent in the ways they kept a budget over the last year, younger people are slowly abandoning those tried and tested methods. Results from this year's poll conclude that fewer millennials are saving receipts (down six percentage points from 30% last year) or using a spreadsheet (down seven percentage points from 22% last year). Instead, they're relying more on their bank's website (up nine percentage points from 21% last year) and its associated smartphone app (28%).
Read more from this and last year's budgeting poll here

Find out about YouGov Omnibus research

Image: Getty