Out of 35 words and phrases related to money and banking, the majority of US adults claim to know what most of them mean
Amortization, escrow, compound interest – these are not everyday terms used in everyday conversation. Yet, when YouGov Omnibus asked members of the American public how confident they feel about their understanding of 35 words and phrases pertaining to the financial realms of investing, mortgages, and retirement, at least half indicated that they know the meaning behind three in four (77%) terms featured on the list. Put another way, US adults seem pretty comfortable with financial jargon.
Although the list of words and phrases wasn't identical, a similiar YouGov survey found that, unlike Americans, adults living in the UK aren't terribly confident about their understanding of financial terms.
The term most Americans report knowing is "Savings Account." In total, 88% of people say they feel either very or somewhat confident that they understand what this banking term means. "Credit Union" (76%) and "Net Worth" (72%) come in second and third place, respectively.
Financial terms US consumers appear least confident about are "Index Fund" (30%), followed by "Amortization" (35%), "Bitcoin" (37%), and "Asset Allocation" (38%). These four terms are also the only items on the list to receive a higher percentage of people admitting they aren't confident they understand what they mean than those who report feeling confident.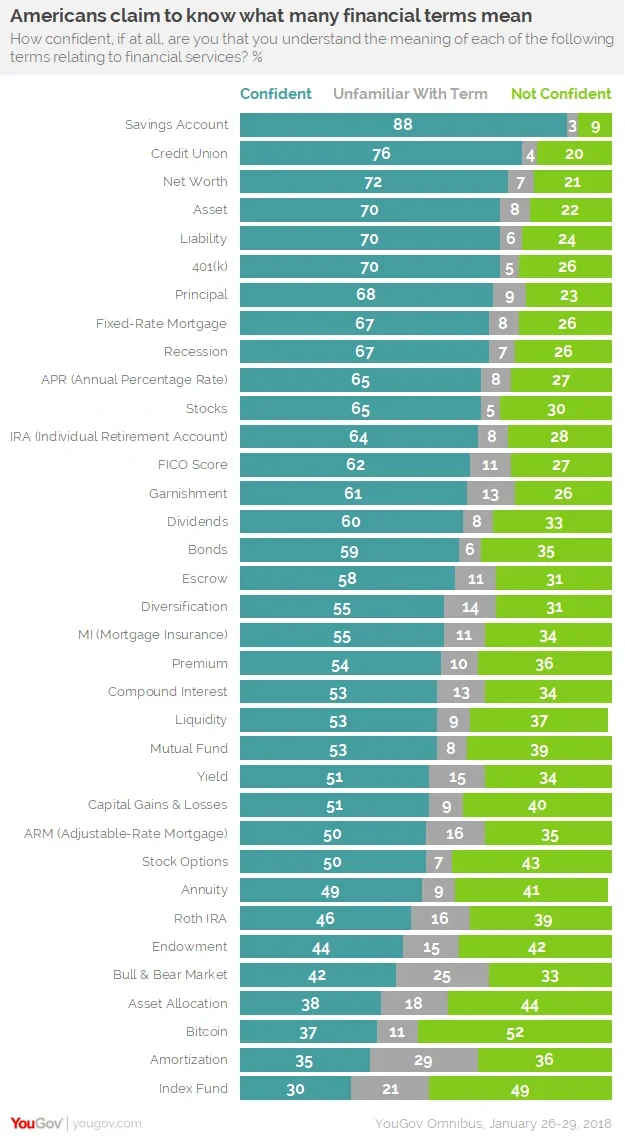 Men consistently showed more confidence in their understanding of all 35 financial terms than women. One particularly large gap, for example, exists over the phrase "Bull & Bear Market." For this item, 57% of men are confident they understand compared to 28% of women.
The same pattern persisted between older and younger Americans, with one exception: "Bitcoin." Just over half (51%) of US adults aged 18-34 indicate they know what "Bitcoin" means, while only a quarter (25%) of those aged 55 and over report feeling confident they understand the cryptocurrency.
Image: Getty
Read more results from this poll here