Two leading streaming networks – Netflix and Hulu – along with Jeep were the only Super Bowl advertisers to land in the top 10 gainers of all three metrics that YouGov BrandIndex measured Super Bowl brands with this past weekend.
The NFL, Stella Artois, and Coca-Cola made it into two of the top 10 gainers lists. Fourteen different advertisers placed on one of the three top 10 metrics charts. Over 50 companies advertised in the 2018 Super Bowl game.
That so many brands gained on only one chart or not at all points to the expensive gamble made on advertisements in this one game. While getting consumers to talk about your product is an obvious goal, there's a financial incentive too.
Advertisers that may see a sales boost from their ads can be found on the Purchase Consideration gainers chart, a key metric of potential sales revenue. Netflix made the biggest gains, followed by Hulu, Mountain Dew, Hyundai, and Stella Artois.
Interestingly, studio executive/director J.J. Abrams had a hand in both of the products promoted by the streaming services that made across the board gains. Netflix surprised everybody with a trailer for the third part of Abrams' Cloverfield series, announcing it was available on the service immediately after the Super Bowl ended. Hulu unveiled its trailer for the 10-part Stephen King horror series "Castle Rock," which is executive produced by Abrams.
Fiat Chrysler's Jeep ran three very different ads executed by three different agencies, including a parody of "Jurassic Park" starring Jeff Goldblum.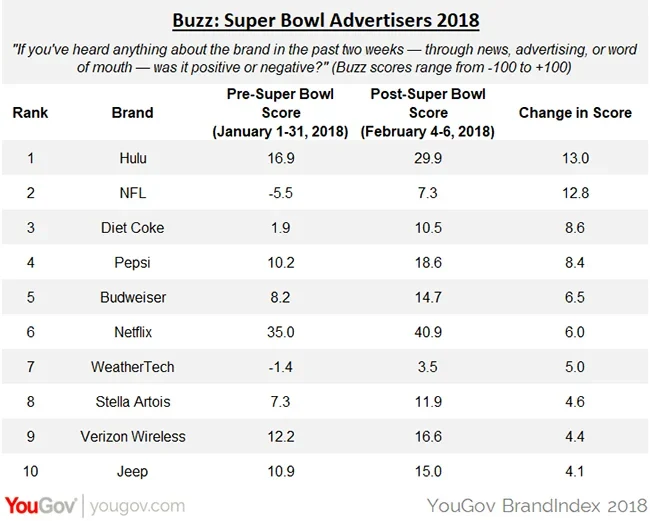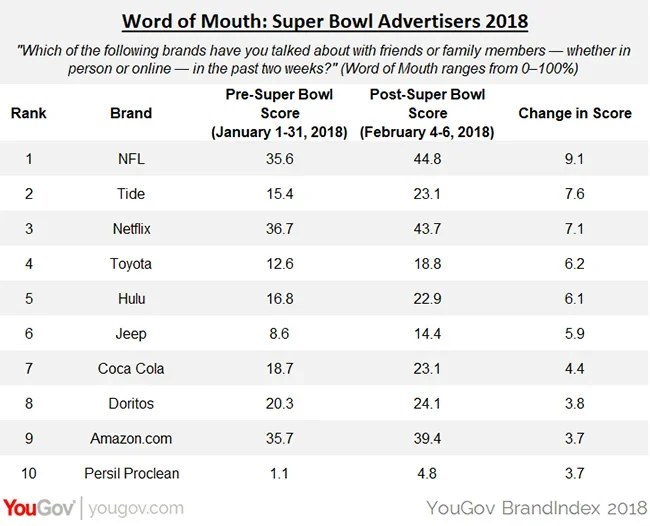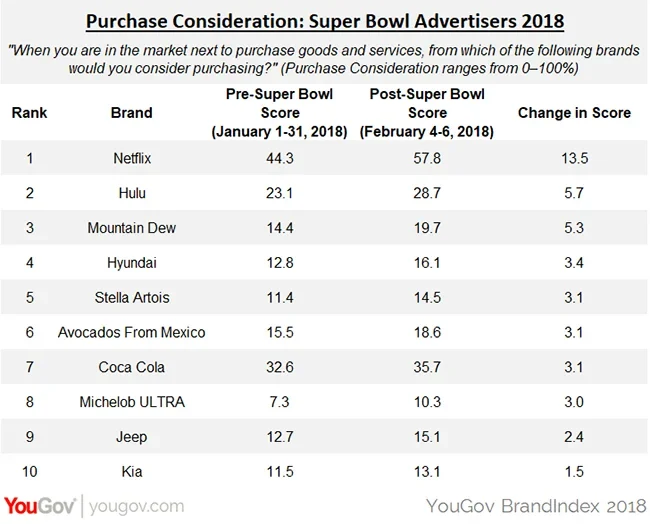 The three metrics used to measure Super Bowl advertisers were Buzz ("If you've heard anything about the brand in the last two weeks, through advertising, news or word of mouth, was it positive or negative?"), Word Of Mouth ("Which of the following brands have you talked about with friends and family in the past two weeks, whether in person, online or through social media?"), and Purchase Consideration ("When you are in the market next to purchase items in this particular category, from which of the following brands would you consider purchasing?").
Photo: Getty