New data shows that slightly more US adults would be proud to work for the firm than embarrassed
General impression of Goldman Sachs during the financial crisis and subsequent recession was not good. Public perception of the investment bank as a potential employer plunged as its share price sank.
Now that 10 years have passed, however, and the firm is getting a fresh start with incoming CEO David Solomon, who begins his new role on October 1, things are looking much better.
Indeed, new data from YouGov Plan & Track shows that slightly more American adults would now feel proud to work for Goldman Sachs, as opposed to embarrassed. This comes after the firm's Reputation score — which gauges how open US consumers aged 18+ are to being employed at a particular brand — spent years emerging from negative territory following the crash. Even when the bank's Reputation score returned to neutral in the latter half of 2015, disparaging comments made during the 2016 presidential campaign seem to have pushed it back down again.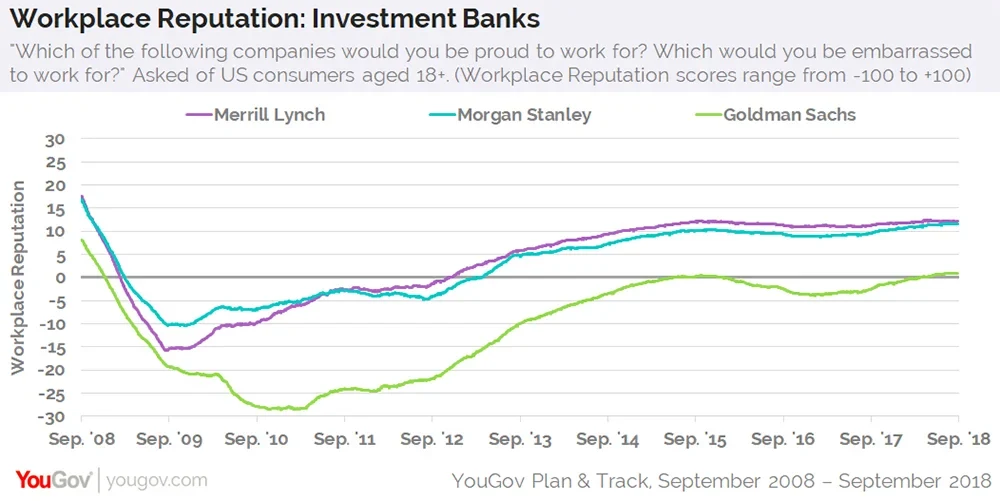 By contrast, Reputation scores for competitors Merrill Lynch and Morgan Stanley never dropped to such lows. Both also returned to positive territory near the beginning of 2013, where they've remained ever since. At present, Merrill Lynch and Morgan Stanley each have a Reputation score of 12. Goldman Sachs has a Reputation score of 1.
People who say they'd be proud to work for Goldman Sachs are most likely to be male and to fall between the ages of 50 and 64. They're more likely to live in a suburb — as opposed to city, town, or rural area — and have attained a high school education, rather than a four-year college degree.
Two-thirds (67%) of people open to employment at Goldman Sachs report that they tend to trust banks and credit unions, compared to 54% of the general public. Furthermore, the majority (54%) of people who'd be proud to work for Goldman Sachs say they prefer to have more than one bank account. Fewer than half (47%) of all US adults indicate the same.
While Goldman Sachs' overall Reputation score has returned to the positives, one group that still places the investment bank in the negatives is liberals.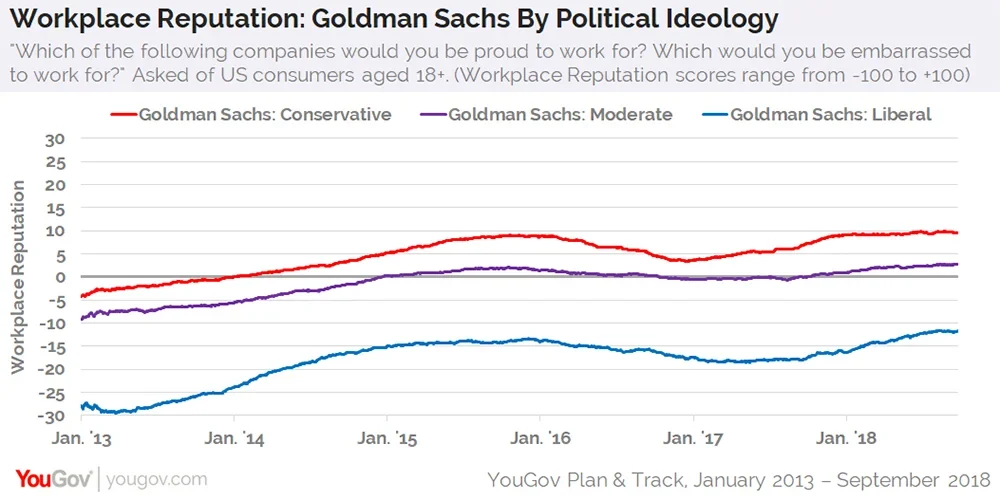 Looking back to January 2013, when YouGov began tracking people by political ideology, Goldman Sachs had a Reputation score of -28 among consumers who lean left. Conservatives, meanwhile, gave the firm a score of -4. As they tend to do, moderates placed themselves in-between, with a Reputation score of -9.
As of today, the bank's Reputation score has climbed to -12 among liberals, 3 among moderates, and 10 among conservatives.
Photo: Getty