Gender pay differences are well-documented in America, and so are the racial disparities in how much money people take home. A new YouGov survey of over 2,000 US adults suggests that the wage gap does not only impact how much people earn—but also how much they expect to earn during their lifetime.
The Census Bureau's American Community Survey says that the median salary for workers in America is about $32,000. For full-time, year-round workers the median earnings rise to about $41,000 for women and $51,000 for men.
YouGov asked non-retired Americans whether they think they will ever reach certain levels of pay in their working life. The lowest amount in our survey was an income of $15,000, which 45 percent of people told us they were already meeting or exceeding. An additional 18 percent said that while they don't currently earn that much, they expect to do so eventually. Only 5 percent said they never expect to earn that much.
Related: This dataset was mentioned by Yahoo! Finance in its article "More millennials have higher salaries than Gen Xers, boomers"
Just half (50%) of Americans currently make or expect to make more than $35,000 annually. But that's America as a whole. When you look at white men (61%) that level confidence is the majority. When you look at white women (50%), Hispanic men (50%), Black men (43%), Black women (39%), and Hispanic women (29%), half or fewer earn or anticipate ever earning $35,000 annually during their lifetime.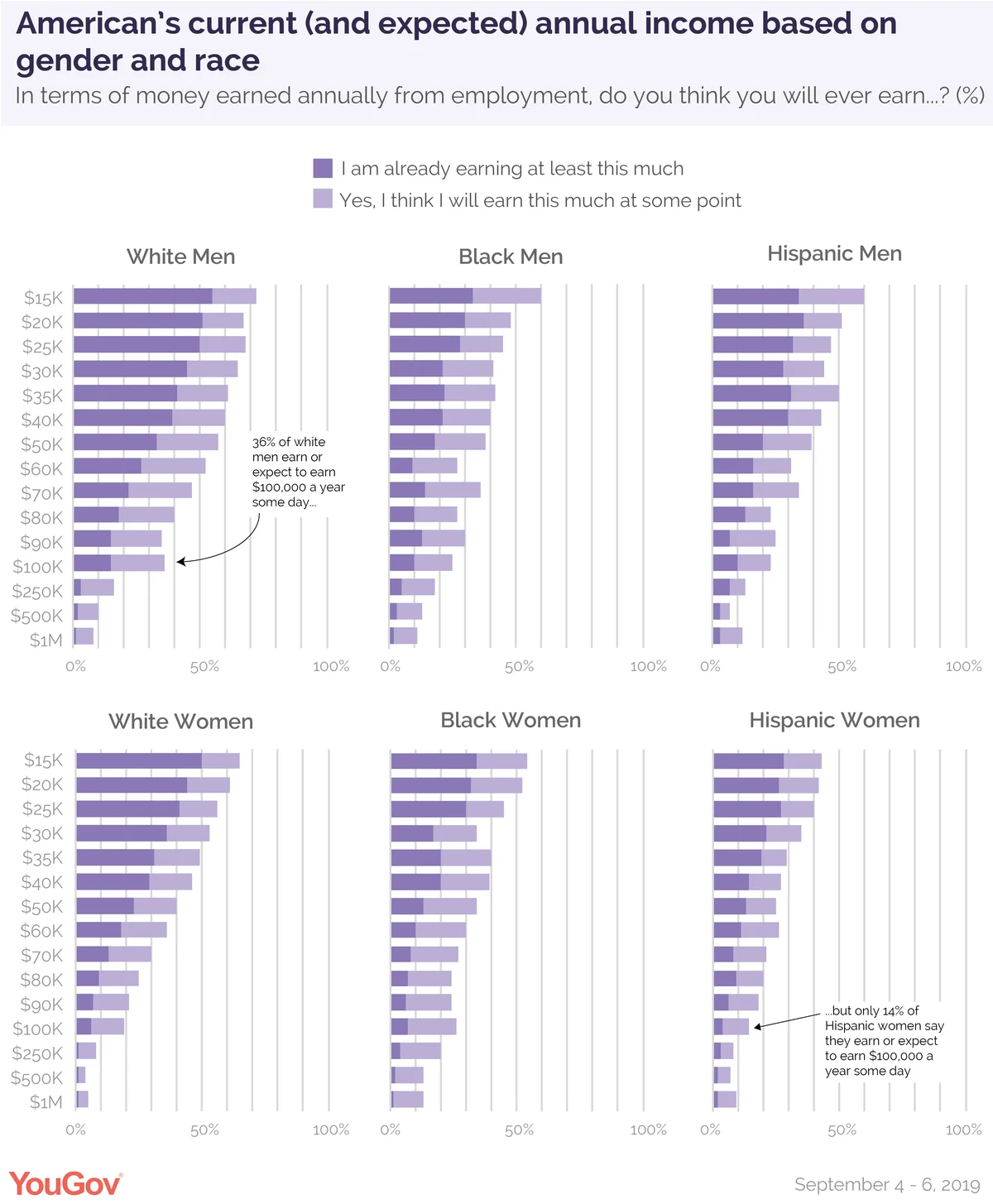 Looking at the median earnings for full-time workers, a majority (57%) of white men earn or anticipate earning at least $50,000 annually in their lifetime. That drops to four in 10 (40%) among white women. It's even fewer for Hispanic men (39%), Black men (39%), Black women (35%), and Hispanic women (24%).
For the purposes of this survey, panelists were offered the option of responding with uncertainty ("don't know"), not disclosing the answer ("prefer not to say"), or noting if it was inapplicable because they did not intend to work ("not applicable"). Looking at the increments for $50,000, Hispanic women (31%) and Black women (21%) were more likely than white women (16%) to say they don't intend to work. Black men (15%), Black women (14%), and Hispanic men (13%) were also more likely to decline to disclose their earnings.
At the top of the scale, we asked Americans whether they thought they would ever make a million dollars. By this metric, white men (56%) and white women (57%) were the most likely to believe they would never earn seven figures annually. That pessimism dropped among Hispanic men (38%), Black men (36%), Hispanic women (31%), and Black women (27%). More than one in ten (12%) Black women say they believe will earn $1,000,000 annually at some point in their lifetime compared to just 4 percent of white women.
Who wants to be a Millionaire? Millennials.
Younger Americans are also more likely to showcase more optimism about their eventual salaries while older generations are generally less hopeful. It's worth noting that as Americans get older, they will become more significantly aware of their earning potential and trajectory. Additionally, some older US adults may have extra income from non-employment sources, like investments, and may be more likely to own assets like housing.
Millennials (9%) slightly more likely than Generation X (6%) and three times more likely as Baby Boomers (3%) to expect to make a million dollars annually -- among those who are not already earning that much money. That level of ambition is largely reflected across the board as younger generations are more likely to anticipate earning more during their lifetime.