Even as President Donald Trump faces impeachment, the state of the American economy remains strong, according to the latest Economist/YouGov Poll.

A good economy may have helped President Bill Clinton avoid being removed from office, and it could help Trump. Inflation then was about as low as it is today; the unemployment rate, though slightly higher than today, was dropping. To date, public opinion surrounding Trump's impeachment has changed little after several weeks of televised hearings of the House Intelligence and Judiciary Committees, perhaps in part because of America's perception of the economy.

The unemployment rate has dropped to a 50-year low of 3.5 percent. And while most Americans aren't able to say exactly how low the unemployment rate is (just 43% in the latest Economist/YouGov Poll say it is below 5%, which is where it has been since 2016), there is evidence that they believe things are going well.

Americans are eight points more likely this week to say the economy is getting better (33%) as to think it is getting worse (25%). In recent weeks, assessment of the economy has been better than at any point since 2018, and is a definite improvement from earlier this fall.



The rate of inflation for 2019 is below 2 percent, so prices aren't rising quickly. Consequently, public perceptions of the state of the economy are favorable.

Perceptions of the state of the economy are almost always partisan: 69% of Republicans this week believe the economy is getting better compared with only 8% of Democrats. The same is true when people are asked to evaluate their family's finances. More than half of Republicans believe they are better off today than they were a year ago; just 15% of Democrats agree.

There is further partisanship around what defines a strong economy. While Republicans today prioritize the unemployment rate as the best measure of the economy, while Democrats are more likely to say prices matter more. Both indicators are quite low.

That definitely gives the President an edge, not just in the impeachment battle, but when Americans look ahead to the 2020 election. Fewer think the economy will get better if the Democrats win in 2020 than think it will improve if Donald Trump wins re-election. But there is also significant pessimism in both cases. Independents right now make the difference: they are divided on what will happen to the economy if the President wins re-election, but are twice as likely to say the economy will get worse than to get better if a Democrat wins.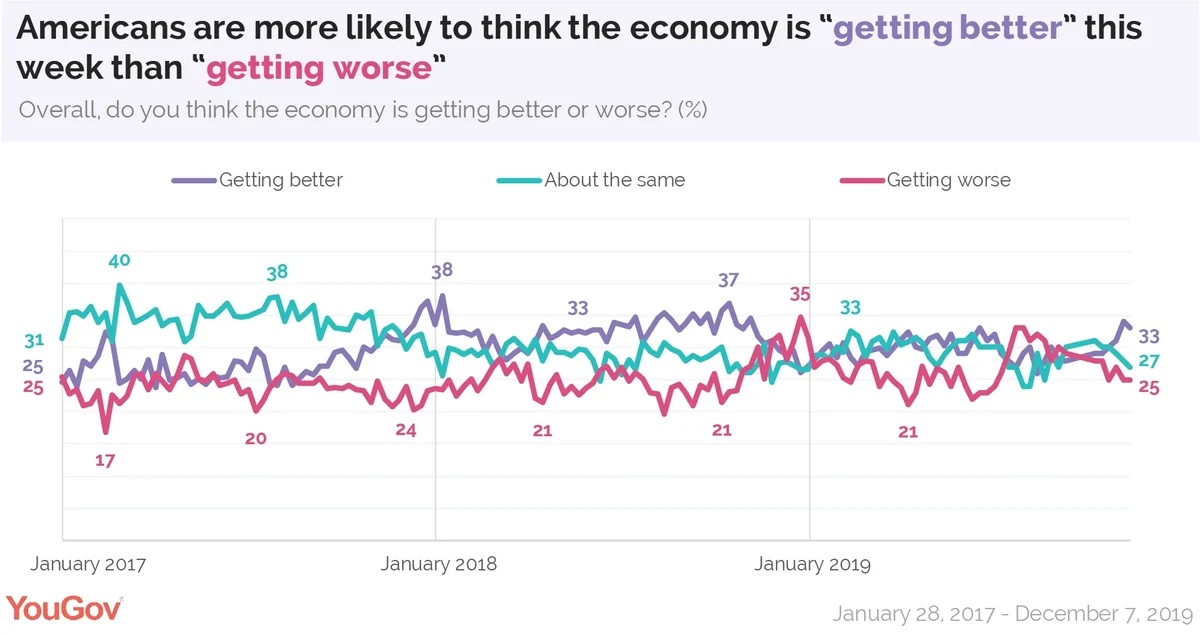 Both Republicans and Democrats say free trade deals are a good thing, underscoring the bipartisan support in Congress for the US-Mexico-Canada Agreement on trade. Half the country can't judge whether USMCA is better or worse than the North American Free Trade Agreement (NAFTA) which President Trump strongly criticized during the 2016 election campaign. Nearly half aren't sure how important it is that USMCA replaces NAFTA.

But Americans are favorable towards the new agreement; they are nearly as likely, however, to want more trade agreements like NAFTA, which the new agreement will replace. There is relatively little partisan disagreement.

What will come from more free trade? One in four don't think it will matter to their family finances, but more think it will help than say it will hurt. Half think it will be good for the US, twice the share that think it will hurt the country. They expect free trade will grow the American economy, and result in lower prices. However, Americans are also likely to think free trade will be good for people in developing countries.

Related: Americans more certain of how the impeachment inquiry will end for President Trump

See the toplines and table results from this week's Economist/YouGov poll

Image: Getty