We're speeding toward a future in which every major tech company has its own respective bank and wants you to bank with them. Apple and Google will likely compete even more fiercely once the latter launches its "smart checking account" – a move that highlights Google's focus on the ever-growing mobile-payments ecosystem.

A YouGov study conducted at the end of 2019 finds mobile-only banks do well in capturing the attention of Americans: at least six in 10 (62%) say they are aware of at least one major mobile-only banking platform. What's more, at least one in nine (13%) consumers say they will use a mobile-only bank in 2020.

Current landscape of mobile-only banking

Mobile-only banks – alternatives or supplements to traditional, brick-and-mortar banks – have been edging into the finance space for several years in an effort to match consumers' appetite for mobile convenience.

Their offers include little or no fees, the convenience of banking from a smartphone and, for several, budgeting assistance (Google plans to do this, too) along with specific perks of each app.

Looking at eight of the top mobile-only banks (according to Forbes), new YouGov data finds that about 62 percent of consumers are aware of at least one mobile-only bank and nearly one in five (22%) have used one before. An additional 13 percent say they are extremely likely to use a mobile-only bank in the next year.



This doesn't include other types of online banking services, such as mobile payments and credit cards, which have attracted other fintech start-ups, traditional banks, and tech giants to throw their hats in the ring (take, for example, Apple's mobile wallet and credit card).

Privacy is a concern in the perception of mobile-only banks—but is less of a problem among mobile-only customers

Mobile-only banks cultivate a fair amount of trust among the general public: one in four (25%) people say there are no drawbacks to using a mobile-only banking app or service.

But privacy concerns remain as one of the top three barriers to mobile-only banks. One in four (25%) people who haven't used or heard of mobile-only banks identify privacy concerns as a drawback.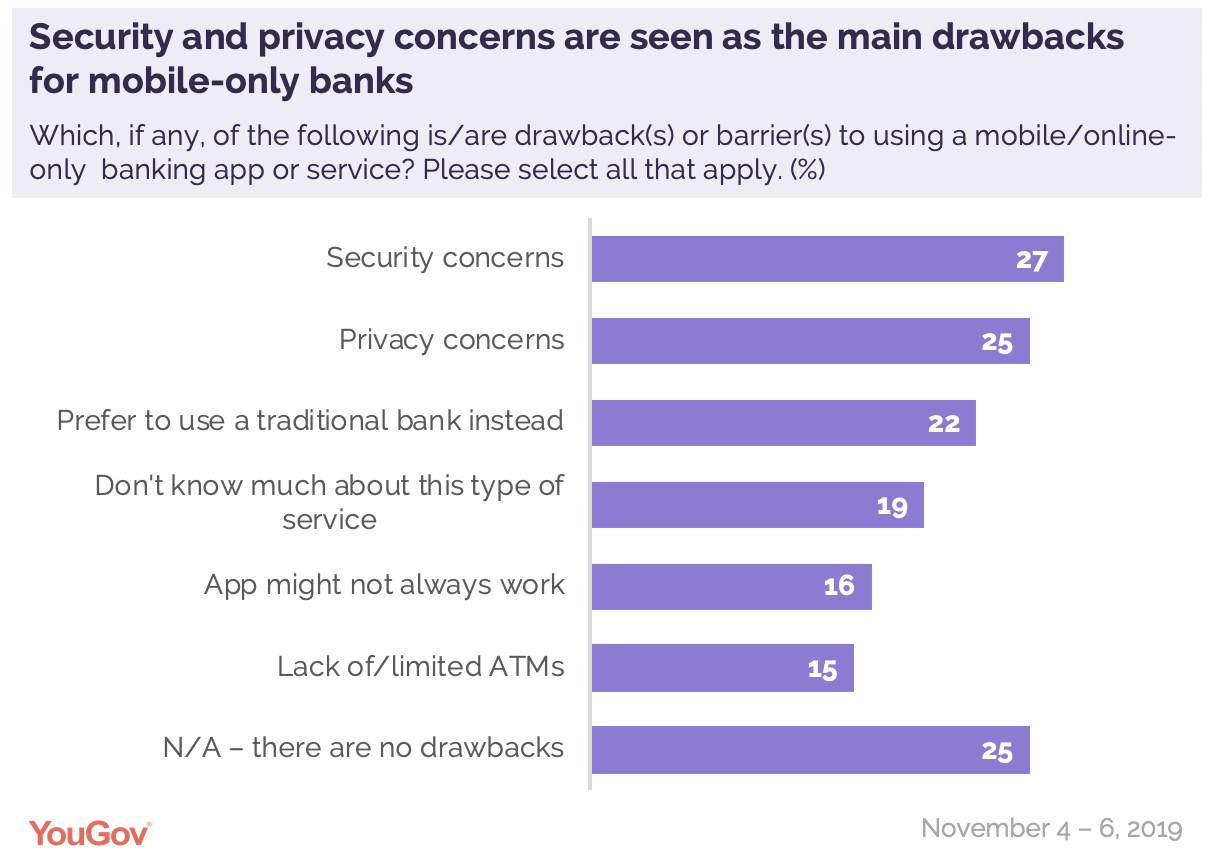 Other top hurdles include security concerns (27%), preference for a traditional bank over an alternative bank (22%), and lack of knowledge of the service (19%).

What can Google learn from mobile-only banks for attracting customers to its Google Pay checking account?

Google recently announced it is joining the mobile banking space this year with a checking account service. It will focus on mobile-only banking, offering "smart checking accounts" through consumers' Google Pay mobile app and will partner with Citigroup for the financial and regulatory aspects. What can it do to attract new customers?

Mobile-only banks like Ally Bank and Chime have surmounted these hurdles for some consumers. Ally and others are most popular among Millennials but are on an equal footing with traditional banks among Gen X. Mobile-only banks also tend to be more popular among Hispanics and African Americans. For Chime, the largest share of users tends to have a total household income of less than $40,000, but Ally and Simple's user base is significantly more likely to be people with a total household income of at least $80,000 or more.

Recent users (consumers who have used these mobile-only banks in the past 6 months) are not bogged down by privacy and security in the way that light or non-users are. Though privacy concerns are still a top drawback identified by recent Ally Bank users, they are not in the top five drawbacks for recent Chime users, and not in the top 10 for recent Simple users. All told, recent users of all 3 apps are significantly less likely to rate privacy as an issue compared to Americans overall.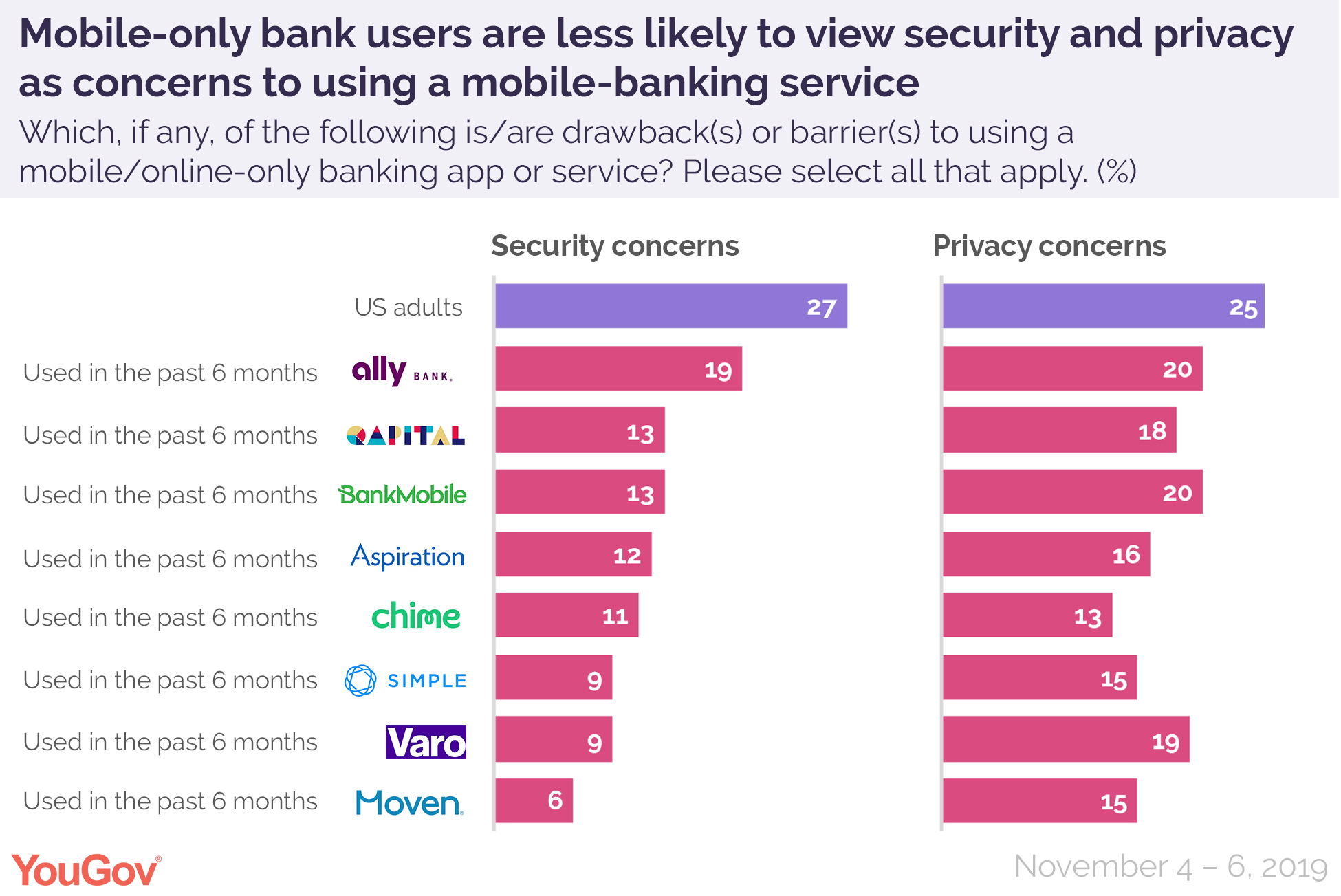 The study finds that recent users of Varo, Qapital, Aspiration, Moven, and BankMobile follow a similar trend. Those who have used the mentioned digital banks in the past 6 months are less likely to view security and privacy as drawbacks or barriers to using a digital bank.

Targeting the types of people who are using existing mobile-only banks – both the young and upwardly mobile as well as those on a tighter budget (the lower end of the household income spectrum) – might capture some of the most promising customers for Google's checking account service. These groups are less likely to have privacy concerns (or to have them allayed once they started using mobile-only bank apps) and may be most interested in its budgeting features.

Methodology: All figures, unless otherwise stated, are from YouGov Plc. Total sample size was 2,596 adults. Fieldwork was undertaken between 4th - 6th November 2019. The survey was carried out online. The figures have been weighted and are representative of all US adults (aged 18+).

Learn more about YouGov Custom research