After months of relative calm, the markets are once again flashing recession. Do most Americans know?
On February 24, one of the most popular indicators of a coming recession — the bond yield inversion — showed classic patterns indicating that the conditions were brewing for a potential recession.
The same thing happened in August of 2019, and worry about an impending recession shot up and stayed that way until November when the American public generally stopped worrying so much about a recession.
That's where most Americans remained through most of February.
Data taken before the market dive on Monday of 1,289 Americans shows little change in recession fears compared to recent months, with roughly one in five US adults (21%) saying they believe a major economic recession will arrive within a year (up slightly from 18% in January but in line with 21% in December). Looking further out, slightly more than a third of Americans (36%, again in line with 36% in December and slightly up from 34% in January) believe a recession will hit within the next two years.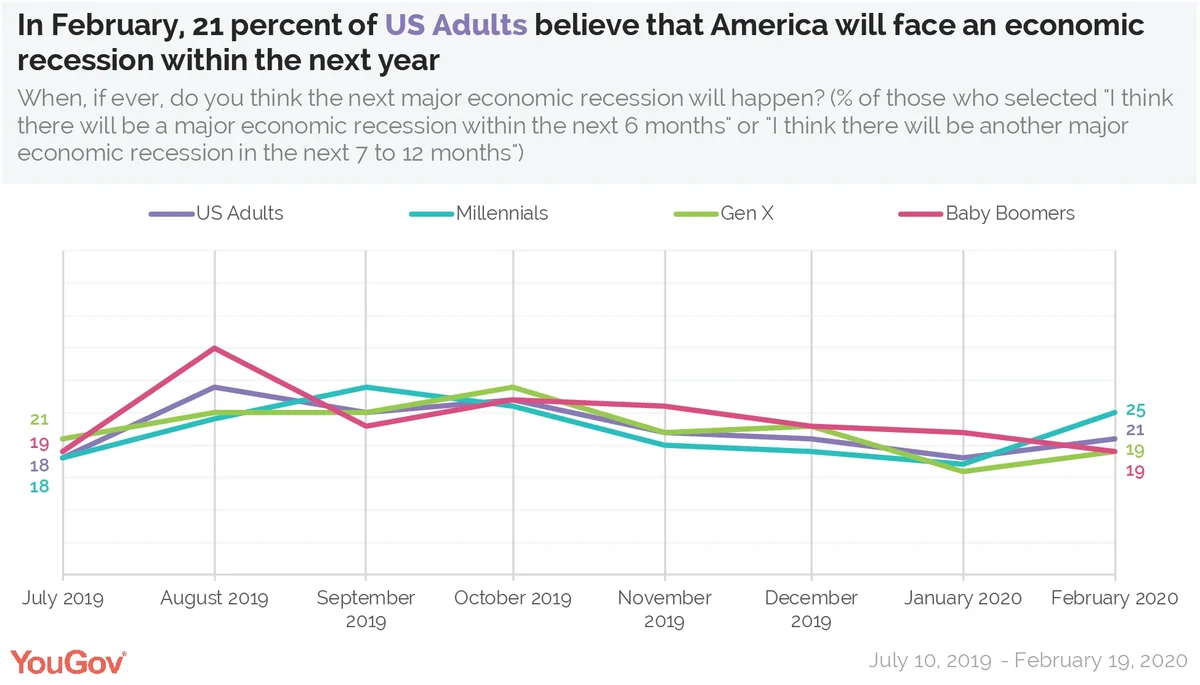 A third of Democrats (33%) are worried that a recession is on the way within the next year (vs. 11% of Republicans and 23 percent of independents), and a majority (55%) are concerned one will arrive in the next two years (vs. 21% and 38%, respectively).
Americans feeling more prepared for a slump
Roughly four in 10 Americans (39%) feel personally prepared for a recession should one arrive, down a tick from 41 percent last month but up a bit from 37% during the December holidays-fueled spending spree.
It's worth noting that men (46%, vs. 32% of women) and Baby Boomers (48%, compared to 35% of Gen Xers and 32% of Millennials) have been feeling especially secure.
Americans continue to be more down on whether the country as a whole is prepared for a recession, with 60 percent (in line with last month) saying the United States is not very or not at all prepared for a recession.
Men (27%, vs. 21% of women) and Boomers (28%, vs. 20% of Gen Xers and 22% of Millennials) also seem more secure in the country's preparedness, as they're more likely than their counterparts to rate the country "very" or "somewhat" prepared. However, majorities across the board still have concerns that the country is unprepared.
Presidential policy
Just under four in 10 Americans (38%) believe President Donald Trump's economic policies are making a recession more likely, even with last month and down from 40 percent in December and a high of 46 percent in September and October. On the other side of the coin, 29 percent believe his policies are making a recession less likely.
Roughly seven in 10 Democrats (69%, down from a high of 78% last September) say Trump's policies are making a recession more likely, while nearly the same percentage of Republicans (68%, up from a low point of 52% in September) believe his policies are making it less likely.
As seen in past months, Independents split the difference somewhat between the two somewhat, with 38 percent saying they believe Trump's economic policies are making a recession more likely and 29 percent indicating his policies are making one less likely.