States that have legalized recreational marijuana don't seem likely to regret it.
YouGov asked more than 32,000 Americans whether they believe recreational marijuana legislation has been more of a success or failure in the states that have legalized it. In many states where recreational cannabis is legal, a plurality of citizens believes these laws have been more of a success than a failure overall.
That is a particularly strong belief in Colorado, where citizens were among the first-in-the-nation to vote in favor of recreational weed in 2012. Today, about a quarter (26%) of Coloradans say the state-level recreational cannabis laws have been a "success only" and another 45 percent say they have been "more of a success than a failure." Fewer than one in five (17%) believe the laws have been "more of a failure."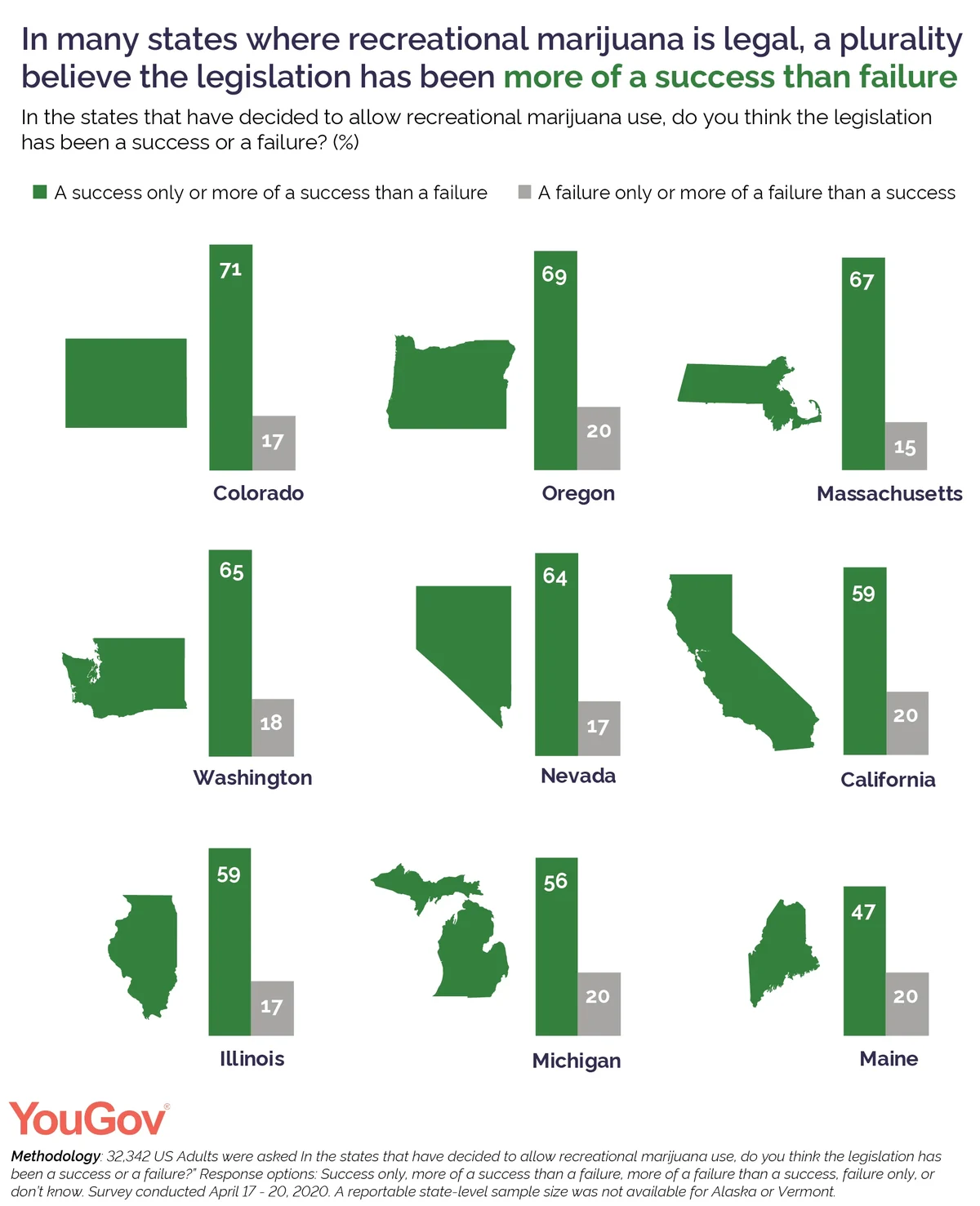 While decriminalized marijuana and approvals for medical marijuana became popular in the 1970s and 1990s, recreational marijuana was not legalized anywhere in the United States until 2012. Now, recreational marijuana is legal in 11 states—Washington, Oregon, Nevada, California, Colorado, Michigan, Illinois, Massachusetts, Maine, Alaska, and Vermont—with more states considering the legislation this year.
About two-thirds of those in Oregon (69%) and Massachusetts (67%) believe that the laws have been more of a success. That remains the majority opinion among those who live in Washington (65%), Nevada (64%), California (59%), Illinois (59%), and Michigan (56%).
Michigan and Illinois are the only Midwestern states with legal recreational marijuana, and they are the most recent additions to the list. Michigan became the 10th state to legalize recreational marijuana after residents approved it during the 2018 Midterm elections. Illinois became the 11th after its state government approved recreational cannabis for adults over 21 during the 2019 legislative session. The state began selling recreational marijuana in January.
Maine is the only state surveyed where fewer than half (47%) view the laws as more of a success. About one in nine Mainers say the laws have been a "success only." About one-third (37%) consider the laws more of a success than a failure. One in five (20%) believe the laws have generally been more of a failure, and one-third (33%) are uncertain.
Tell your own story with data from YouGov. Contact uspress@yougov.com for more about our datasets.
Related: How much do Americans trust Dr. Anthony Fauci?
Methodology: 32,342 US Adults were asked: "In the states that have decided to allow recreational marijuana use, do you think the legislation has been a success or a failure?" Response options: Success only, more of a success than a failure, more of a failure than a success, failure only, or don't know. Survey conducted April 17 - 20, 2020.
There were 686 people surveyed from Washington, 495 from Oregon, 409 in Nevada, 2949 in California, 633 in Colorado, 844 in Michigan, 1210 in Illinois, 546 in Massachusetts, and 133 in Maine. A reportable state-level sample size was not available for Alaska or Vermont. The sample is weighted to provide a representative sample of the United States.
Image: Getty