With the heat of July in full-force, summertime has made its presence known in the US – the perfect time for dining al fresco. One popular staple for eating outdoors is fried chicken. YouGov's InvestorView Dining research shows that Popeyes (AFCE) is in a better position to retain market share in the Fried Chicken restaurant category than Church's, or its much larger rival, KFC (YUM).
YouGov has been conducting ongoing research by speaking with diners from summer 2011 through to April 2012. We asked the most loyal customers of fried chicken chains – those who visit once a month or more – and found that Popeyes customers plan on coming back to the chain more frequently over the next 12 months than the other two brands. Consumers who responded that they visited a fried chicken restaurant "monthly" or more in the previous 12 months were asked: "How frequently do you plan to visit this restaurant over the coming 12 months?"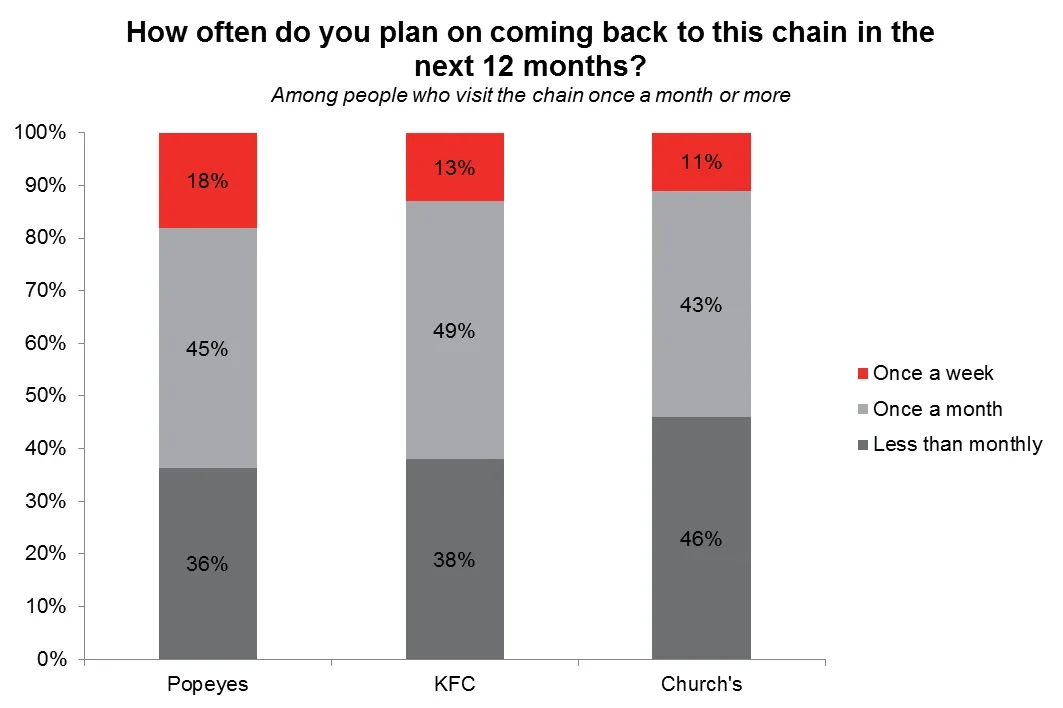 The strong position of Popeyes customer loyalty shows in the brand's market performance. AFCE, the Popeyes ticker symbol, outperformed YUM brands in the market since this research was conducted. For further YouGov InvestorView insights into the Dining sector, contact Ted Marzilli at +646-723-4646 or ted.marzilli@yougov.com
Methodology:
Research was conducted on a sample of frequent visitors to Church's chicken (n=172), Popeye's (n=384), and KFC (n=1,013); research was conducted from July 1, 2011 - April 30, 2012. All respondents were part of a nationally-representative sample selected from YouGov's online panel.