A recent YouGov poll finds that more than one in three Americans who have owned a home (35%) say that their parents helped them financially with buying their first home. Consistent with a similar survey recently conducted by YouGov in the UK, we find that younger Americans who own homes are more likely to have received financial assistance from their parents than are older Americans. While this could signal a shift in how people are acquiring their first homes, it could also reflect other factors, such as the fact that people who buy their first homes at younger ages may have different personal and family financial resources than people who buy them at older ages.
One in 10 Americans who've ever owned a home say their parents gave them the entire property outright, while 7% say their parents paid the entire deposit and 18% say their parents paid some of the deposit or helped financially with the house in another way. Combining age categories in order to yield a larger sample size, we find that adults under 45 are more than three times as likely as people 45 and older to say their parents gave them a property outright or paid the entire deposit.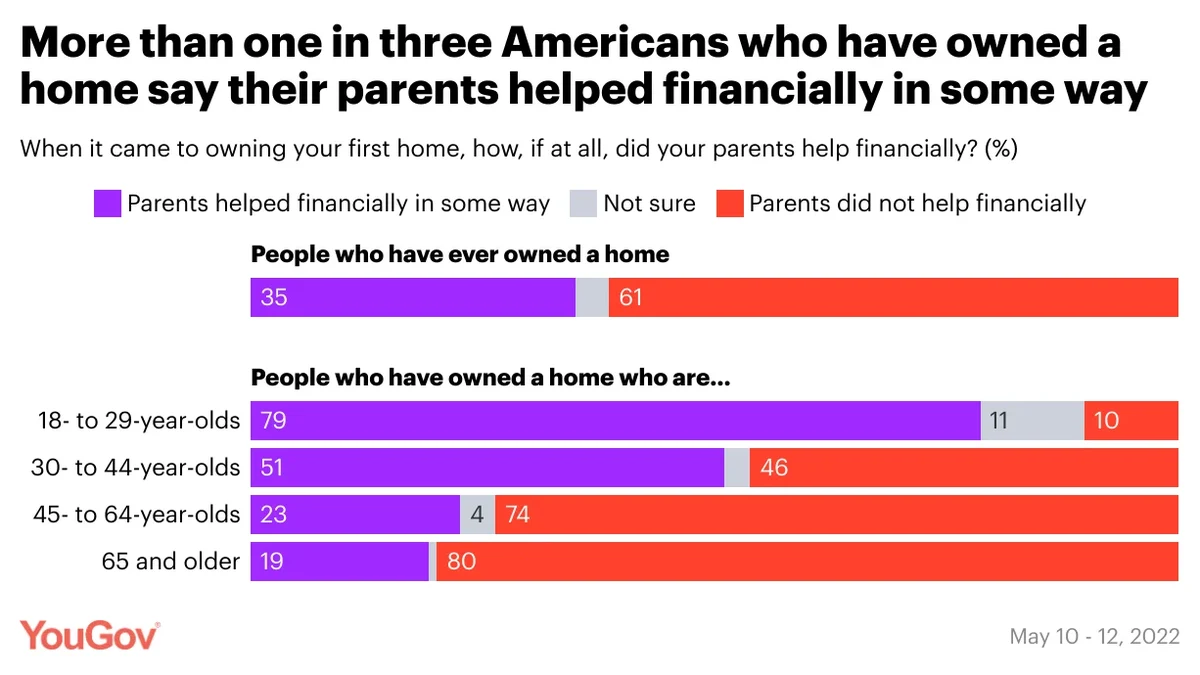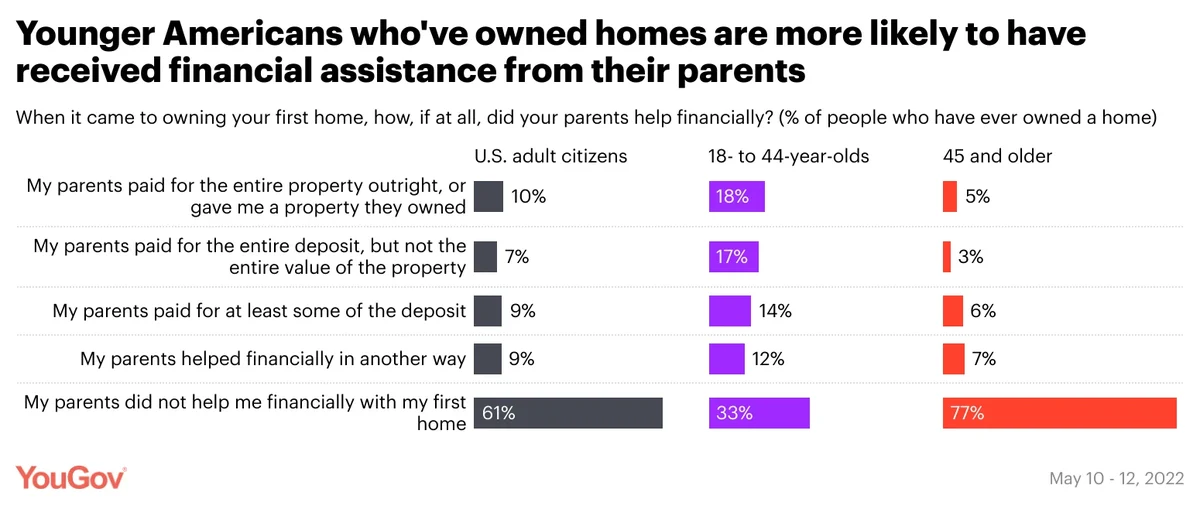 We provide a summary of other findings related to homeownership from our latest survey below:
A little more than half of Americans say they own a home, and about an even share of homeowners say they own their home outright as say they own it with a mortgage.
More than half of American homeowners (57%) say they've lived in their homes for a decade or longer.
About half of homeowners estimate their home is valued at less than $300,000, while the other half estimate their home is worth $300,000 or more.
Seven in 10 homeowners say the value of their house has increased over the past year, while only 6% say it has decreased.
About half of people with a home mortgage say they currently owe more than 25% but less than 75% of their home value.
About one in three mortgage-holders say their mortgage payments account for 30% or more of their household income.
A similar share of mortgage-holders (one in three) say they are very or somewhat worried about being able to make their monthly mortgage payments.
Most people expect home-interest rates to spike in the next year, though only 15% of mortgaged homeowners say they expect to refinance.
In terms of the benefits of owning a home vs. renting, homeowners are most likely to select "it is mine" as an advantage, with "no landlord," "privacy," and "independence" also popular choices. Fewer cite tax deductions as a benefit to homeownership.
— Carl Bialik and Linley Sanders contributed to this article.
Related:
This poll was conducted on May 10 - 12, 2022, among 1,000 U.S. adult citizens. Explore more on the methodology and data for this U.S. News Poll.
Image: Tierra Mallorca on Unsplash