YouGov's prediction of global quarterly sales for the Apple iPhone was accurate within 0.05% of the actual sales results, which Apple released on Wednesday.
On 1 January, data from YouGov InvestorView predicted sales of 47,764,000 iPhones worldwide, three weeks before Apple announced fourth quarter sales results of 47,789,000 iPhone units. The prediction tops YouGov's forecast for the third quarter of 2012 that Apple would sell 27.1m iPhones, when its actual results were 26.9m units.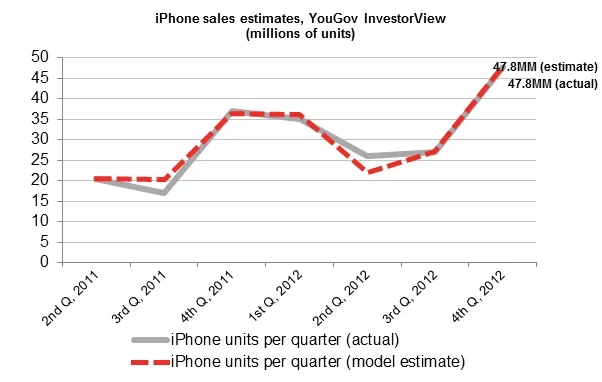 YouGov's success in predicting actual global sales of Apple iPhones comes as the latest achievement in a string of high-profile accurate predictions for the company. In November, YouGov received international plaudits for accurately predicting the result of the US presidential election within a percentage point of the popular vote. YouGov also correctly predicted that Boris Johnson would win the London mayoral election, held in May.
Commenting on the InvestorView prediction, YouGov Senior Vice President Ted Marzilli said: "Our success in predicting how many iPhones would be sold three weeks before Apple announced its fourth quarter sales results shows that YouGov can offer companies and investors invaluable insight into consumer behaviour on a global level. From iPhone sales, to who will occupy the White House, to who will be the next big reality star, we have consistently shown that we can predict outcomes with a high degree of precision in key markets around the world. Our ability to get it right in so many different areas sets us apart from other research agencies."
Contact Jeff Gayron on 617.306.3258 or jeff.gayron@yougov.com