YouGov data - based on over 17,000 interviews - shows opportunities of gaming for brands
Pokémon Go has been massively popular in the United States, suggesting a bright future for mainstream augmented reality (AR) gaming from which both brands and developers can benefit, new data YouGov shows.
YouGov finds that 34.5 million adults (10% of the adult population) have downloaded and installed Pokémon Go since its US release on July 6, 2016. The data shows that 30.8 million people (90% of those who have installed the game) are still using the app, having played it within the previous week. This suggests that the first mass-market AR game has staying power and is not just a flash in the pan.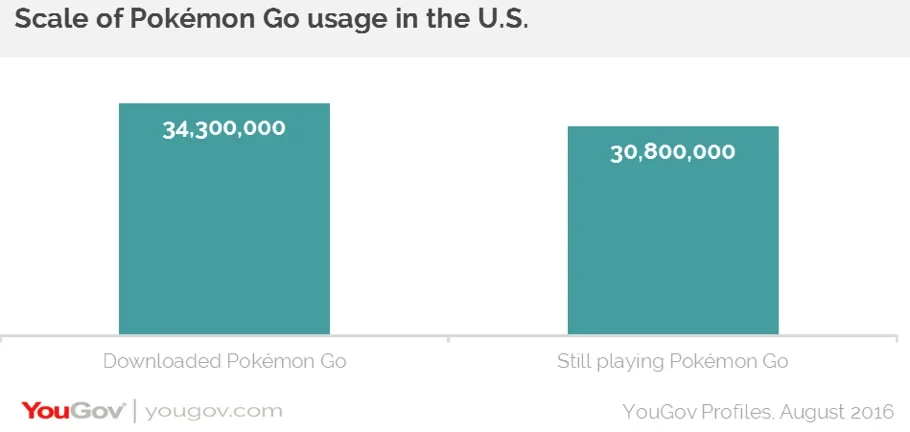 Pokémon Go is a collaboration between The Pokémon Company and Niantic Labs, a developer who previously created the similar AR game Ingress as part of Google. Players use a mobile device's GPS capability to locate, capture, battle, and train virtual creatures, called Pokémon. The game supports in-app purchases for additional in-game items.
Brand opportunities
Pokémon Go's evident success with the public opens the door for brand tie-ups, both for this particular app and for AR games in general. Some brands have already jumped on the Pokémon Go bandwagon. Internet travel company Expedia recently sponsored one avid fan's travels to Paris, Hong Kong, and Sydney, in support of his quest to catch all the Pokémon Go currently available around the world.
YouGov Profiles data highlights the brands that Pokémon Go players in the U.S. are customers of. It shows that these consumers present both retailers and food & drink manufacturers with significant brand tie-in opportunities.
Many players are customers of The Cheesecake Factory and Buffalo Wild Wings, suggesting that these establishments could become "PokéGyms" and "PokéStops" to lure in players of the game. Soft drink and sports beverage brands, which are among the leading advertisers and sponsors in the U.S., are also popular among Pokémon Go customers. Undoubtedly, while fans of the game are busy 'catching'em all', they will build up a thirst, which is where a cross-promotional opportunity may present itself.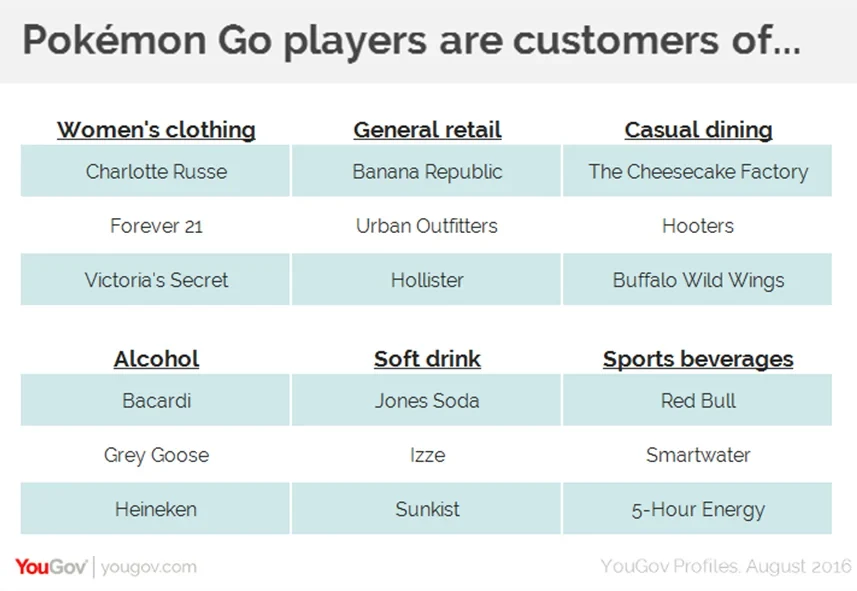 Importantly when it comes to brand tie-ins, YouGov's research shows that although the majority of Pokémon Go players are more likely to be young, the game has broad appeal across all age groups. Though seven in ten of the apps users are 35 or younger (34% are between 18-24 and 36% are between 25-34), 18% are between 35-44 and eight per cent are between 45-54. As such, brands should make sure they don't exclusively focus on young people.
Attitudes of players
From a marketing perspective, as important as what these consumers buy is what they think and how they act. YouGov Profiles data also shows the attitudes of people in the United States who have downloaded Pokémon Go.
They enjoy going to the movies and stand-up comedy. Given the latter, it shouldn't come as much of a surprise that their favorite channel is likely to be Comedy Central. Needless to say, Pokémon Go players in the US consider their mobile devices an extension of themselves and are very comfortable with technology. However, they are highly likely to list music, as well as "Sex and Relationships" as interests. Additionally, their favorite way to watch TV is via Netflix or other streaming services.
Pokémon Go users tend to be Democrats and work in technical fields, most likely as software engineers or visual design specialists. They are likely to earn higher incomes and live in cities.
Stephen Harmston, Head of YouGov Reports: "While Pokémon Go has been talked about a lot since its launch, until now no one has understood much about either the scale of its use or what the app's success means for this type of AR app in the future. Our data makes it clear that not only have a lot of people downloaded the game and the vast majority are still playing it, but also that the brand opportunities for this particular game and similar games in the future are vast.
"It is a mistake to think that this is just a fad for young people. A lot of players are over 35 and this represents a completely different marketing proposition to brands wanting to partner with this type of AR app. Crucially the people playing this game can be easily bored meaning that developers will need to innovate and push out new features if they are to keep up interest levels."
Augmented reality's commercial viability
In a finding that points to the long-term commercial viability of such apps, YouGov's report suggests that almost 10 million Pokémon Go users in the U.S. (29% of players) have spent money on in-app purchases since the game was launched. Of these, more than 57% (5.8 million players) have spent up to $19.99, and another 28.5% (2.86 million players) have spent between $20 and $59.99 on in-app purchases. Nearly five per cent of all players who have made in-app purchases have spent more than $100, representing more than 480,000 players.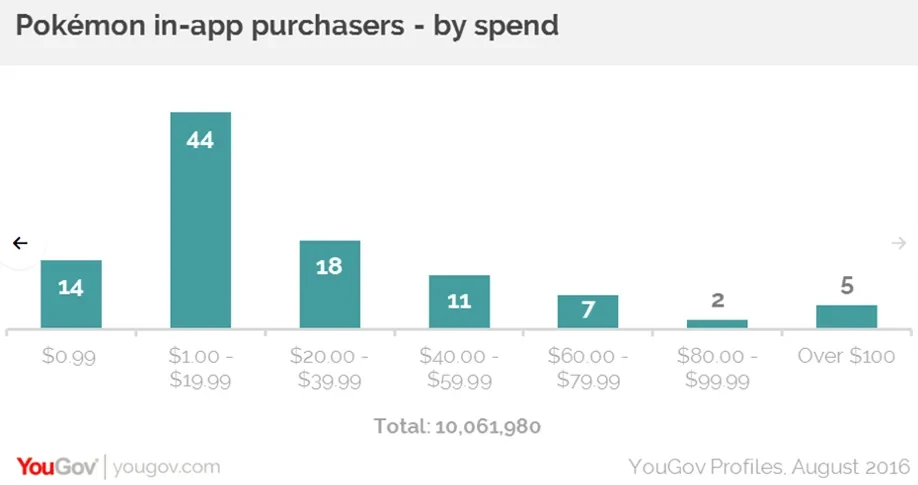 Dan Tochen, Research Director at YouGov: "Pokémon Go's remarkable success is a testament to the strength of the Pokémon brand. Our survey revealed a high incidence of paid users and ongoing play among users, showing that offering a new way to engage with Pokémon to franchise fans -- including those who no longer own Nintendo's handheld devices -- has paid off handsomely.
"The question is: can other brands capitalize on AR games in the same way? Pokémon Go has two key advantages: a fan base built over almost 20 years and more than a dozen previous games, and franchise gameplay that is a natural fit for AR. These advantages are hard to duplicate, and given Pokémon Go's first mover advantage, we expect that only the largest franchises (think Star Wars and Harry Potter) could hope to achieve comparable success."
About YouGov Profiles data
The full Pokémon Go/Augmented Reality report highlights the power of YouGov Profiles. Any new survey data can now be analysed by connecting it with 190,000 variables, meaning that you no longer just have the results from the questions that you asked, and instead can link it to everything that YouGov already knows about people across their entire lives.
As a result, YouGov can analyze those who have downloaded Pokémon Go and compare them to the millions of people who are spending money on in-app purchases, while also looking at the other brands Pokémon Go players use. For example, we know that Pokémon Go users are also Forever 21, Urban Outfitters and Buffalo Wild Wings customers.
This is important information, but when we narrow things down to the most valuable customers, what are their other habits and preferences? The full Pokémon Go/Augmented Reality report looks at this area and pulls out the most important differences across all 190,000 variables – from media consumption to brand interaction, to attitudes, to digital behavior and more.