Data reveals that while over half of people think reality TV is bad for society, more than half would like to appear on a series
Take a look at this week's television schedule, and you'll see dozens of reality TV titles — everything from The Real Housewives of New Jersey to Dancing with the Stars to The Voice to Rob & Chyna. Last year the Washington Post catalogued how we went from Survivor to more than 300 reality TV shows in just over 15 years.
New data from YouGov shows that, beyond merely watching the format, 65% of Americans indicate they're interested in appearing on at least one of reality TV's many genres, whether that's a home renovation series or Say Yes to the Dress.
But here's where things get complicated. The same data finds that 71% of US adults now believe there are too many reality TV shows. Only 1% think there are too few, while 17% consider the current amount just right. At the same time, 56% of people — i.e. the majority — believe reality TV has a negative influence on society.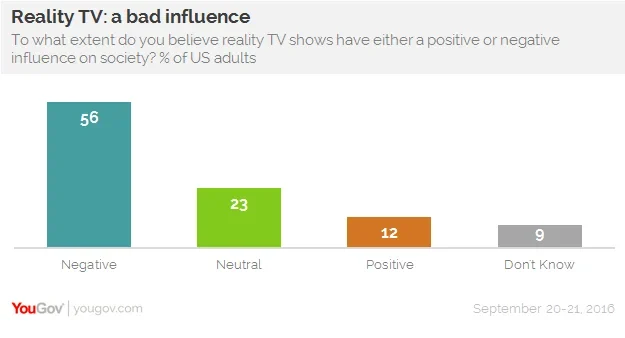 When asked if specific reality TV genres were scripted (meaning, the show's producers suggest lines to the participants and editors heavily alter the raw footage to generate the appearance of dramatic tension), 58% of people indicate that dating shows such as The Bachelor fit this description. Other genres that most US adults consider scripted are docu-series, such as Keeping Up with the Kardashians, and supernatural shows, such as Syfy's Ghost Hunters. People were least likely to think competition (31%), cooking (31%), and hidden camera shows (26%) received the same treatment.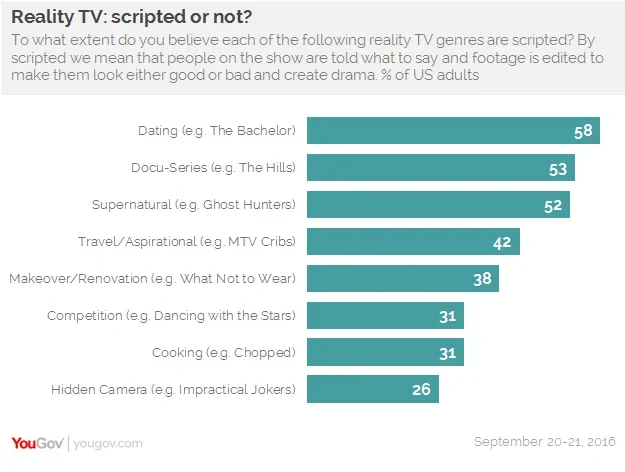 Some critics argue that we've already passed reality TV's peak, and that the format's slumping ratings will only continue to slump further. The demise of American Idol, which once dominated TV ratings for a record-breaking eight consecutive seasons before being canceled last spring, is a potential sign of national fatigue beginning to settle in.
For now, the shows keep coming and people keep watching with a sense of both fascination and repulsion.