But only 1 in 4 Americans would watch a show just because it was nominated for or won one of the awards
On Sunday evening, the 69th annual Emmy Awards will air, bringing to the small screen witty humor from host Stephen Colbert, as well as an extremely competitive lineup of nominated shows. This year, according to new data from YouGov Omnibus, 8% of US adults intend to watch the entire live Emmy's broadcast, while 37% plan to watch at least a little.
However, the prestigious award show has particularly caught the attention of the millennial demographic – nearly half (49%) of millennial respondents aim to tune in for some, if not all, of the live event.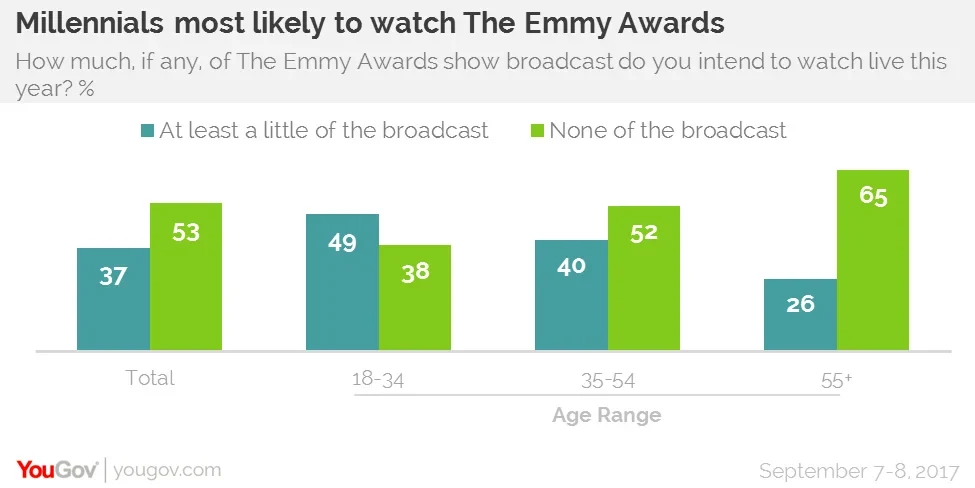 Millennials also have different opinions regarding which nominated show should take home the prize for Outstanding Drama. When presented with a list of all award nominees, millennials were most likely to select Stranger Things (16%) as the deserved winner, whereas those between the ages of 35 and 54 are most interested in seeing This is Us (16%) emerge victorious.
Similarly, 46% of millennials are likely to watch an award show just because they are a fan of the host, in comparison to one-third (34%) of the general public. For this year's show, 48% of Americans approve of the decision to select Stephen Colbert.
After awards season is over, what weight do Emmys hold with the public? Seven in ten respondents would not watch a show simply because it was a nominee or winner of a trophy.