Representation of black culture is a powerful draw for minorities
This Friday, the public premiere of Black Panther will come after months of excitement. The new Marvel movie centers around black heroes, heroines, and villains and employs a star-studded, predominantly black cast to explore themes of cultural representation and identity. The movie is so highly anticipated for its impact on black culture that A-lister Octavia Spencer intends to buy a movie theatre to ensure that underserved children in Mississippi "can see themselves as a superhero". YouGov measures the excitement for and motivations behind why many, especially black Americans, intend to watch Black Panther.
Awareness and viewership intent
Black Panther is poised to be one of Marvel's most anticipated and potentially most watched film according to research from
. Over two-thirds of Americans (68%) report that they have heard something about Black Panther. Three in ten US adults (30%) report that they plan to watch the movie in theatres and over half (55%) say they will watch Black Panther at some point.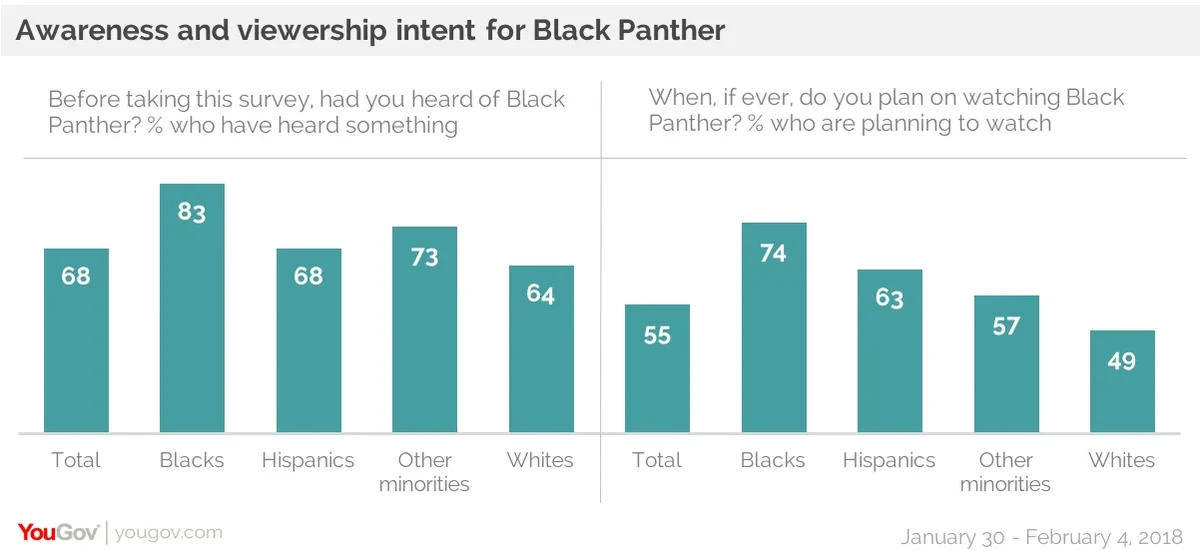 Among the black population, more than eight in ten (83%) report they have heard about the movie, over half (52%) say they'll be buying tickets to watch the movie in theatres, and nearly three-quarters (74%) state they'll watch the movie at some point.
Black Panther appears to be top-of-mind for Hispanics and other minorities too. Nearly seven in ten Hispanics (68%) and other minorities (73%) report being aware of the upcoming movie. Among the same groups, a majority of Hispanics (63%) and minorities (57%) intend to watch Black Panther at some point.
Black Panther has already surpassed every other Marvel movie in
first-day advanced ticket sales
and according to YouGov data, may surpass viewership of every movie in the Marvel Cinematic Universe. YouGov asked whether or not people have seen any other Marvel superhero films and if the number of people who intend to watch Black Panther (55%) actually do, the new Marvel film would overtake the leading superhero series that many have watched so far – the Ironman series (45%).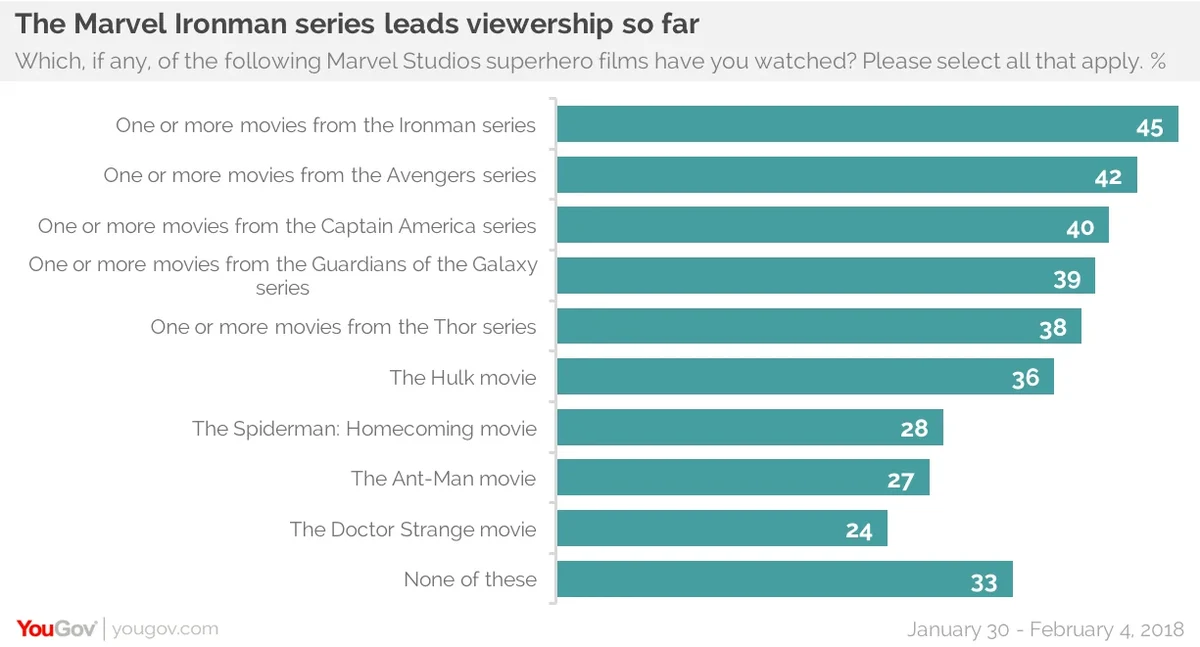 Leading reasons to watch Black Panther
The movie comes at an important time for black culture. Aside from saying that the movie looked good from the trailers alone (55%), many black Americans who plan to see Black Panther say they're interested because of the sheer number of black cast members (46%) in the movie. To black Americans, the number of black actors and actresses in the movie matter more than the fact that they're already Marvel fans (41%) – the leading reason every other race wants to watch the film.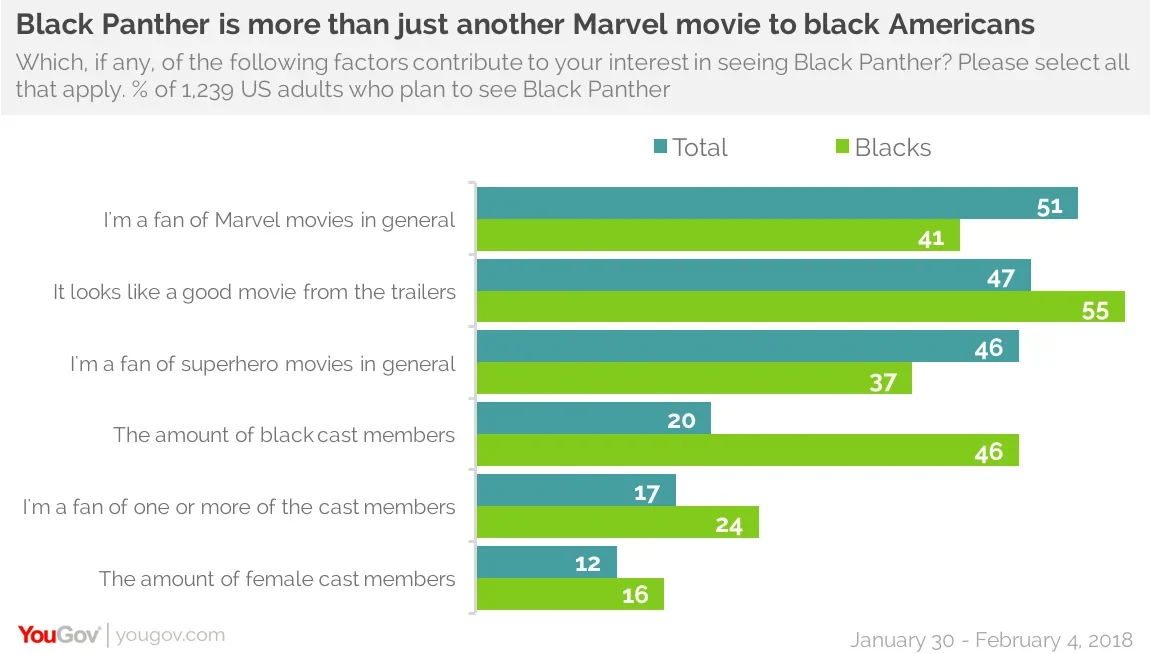 Black Panther emerged as the first superhero of African descent in mainstream American comics in 1966. The comics recently have surged in readership and are especially popular among millennials, 23% of whom have read at least a few Black Panther comics. Black Americans also report a high rate of readership (24%). Of the 15% of Americans who say they read Black Panther comics, more than three-quarters (77%) plan to see the movie in theatres and 94% say they'll watch it at some point.
Diversity's future in superhero movies
The movie is still days away but the data suggests that the way director Ryan Coogler, and in turn Disney (who owns Marvel), address diversity in Hollywood is paying off. Over a third of Americans (35%) believe that superhero movies don't tend to be very diverse and the sentiment is held most strongly by black Americans (42%) and millennials (41%). This isn't
the first time Disney has tackled the issue of diversity
and given the excitement around Black Panther, will probably not be the last of the brand's efforts to highlight underrepresented roles in movies.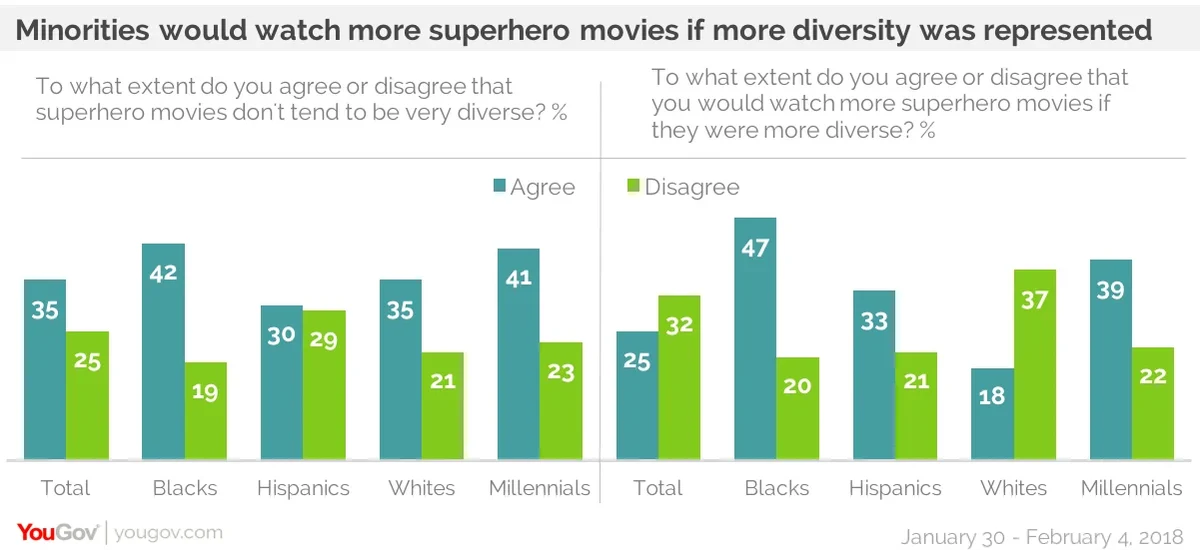 Future superhero movies that want to appeal to minorities may do well to build upon Black Panther's casting formula. When asked if they would watch more superhero movies if the movies were more diverse, nearly half of blacks (47%) and a third of Hispanics (33%) say they would. Diversity in these movies is important to millennials as well, 39% of whom say they would be more inclined to watch superhero movies if diversity was better represented.
Read more results from this poll here
Learn more about
research
Photo: Matt Kennedy/Marvel Studios