60% of Americans don't have a pick for what film should win Best Picture
Interest in the Academy Awards continues to decline. In the latest Economist/YouGov Poll, 59% say they follow the awards "not at all" closely, the highest figure in the last five years.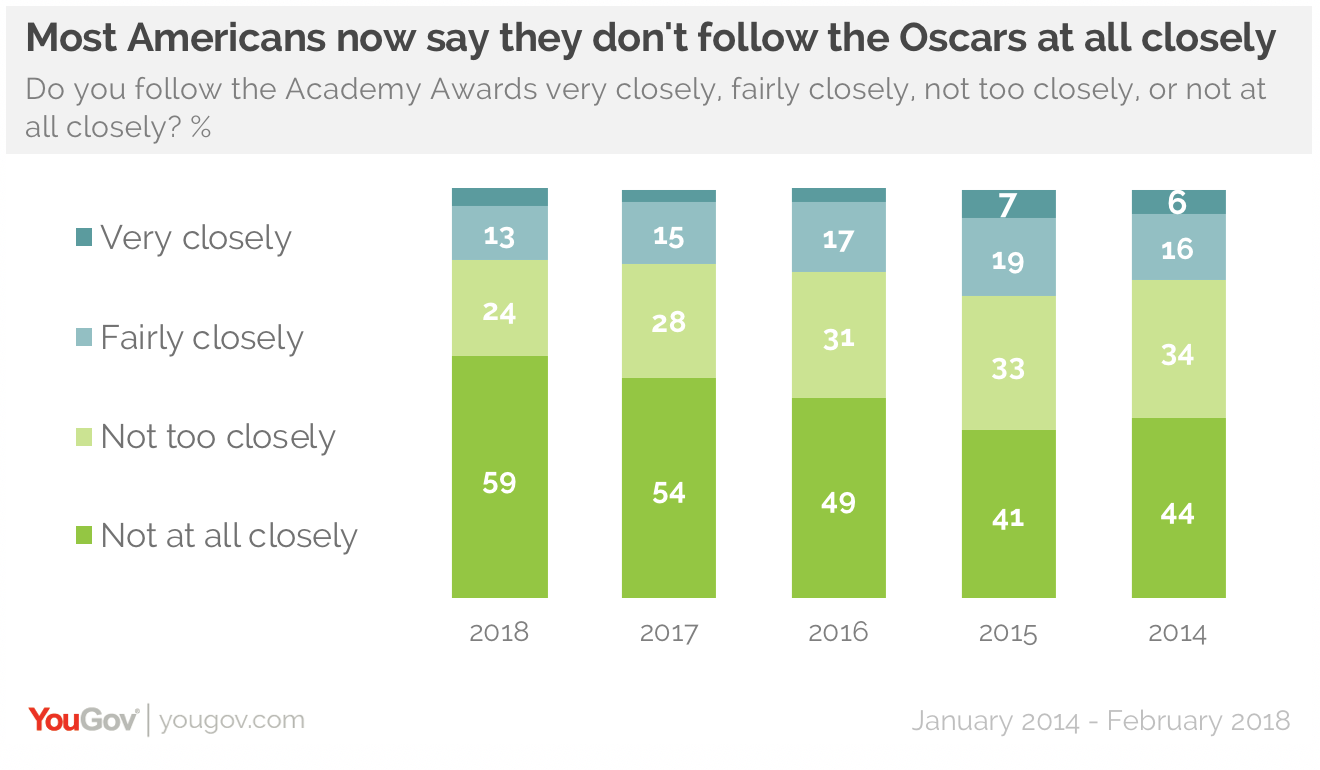 These days, many Americans don't see first run movies. Nearly half say they patronize movies in theaters "hardly ever" or "never." By more than four to one, they would rather watch films in their home than go out to do so.
The trend here is clear. In 2014, only 34% said they went to theaters "almost never" or "never." In 2015, that rose to 41%, remained at 40% in 2016, but rose again to 45% in 2017. In this year's Oscars poll, that percentage rose again – to 49%. In other words, fewer people are going to movie theaters, even on an occasional basis.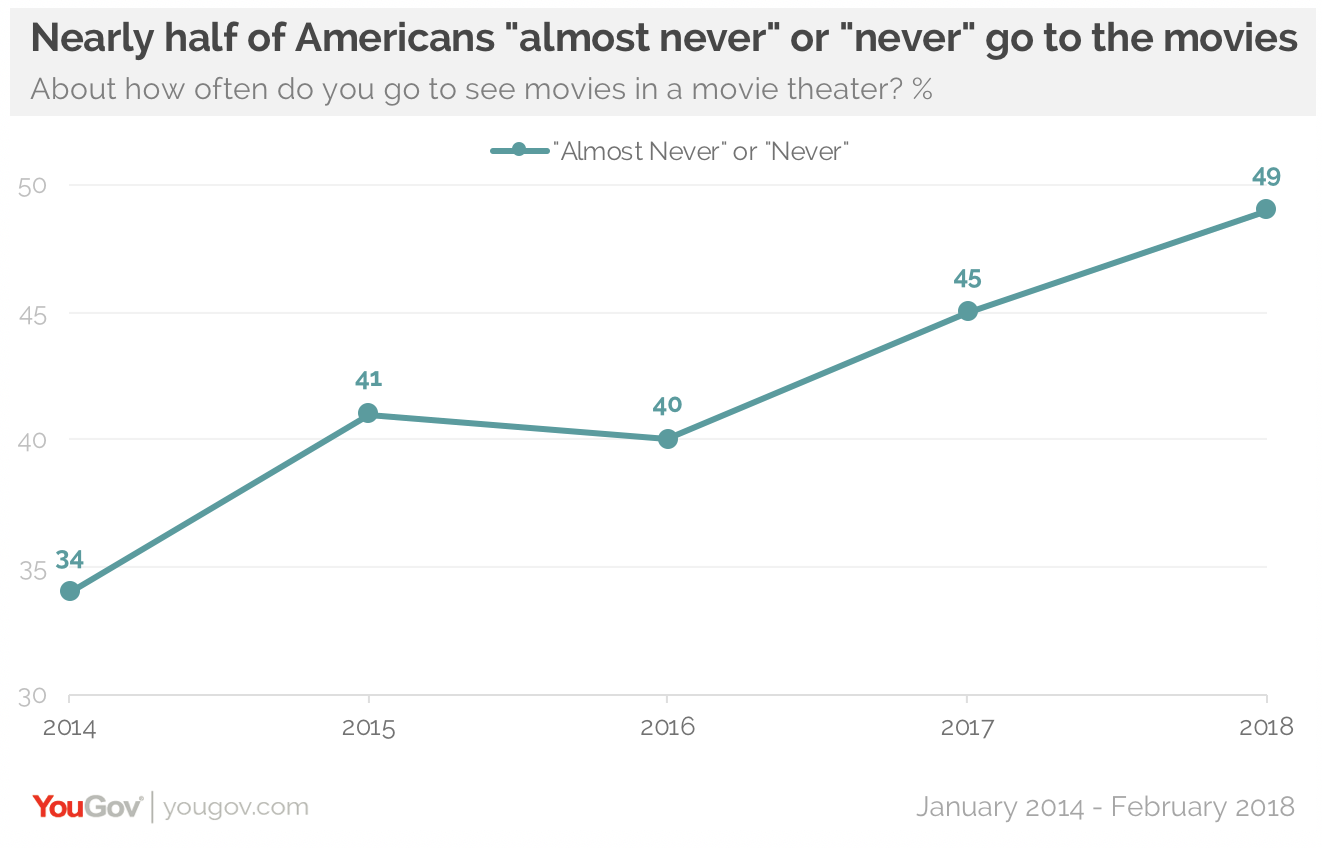 Most of the nominees for Best Picture are only beginning to make their way to home screens. So perhaps it's not surprising that 62% of the public have seen no Best Picture nominee. The most likely to have been seen is Get Out – one in three under the age of 30 and one in three African-Americans report having seen it, as well as 20% of adults overall. The second most-viewed Best Picture nominee is Dunkirk, which 15% of the public has seen. Fewer than one in ten have seen each of the other nominees.
That doesn't prevent at least some Americans from expressing an opinion, though 60% have no opinion as to which film should be named Best Picture. Get Out and Dunkirk get the most votes, but only 8% choose each of those two movies.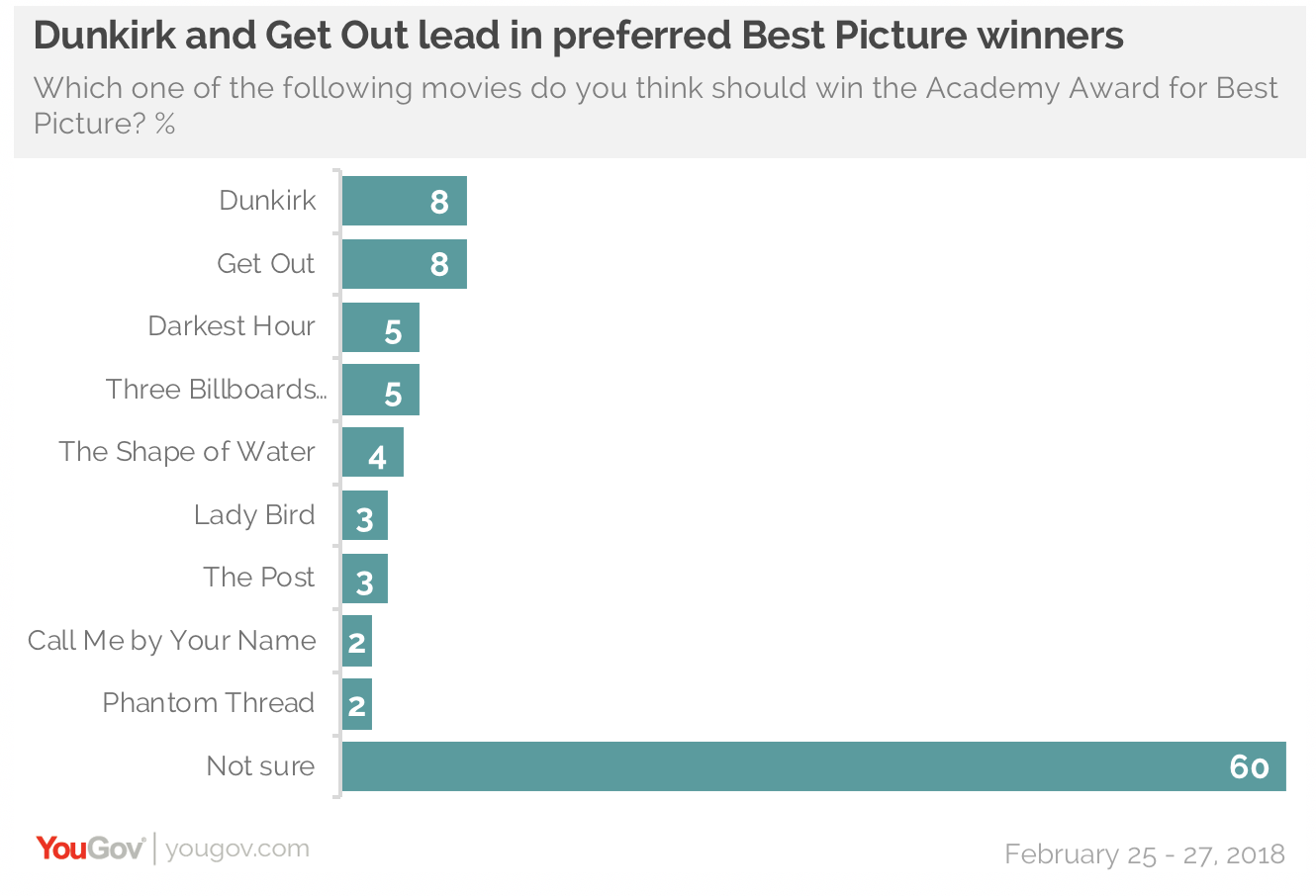 The public may not know the films, but they know at least some of the acting nominees. And as they have in the past, Americans select the actors they know the best as the ones deserving of prizes. The public's front-runner for Best Actor from the nominees? Denzel Washington for Roman J. Israel, Esq., one of the least-seen movies with a major nomination. Last year, Washington also was the public's Best Actor favorite for Fences, when Casey Affleck won for Manchester by the Sea.
The Best Actress favorites are two previous Oscar winners: Meryl Streep for The Post and Frances McDormand for Three Billboards Outside Ebbing, Missouri. And Octavia Spencer of The Shape of Water, who has an Oscar for The Help, is the top vote-getter for Best Supporting Actress. But more than six in ten choose no one in these categories. Even more – 73% – make no choice for Best Supporting Actor.
Unlike some previous years, this year there were few controversies about the nominations themselves, though MeToo and Time's Up have focused attention on problems within the film industry. But in a year marked by lower interest in the movies, about half the public said they couldn't say whether the Academy of Motion Pictures Sciences generally did a good or bad job in choosing nominees. The rest were divided evenly - a change from what had been generally positive assessments in previous years, even in those years when a lack of diversity in the acting categories led to intense criticism.