Over twenty years later and still going strong among younger viewers
The hairstyles are outdated and the size of Monica's NYC apartment may be hard to believe, but Friends will go down for many as the most relatable comedic hit of their generation.

The show has spectacular staying power on television – it's been more than a decade after the finale aired and more than two decades since the show began – and has successfully made its way onto Netflix, the subscription streaming service. Considering the show still flourishes despite preceding the smartphone era and today's social media revolution, YouGov Omnibus surveyed just how many Americans are fond of Friends.

By the numbers, nearly seven in ten Americans (69%) have watched at least a few episodes of Friends; less than a third (28%) say they've never seen the series. Americans between the ages of 35 and 54 are the most likely to report that they've watched Friends, with 81% saying they've seen at least some, followed by 25 to 34 year-olds (72%), and those over the age of 55 (62%). While over half (52%) of millennials aged 18 to 24 report that they've watched the show, they're the least likely of all age groups to say so. In fact, over a third of those young adults (38%) say they haven't watched a single episode, something that less than half of 35-54 year-olds report (15%).



Among the people who say they've watched the show, 22% say they "love" the show and 41% say they "like" it. A quarter of Americans (26%) who've seen at least a few episodes are apathetic about how they feel about the show and one in ten (10%) say they dislike it. The show fares best among millennials, with over seven in ten saying they either like or love the show.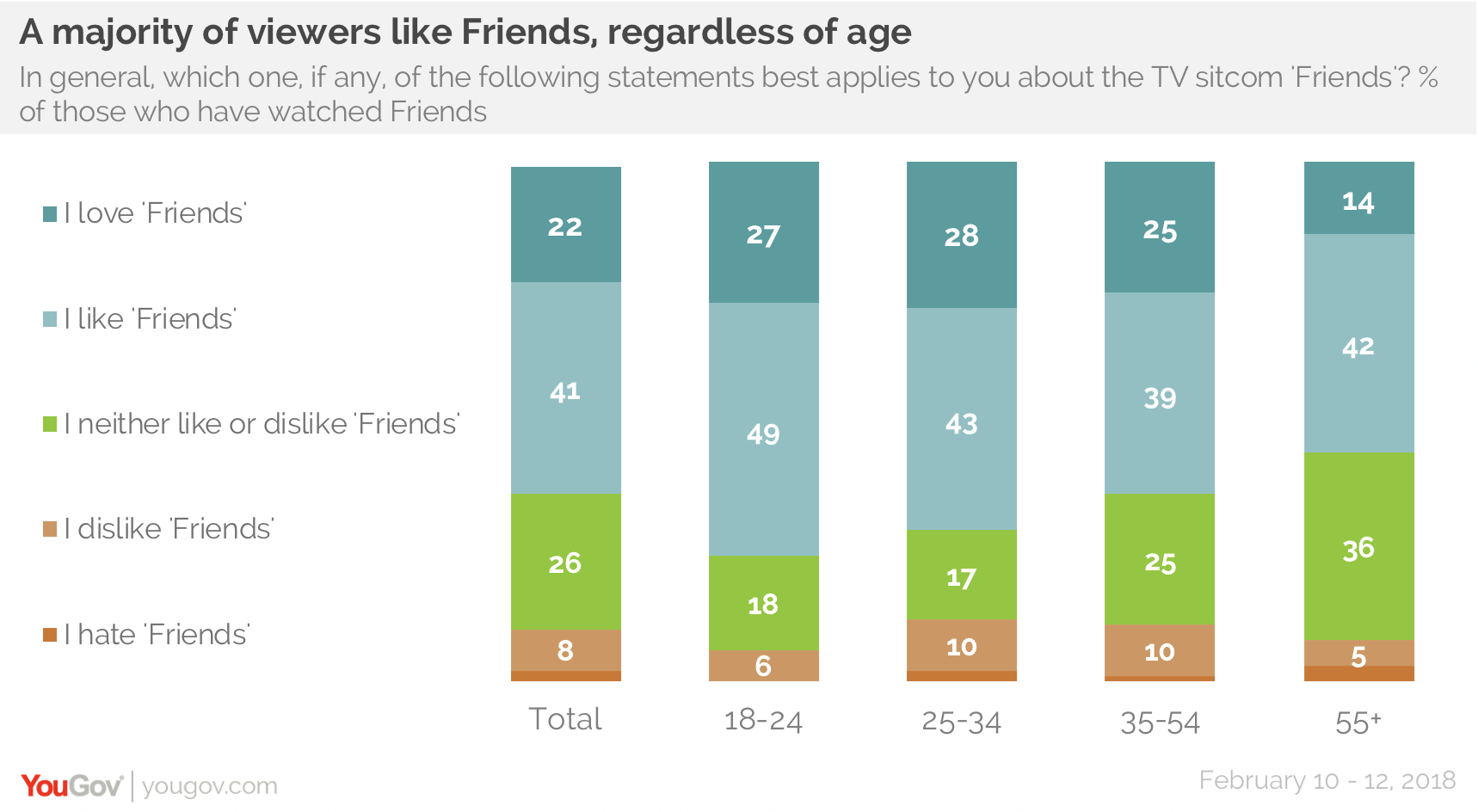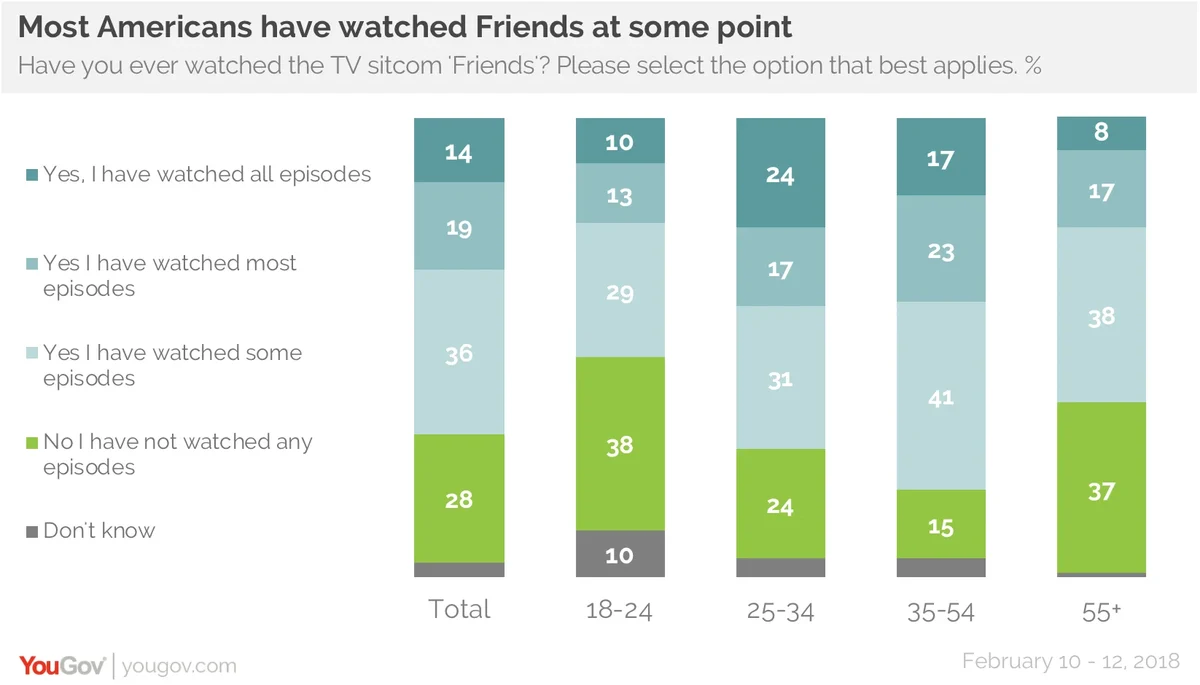 Who was the best Friend
YouGov's latest poll also reveals that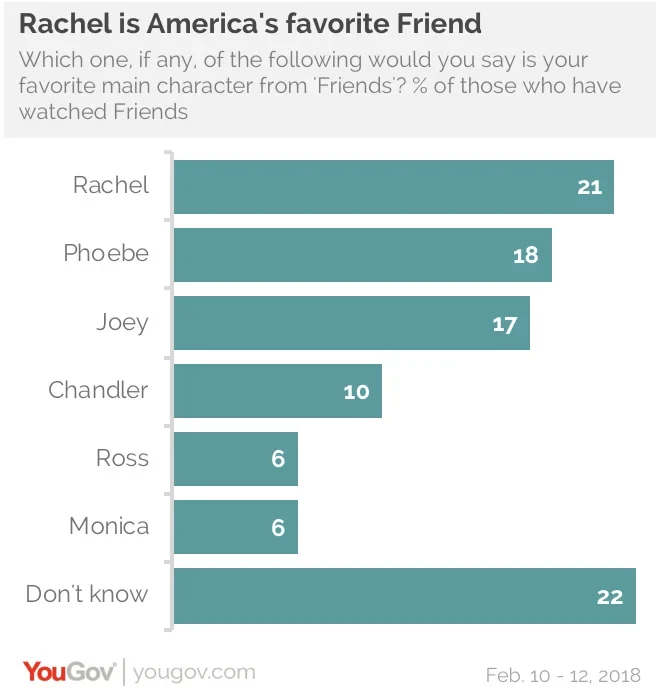 Rachel is America's most-favored Friends character, with 21% of viewers choosing her as their favorite. This is true for all ages except young millennials, who report Joey (26%) as their favorite main character. Men also cite Joey as their favorite Friend while women prefer Rachel (22%) or Phoebe (21%) more.
Phoebe was voted as the nicest (24%), while Monica was seen as the least nice (22%). Rachel was chosen for multiple accolades including the most attractive (44%), the one many would like to be friends with (19%), and the character many would like to date (18%). Americans also voted Joey to be the funniest character (29%) and the one that many think would be best for a spin-off show. Ross with all his paleontological jokes was deemed to be the most annoying (26%).
Ross and Rachel were on a break but what Ross did was unacceptable
Avid fans may remember the infamous "we were on a break" storyline in season three that drove Rachel and Ross apart. According to almost half of Americans who were aware of the plot line, the two definitely were on a break from their relationship when Ross slept with someone else. But on the general matter of sleeping with someone else while a couple is on a break, about half of Americans (49%) say that it's unacceptable to do so. Women are the most likely to believe that it's indefensible (58%) where as men are evenly divided – 39% on both sides of the argument believe that it's either acceptable or unacceptable.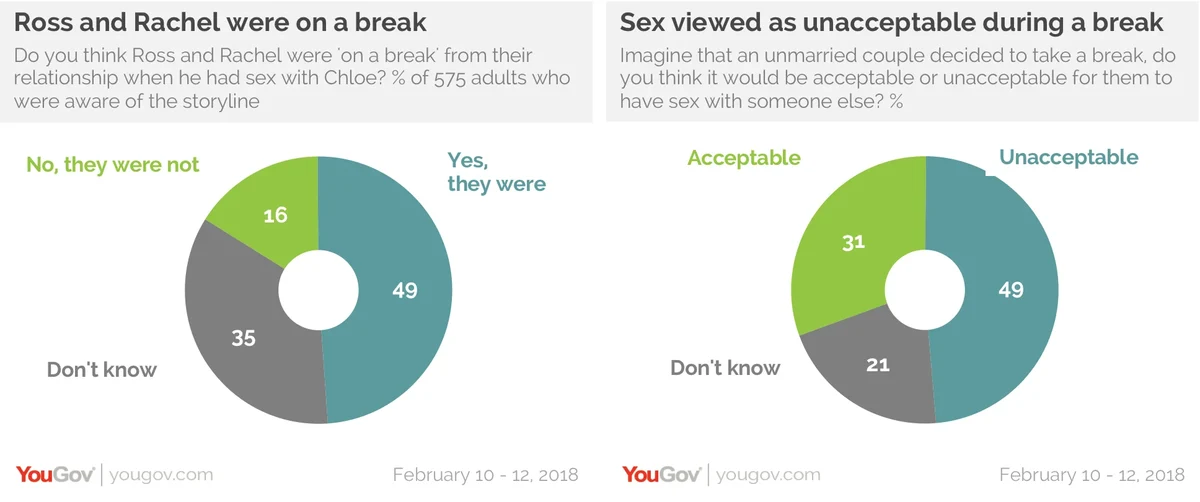 YouGov conducted a similar poll in the UK
and found that a comparable number of Brits (67%) have watched the show but their favorite character across the pond is Chandler, not Rachel. And of those in the UK who are aware of the storyline when Ross and Rachel supposedly went on a "break", they're more likely than their American counterparts to definitively say that it certainly was a break (61%). In fact, Brits further distinguish themselves from Americans by more saying that it
is
acceptable (41%) to have sex with someone else if a couple was on break.
Read more results from this poll here
Learn more about
Photo: Warner Bros.