But Democratic presidents more popular than their wives
First Ladies have been in the spotlight this last week – first with the passing of Barbara Bush, and then with Melania Trump hosting her first state visit. YouGov Ratings data explores how First Ladies and their spouses fare in the court of public opinion.

It shows that for each living president, Republican first ladies are more popular than their husbands while Democratic presidents are more popular than their wives. The late Barbara Bush was seen positively by 47% of Americans – notably higher than her husband George H. W. Bush, who earns a 38%. The figures are exactly the same for the second generation of Bushes in the White House, with Laura Bush (47%) viewed more favorably than her husband George W. Bush (38%). Fifteen months into being First Lady, Melania Trump - while having slightly lower scores than either of her Republican predecessors (40%) - is ahead of her husband Donald Trump, who is viewed positively by 35%.

The opposite is true when it comes to Democratic presidential couples. While 59% of the public have a positive opinion of Barack Obama, Michelle Obama is at 57%. While over half (51%) view Jimmy Carter favorably, for Rosalynn Carter the figure is 39%. Although Bill Clinton is less popular than either the Democratic presidents at 42%, he is still seen more favorably than Hillary Clinton at 38%.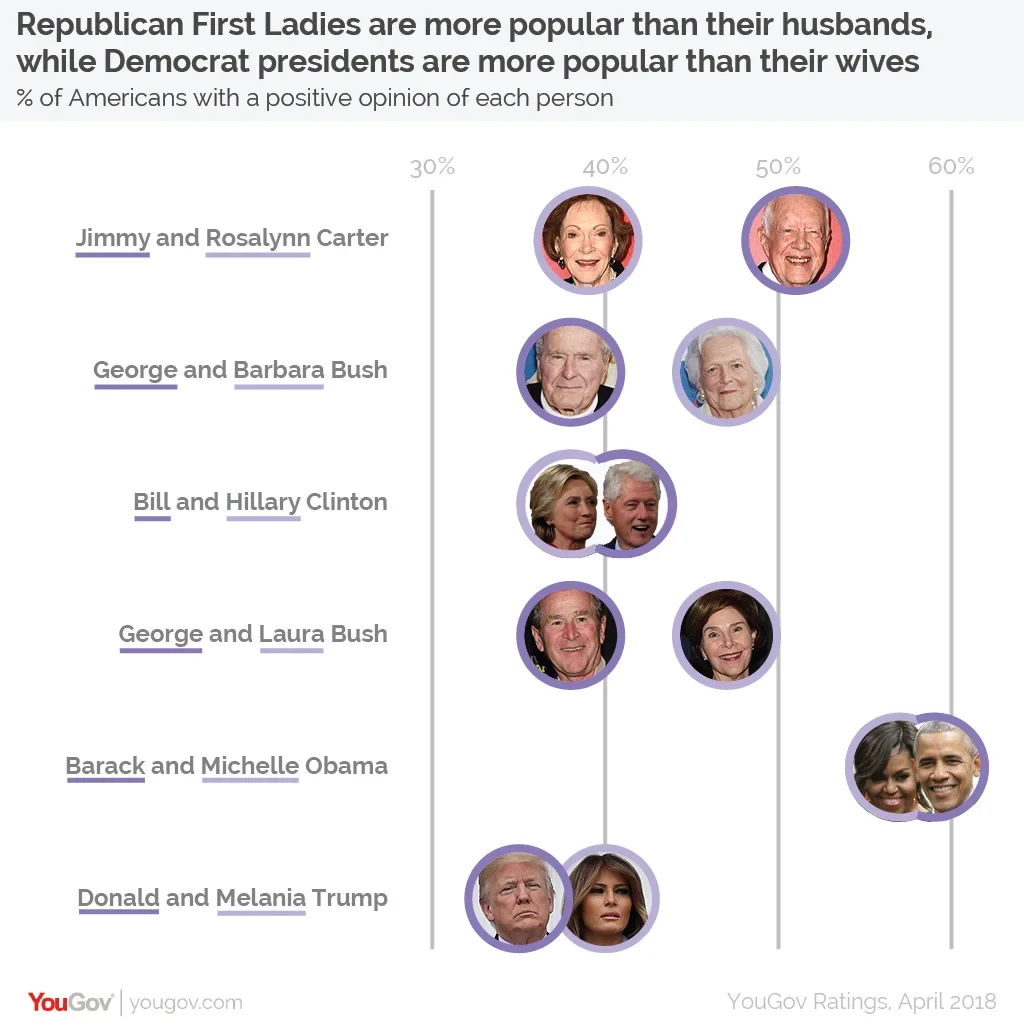 However, while most First Ladies are viewed similarly by both men and women, there are two notable exceptions: Melania Trump and Hillary Clinton. While the current First Lady is far more popular with men (47%) than women (33%), the reverse is true of Hillary Clinton, with 42% of women having a positive opinion of her compared to just 34% of men.
The data shows there are also generational divides. The Obamas are in first and second place when it comes to the most popular public figures among millennials – Michelle Obama is first with 67%, while Barack Obama is second with 66%. The two Bush First Ladies score highly with Baby Boomers.
The data in this story comes from YouGov Ratings, which measures the popularity of over 8,000 people, things, brands, and products among the American population. A representative sample of the public is asked "Please tell us what you think about the following public figure." Respondents are then shown photos of the person and asked to rate them on a five point scale ranging from very positive to very negative. There is also a "never heard of" option.
Full results for each person, brand, product, or thing is available to explore for free at the YouGov Ratings page.
Learn more about YouGov Ratings.
Image: Getty