Fans of Wolf's past work are more likely than the general public to have a favorable view of brands such as Lincoln and Reebok
Dick Wolf is on the move. The TV producer, known for creating the Law & Order and Chicago franchises on NBC, is set to launch a new drama entitled FBI this fall — except this time on rival network CBS.
While the relocation marks a change for Wolf, who hasn't worked anywhere besides NBC for the past 15 years, data from YouGov Profiles helps shed some light on the kind of audience members CBS can likely expect to tune in for Wolf's new series about the Federal Bureau of Investigation's New York office.
US adults who hold a positive opinion of one or more of Wolf's past shows — specifically, Law & Order, Law & Order: Criminal Intent, Law & Order: Special Victims Unit, Chicago Fire, Chicago Med, and Chicago P.D. — are more likely to be women (55%) than men (45%). Overall, 35% are baby boomers (born between 1946-1964), 32% are millennials (born between 1982-1999), 26% are Gen Xers (born between 1965-1981), and 7% are from the silent generation (born between 1928-1945).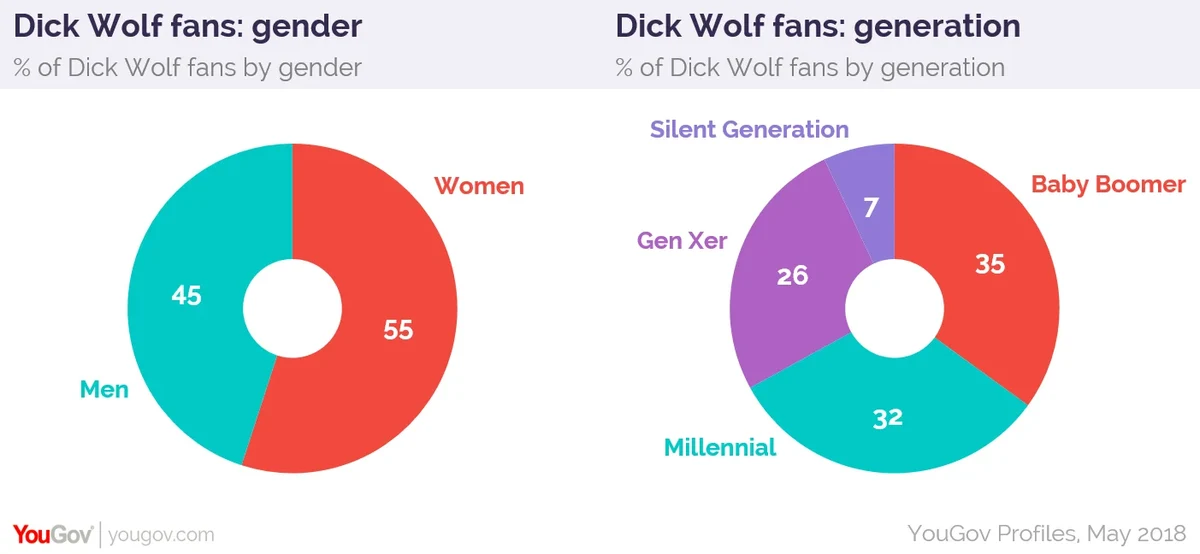 In the past 30 days, this group of Dick Wolf fans are more likely than the general public to have watched a drama-based show on TV (68% vs. 49%), as well as a Reality TV or non-scripted show (62% vs. 46%). In total, 57% of Wolf fans say they rely on TV to keep them informed, compared to 45% of all US adults who report the same.
Given the focus of Wolf's past work, perhaps it's little surprise that fans of his shows tend to have a more favorable view of law enforcement than the average American. Nearly three in four (72%) Wolf fans, for example, agree that their local police communicate well with the people in their area, compared to 63% of US consumers in general. When asked if they either support or oppose the government using surveillance methods that invade an individual's privacy to help fight crime and terrorism, 60% of Wolf fans support it. The same is true for 52% of the public at large.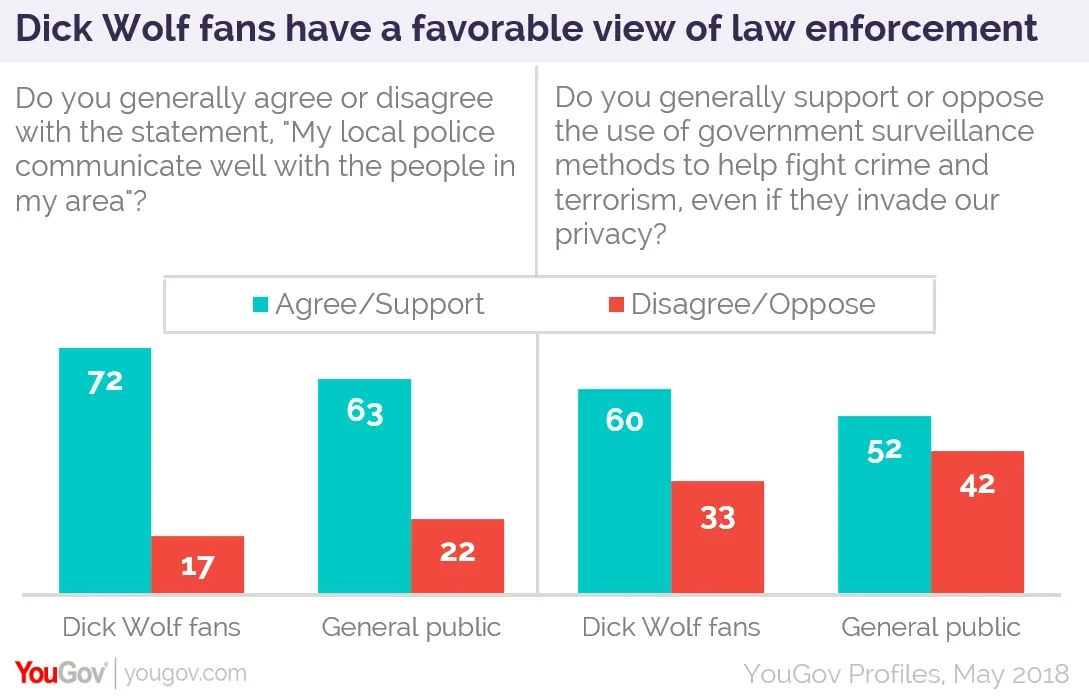 The good news for CBS is that Dick Wolf fans seem more open to advertising than the typical viewer: 56% of Wolf fans agree that advertising helps them choose what to buy, compared to 46% of the American public. Furthermore, just over one-third (36%) of Wolf fans report that they search on the internet for products they see advertised while watching TV, which is seven percentage points higher than the average viewer (29%).
Brands that might want to get their products in front of Dick Wolf fans include Lincoln, Bud Light, Reebok, and the skincare line St. Ives — all of which Wolf fans hold a higher positive opinion of than US adults in general.