Six in ten US adults who read magazines online are concerned about missing news stories
As the media landscape continues to shift from print to digital, nearly three in four (73%) Americans feel bombarded by advertising, according to the latest figures from YouGov Plan & Track. At the same time, slightly more US adults agree that advertising helps them choose what to buy (46%) than disagree (39%). For brands, marketers, and publishers, that's good news.
A closer look at the data reveals that targeted ads designed to appeal to individual consumers, or specific groups of shoppers, have a better chance of working than ads intended for general consumption. Media outlets in particular might be glad to know that 60% of consumers who report reading magazines online in the past 30 days — whether via smartphone, tablet, laptop, or computer — say they're more likely to interact with tailored ads. Online newspaper readers, too, show a higher probability of engaging with ads tailored to them, at 56%.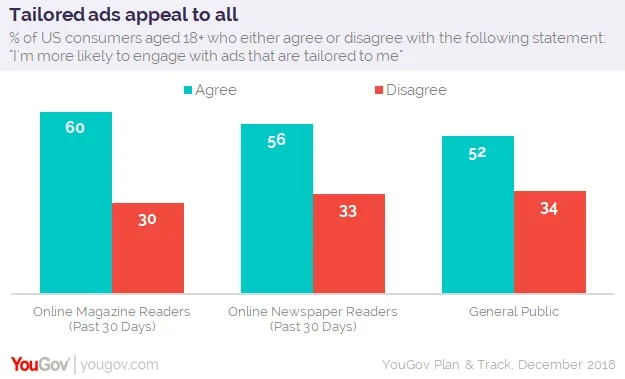 Overall, 52% of US adults say they're more likely to engage with ads that are tailored to them, while 34% aren't.
While magazines and newspapers can benefit from tailored ads, additional data suggests they should be cautious about tailored content.
In total, 60% of digital magazine readers and 56% of online newspaper readers express concern over potentially missing news stories due to websites tailoring content to their interests. Only 48% of all US adults show the same uneasiness.