Other brands benefitting from the big game include Sprint, Doritos, and the NFL
While the New England Patriots may have beat the Los Angeles Rams on the field last Sunday, new data from YouGov Plan & Track shows that official advertisers Pepsi, TurboTax, and Avocados From Mexico are scoring some major points with consumers, too.
When asked if they've heard anything positive or negative about Pepsi in the past two weeks, US adults gave the brand an average Buzz score of 13.3 throughout the month of January. Between Super Bowl Sunday and yesterday, however, Pepsi's Buzz score climbed 5.5 points to hit 18.9, making it the biggest gainer in this category among dozens of other brands. In addition to sponsoring the halftime show, Pepsi ran a commercial featuring celebrities Lil Jon, Steve Carell, and Cardi B.
Other notable Buzz gainers include Sprint (up 4.7 points), Netflix (4.1), and Pringles (4.0).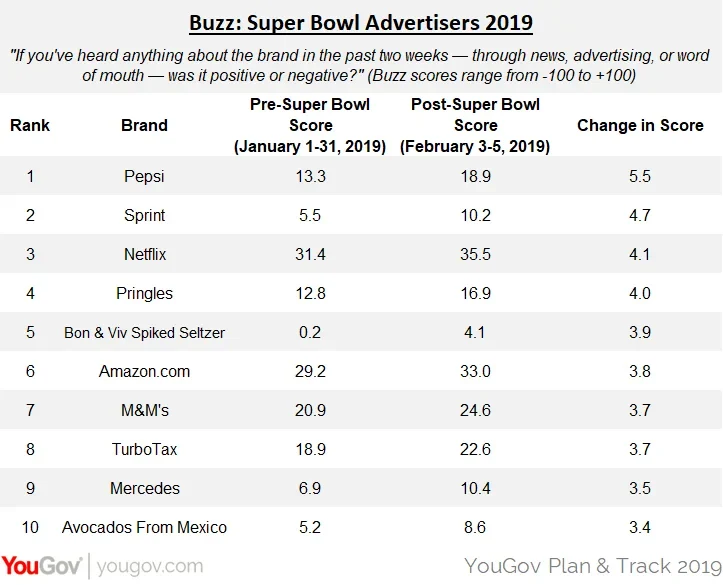 TurboTax, on the other hand, experienced the largest boost in Word of Mouth — which asks respondents if they recall discussing a certain product or service with friends or family members in the past two weeks. Prior to Sunday, 15.1% of consumers reported talking about TurboTax. After the tax preparation service launched a TV spot about a life-like robot child that wants to help people get the best possible refund this time of year, the brand's Word of Mouth metric increased to 35.2%.
The NFL also ran an ad celebrating its 100th season that features dozens of current and former players. The commercial, in addition to the Super Bowl itself, obviously, seems to have increased the number of people talking about the league, from 32.8% to 49.2%.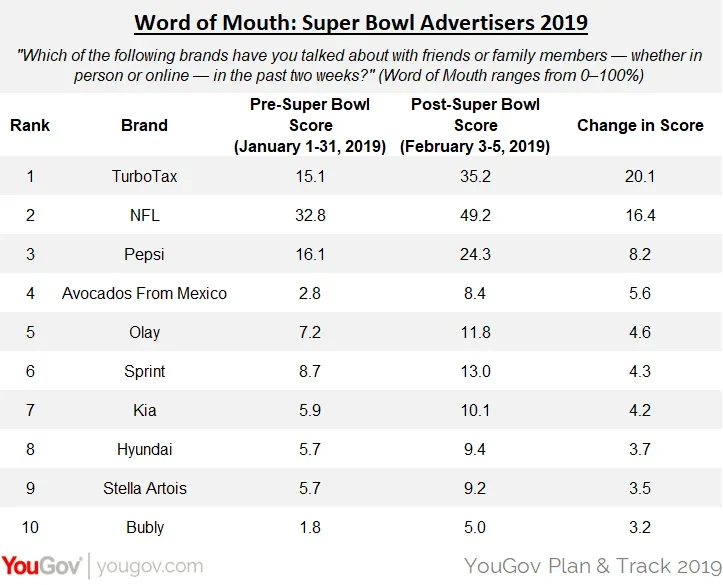 As for YouGov's Purchase Consideration metric — which gauges how open consumers are to buying, subscribing, or viewing a particular product or service — the biggest gainer was Avocados From Mexico. After airing a commercial centered around a dog show with humans competing for avocados, the number of people considering purchasing from the brand rose from 15% to 27.1%.
Doritos came in second place with an increase of 9.2%, followed by Pepsi (4.6%) and CBS (4.4%), which broadcast the game.