32% of Baby Boomers say James Marshall from Air Force One is one of their favorite fictional presidents
Presidents Day is around the corner, and there are plenty of polls about real-life presidents, but what about those on the silver screen? YouGov asked Americans about fictional presidents from movies and TV shows.
Favorite fictional presidents
Nearly a quarter (23%) of Americans pick James Marshall, played by Harrison Ford in 1997 movie Air Force One, as one of their favorite. Baby Boomers particularly like Marshall, with nearly a third (32%) selecting him.
President Beck, played by Morgan Freeman in Deep Impact, is the second most-popular choice, with almost one in five (19%) selecting him. Beck is the most popular pick among members of Generation X, with 23% of the vote. Close behind is Thomas Whitmore (18%), the president played by Bill Pullman in the movie Independence Day. Whitmore is the most popular choice for favorite fictional president among millennials, with 17% choosing him.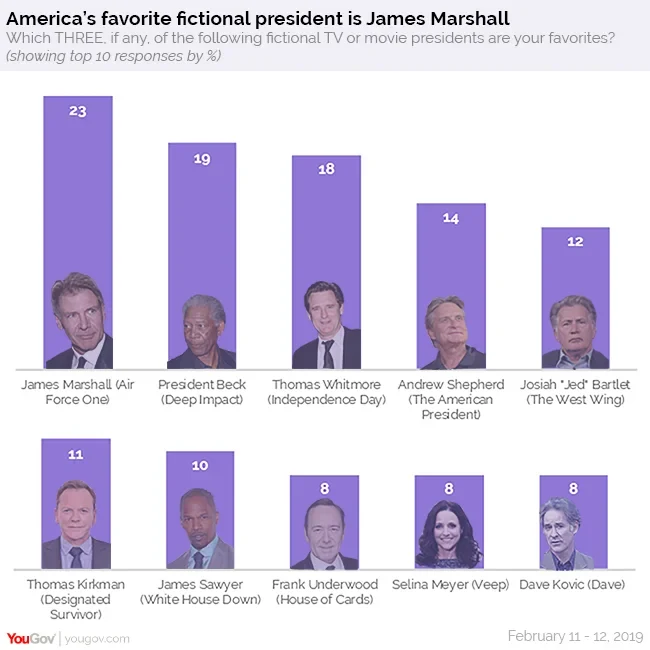 Other popular choices include Andrew Shepherd (14%), who is played by Michael Douglas in The American President, as well as Josiah "Jed" Bartlet (12%), played by Martin Sheen in The West Wing.
Which fictional presidents would Americans vote for?
Though James Marshall is overall the favorite, he's not the top pick when it comes to who Americans would vote for in real life. That honor goes to President Beck, who 18% say they would cast a ballot for if he was a candidate for president in real life. Marshall comes in second (16%), followed by Whitmore (14%).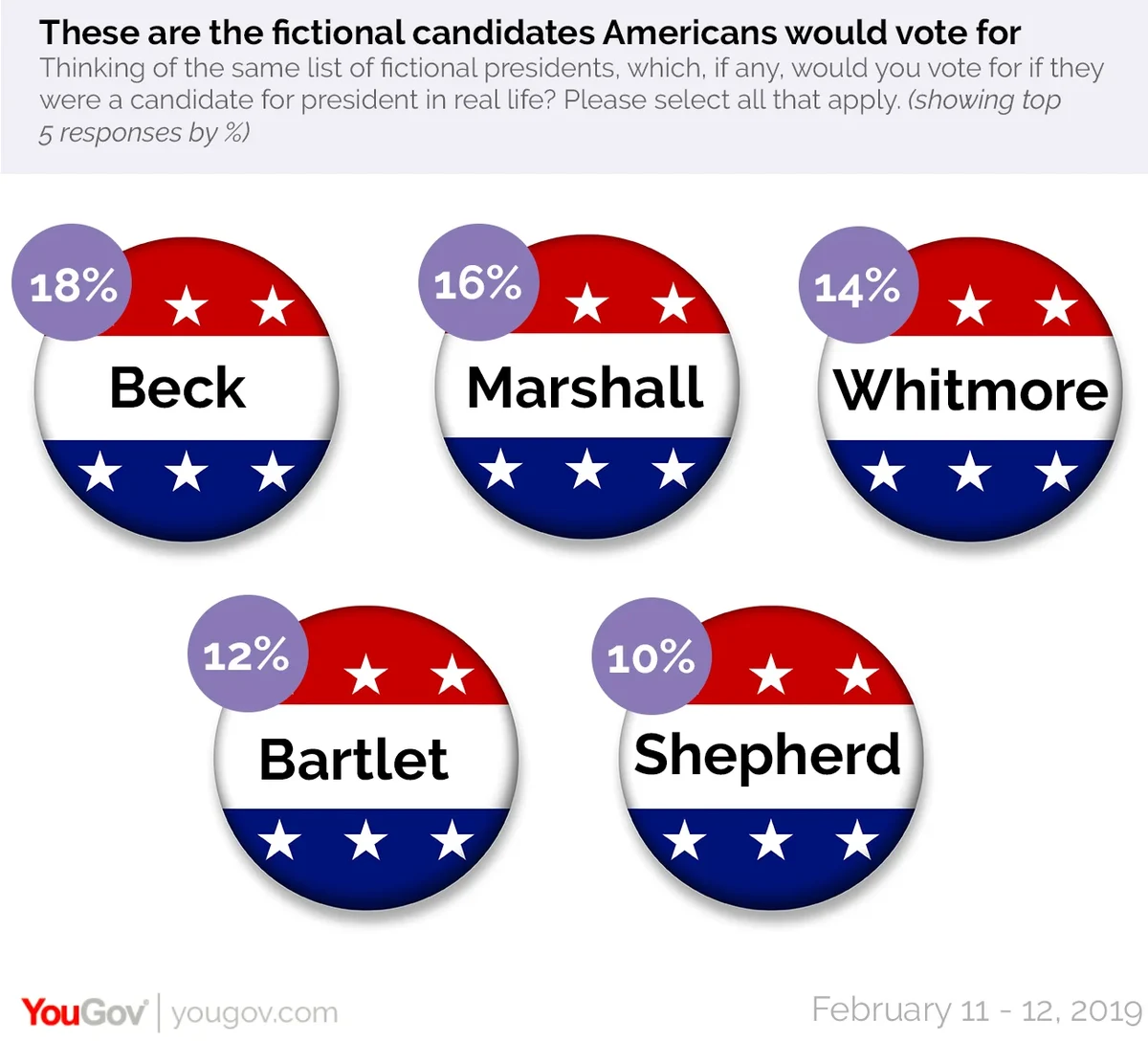 There are some TV and movie presidents Americans are far less likely to say they'd vote for. A mere 2% would cast a ballot for Merkin Muffley (played by Peter Sellers in Dr. Strangelove), while only 3% would vote for Frank Underwood (played by Kevin Spacey in House of Cards). Frank Underwood's wife Claire, who assumes the presidency in season 6 of the show, doesn't fare much better: only 4% would vote for her.
See full results here.
Learn more about YouGov Omnibus.
Image: Getty