Since the big game, the brand has seen notable growth across three key metrics
One month after the New England Patriots defeated the Los Angeles Rams in Super Bowl LIII, the latest data from YouGov Plan & Track reveals that the biggest winner might be Avocados From Mexico.
As one of the Super Bowl's many advertisers, Avocados From Mexico, along with a handful of other brands that ran a TV spot, saw significant increases in YouGov's Buzz, Word of Mouth, and Purchase Consideration metrics in the days following the big game. Now that some time has passed and news of the Super Bowl has subsided, Avocados From Mexico is still showing increases across the three aforementioned measures of consumer perception.
When comparing the brand's average Buzz score throughout January with the month following the Super Bowl (February 3 to March 3), Avocados From Mexico experienced an increase of +3.0 points.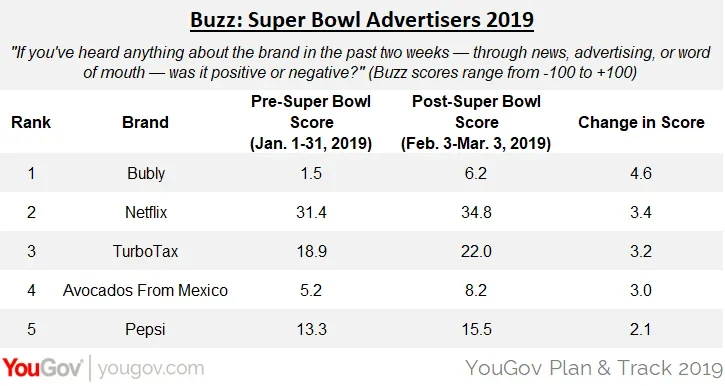 Likewise, Avocados From Mexico's Word of Mouth score has climbed 2.5% during the same time period, while its Purchase Consideration level has jumped 6.1% — the highest gain among all brands that ran a commercial during the Super Bowl.
Avocados From Mexico's ad centered around a dog show where humans compete for avocados.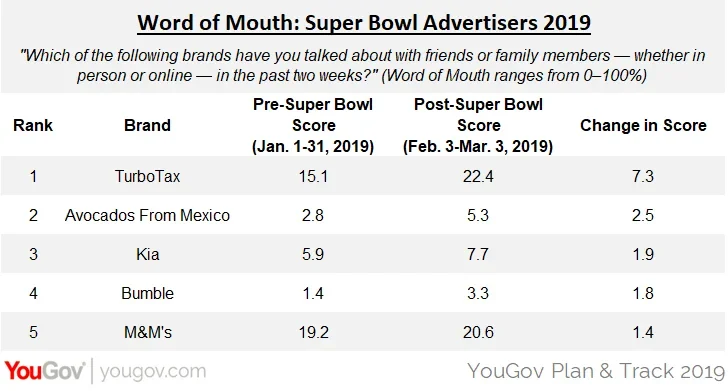 Two other Super Bowl advertisers — TurboTax and Bubly — are also still showing positive momentum.
Since Super Bowl Sunday, TurboTax's average Buzz score has increased +3.2 points, while its Word of Mouth rate has climbed 7.3%
Bubly, which made a humorous ad starring singer Michael Bublé, has seen its Buzz score rise +4.6 points and Purchase Consideration grow 3.9%.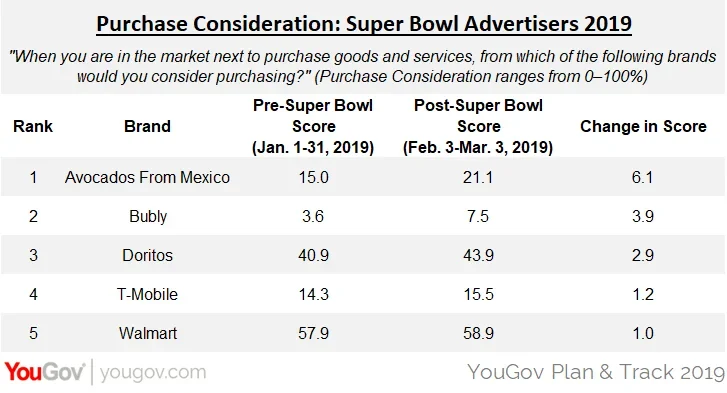 Definition of metrics:
Buzz asks, "If you've heard anything about the brand in the past two weeks — through news, advertising, or word of mouth — was it positive or negative?"
Word of Mouth asks, "Which of the following brands have you talked about with friends or family members — whether in person or online — in the past two weeks?"
Purchase Consideration asks, "When you are in the market next to purchase goods and services, from which of the following brands would you consider purchasing?"
Photo: Getty