27% of Americans don't think the royal baby should have US citizenship
Prince Harry and Meghan Markle have been known to break royal traditions, and they're reportedly planning to do so once again once their baby is born. Though most royal couples -- including Prince William and Kate Middleton, and Charles and Diana before them -- have posed for pictures with their new baby outside on the steps of the Lindo Wing at St. Mary's Hospital, Meghan and Harry reportedly plan to skip the photo op.
A statement from the palace says "Their Royal Highnesses have taken a personal decision to keep the plans around the arrival of their baby private. The Duke and Duchess look forward to sharing the exciting news with everyone once they have had an opportunity to celebrate privately as a new family."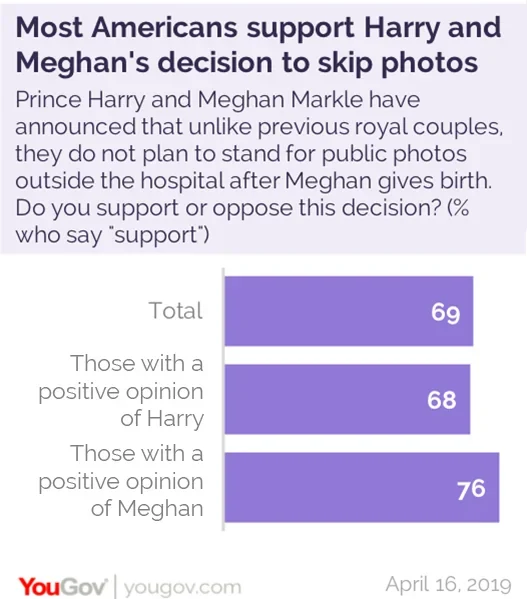 Most Americans (69%) support this decision, according to a recent poll from YouGov. People who have positive opinions of Meghan Markle are especially likely (76%) to say they support this decision. Those with a positive opinion of Prince Harry are about as likely as the general population (68%) to support the Sussex family's decision.

Very few (6%) people are opposed to the decision.
YouGov ran a similar poll in the UK, where respondents were asked about their views on Meghan and Harry's decision to keep details of the birth private. Three-quarters (76%) of Britons say the couple has the right to keep details about the baby's birth private, while just 12% think they are wrong to do so.