The 2019 Emmy nominations announcement drew criticisms about a "major decline in diversity" among this year's nominees.
This year, there were 24 people of color who received acting nominations, as well as two nominations for reality show hosts of color, bringing the total to 26 - a marked decrease from last year's record 38 nominations.
New research from YouGov finds that more than four in 10 (44%) Americans believe Hollywood creators should make a concerted effort to cast more diverse actors.
LIVE SURVEY RESULTS
Depending on your politics, you may feel more or less strongly about the diversity issue. Almost two-thirds of Democrats (64%) believe that creators in Hollywood should be making an effort to hire diverse cast members. Nearly three in 10 Republicans (27%) and independents (28%) agree.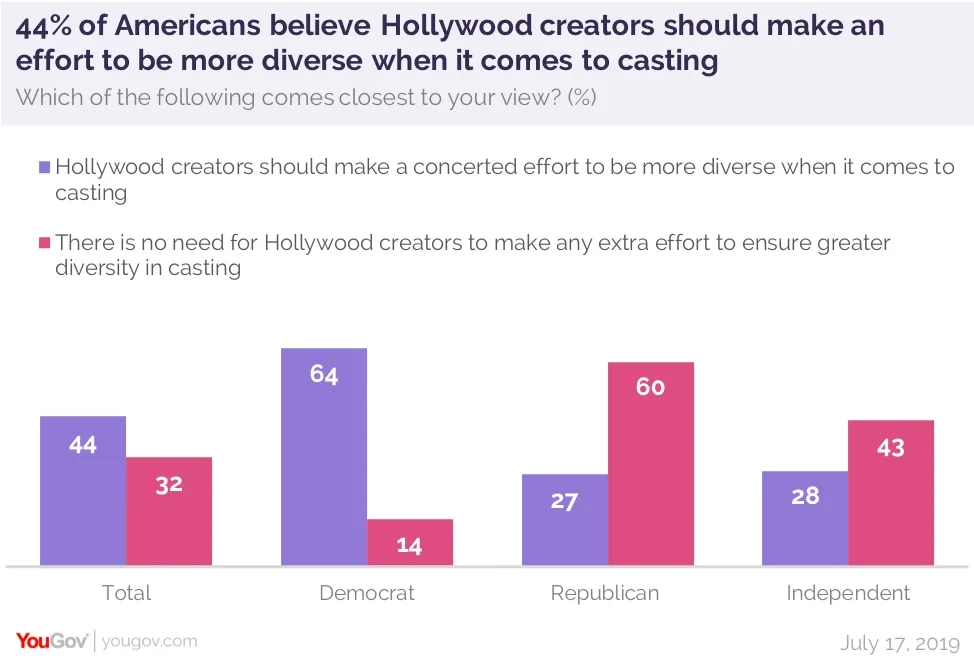 About one-third (32%) of Americans believe there is no need for Hollywood to make any extra effort to ensure greater diversity in casting. Republicans (60%) are especially likely to believe this. Democrats (14%) are much less likely to agree.
A majority of Americans under 35 years old believe that casting directors and other decision-makers should be working to ensure diversity. Those over 55 years old are slightly more likely to say there's no need to do so.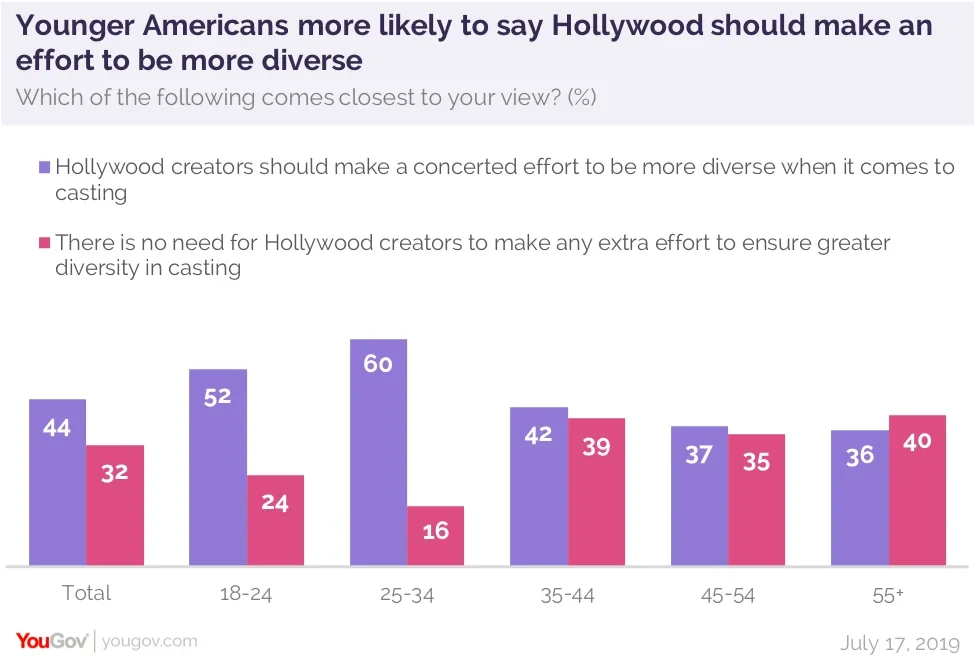 Further research from YouGov finds that those who watched the Emmys in 2018 are particularly likely (50%) to say Hollywood should make an effort to have a diverse cast.
Many Americans believe that there is still more work to be done with regards to diversity in Hollywood. A February 2018 poll from YouGov indicates that fewer than half of Americans believe a sufficient number of TV and film roles are made for women (37%), Blacks (35%), Hispanics (23%), Asians (21%), and LGBTQ people (18%).
As for this year's Emmy nominees, Variety notes that out of 39 comedy performer nominees, just 12.8% are non-white. Meanwhile, the drama category sees 38 nominees, breaking down as 55.3% white and 44.7% non-white.
Do you think Hollywood creators should make an effort to be more diverse when it comes to casting? Tell us what you think by signing up for our panel and taking the Daily Agenda poll.

Image: Getty