The latest movie from the Batman universe is drawing great reviews for its lead actor, Joaquin Phoenix.
Phoenix portrays the Joker, an oft nemesis of Batman, in the eponymous film: Joker. Phoenix's Joker isn't a super villain, but rather a troubled man who descends into madness and takes on a political system.
The accolades for Phoenix's character study should help the film to a robust opening weekend when it comes to theaters on October 4. But his casting seems to be a win unto itself, according to YouGov Plan and Track data.
That's because people who have a positive opinion of Phoenix are more likely than the average American to enjoy Batman films. And we mean all of them.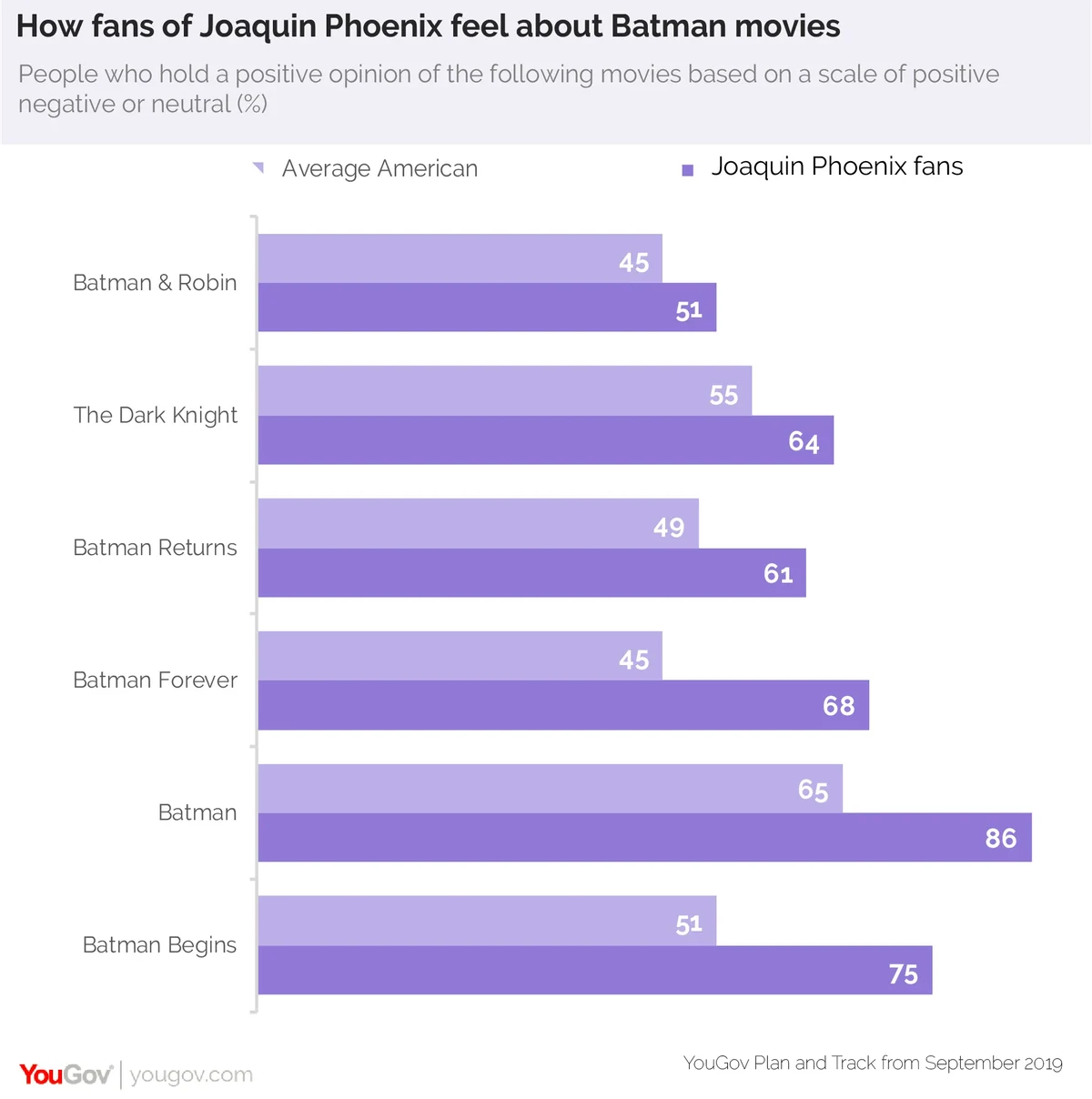 Fans of the actor seem to be predisposed to enjoying the Batman universe of content, which may have helped box office turn-out regardless of what is rumored to be a strong, nuanced performance.
But that doesn't mean that Phoenix is a shoe-in to climb the pantheon of greatest Jokers. That's a steep hill to climb. YouGov asked people to choose their all-time favorite live-action Joker performance, and top honors go to Heath Ledger.

More than a third of America ranks Ledger's performance in Christopher Nolan's The Dark Knight. That's convicingly ahead of Jack Nicholson, who famously portrayed the character in Tim Burton's Batman from 1989.
Jared Leto, who took on the role for the DC Entertainment Universe's Suicide Squad film, drew just 4 percent of the vote, despite some critical acclaim for his performance, which goes to show that Phoenix could face tough odds for becoming the best-ever Joker.