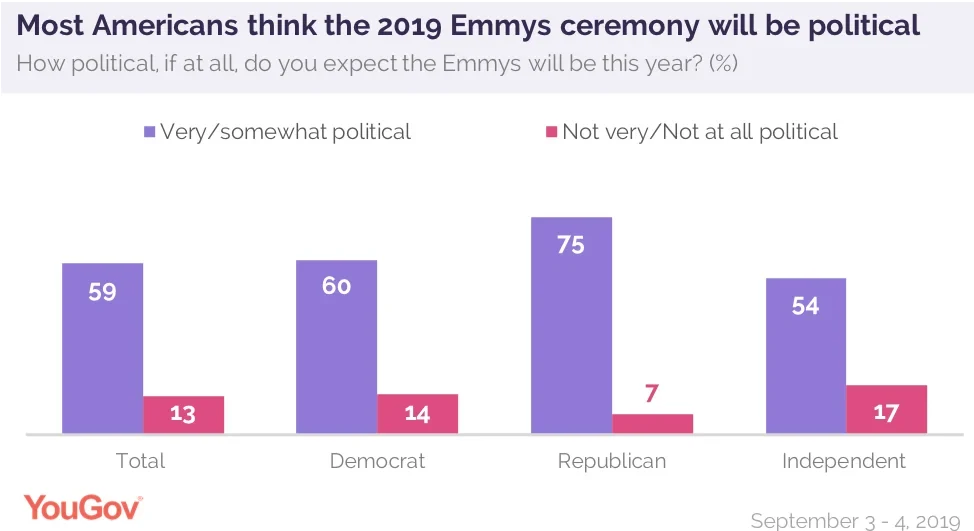 Republicans are especially likely to anticipate a political Emmys ceremony. Three-quarters of this group believes the Emmys will be political, while 60 percent of Democrats and 54 percent of independents predict the same.
Republicans are most likely to anticipate a political ceremony, but they're less likely than Democrats to say they plan to watch any part of the Emmys: 19% of Republicans and 35% of Democrats plan to watch some or all of the ceremony.
But while many might be anticipating a political Emmys ceremony, they don't necessarily believe it's appropriate.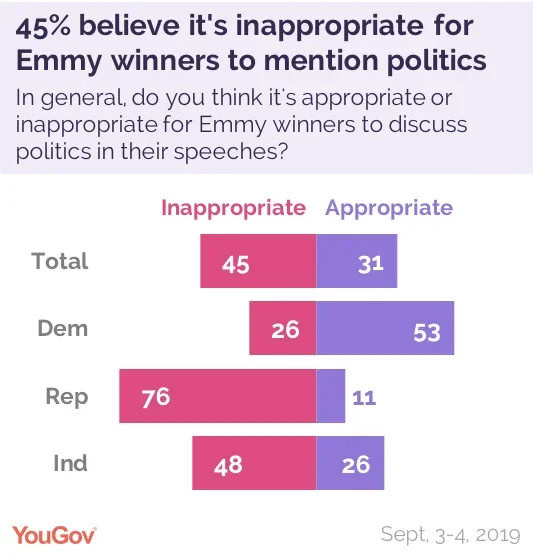 More than four in ten (45%) Americans believe it is inappropriate for Emmy winners to discuss politics in their speeches.

A majority (76%) of Republicans say it is inappropriate for Emmy winners to discuss politics in their acceptance speeches. Nearly half (48%) of independents and about one-quarter (26%) of Democrats agree.
Democrats (53%) are much more likely than independents (26%) or Republicans (11%) to take the opposite view and say that it is appropriate for Emmy winners to talk politics in their speeches.
There have also been questions about whether the Emmys -- and the TV industry in general -- is sufficiently diverse. Last year's ceremony saw a record number of nominees of color (not to mention, a tongue-in-cheek performance about Hollywood diversity called "We Solved It"). But this year, critics have noted "a major decline in diversity and inclusion," among nominees, as Deadline referred to it.
Data from YouGov finds that many Americans feel minorities are not honored by the TV industry to the extent that they deserve.
More than four in 10 (42%) believe Native American actors are honored to a lesser extent than they deserve, while 34 percent say the same about Asian actors. About a third (33%) believe the same about Hispanic actors. A quarter of Americans say black actors aren't recognized by the industry as much as they deserve, and 24 percent say this is true for LGBTQ actors, as well.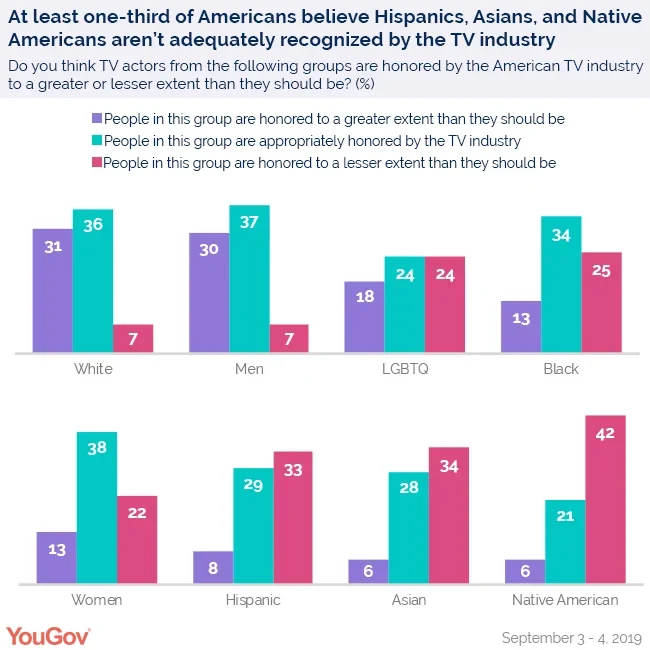 By contrast, 31 percent believe that white actors are honored to a greater extent than they should be by the TV industry, while 30 percent believe men are honored too much. But more Americans (36% and 37%, respectively) believe these two groups are honored an appropriate amount.
This year, 26 people of color received nominations including 24 for acting and two nominations for reality show hosts of color. That's a decrease from last year's record 38 nominations for people of color.
A YouGov poll conducted in July 2019 found that 44 percent of Americans believe that Hollywood should make an effort to cast diverse talent. Nearly one-third (32%) said, "There is no need for Hollywood creators to make any extra effort to ensure greater diversity in casting."
See full results from the September 2019 poll on the upcoming Emmy awards here.
Methodology: Total unweighted sample size was 1,235 US adults. The figures have been weighted and are representative of all US adults (ages 18+). Interviews were conducted online in English between September 3 - 4, 2019.
Do you believe the Emmys will be political this year? Sign up for our panel and tell us what you think.
Image: Getty