The Great Streaming Wars of 2020 appear to be taking shape. But is there room for all the players?
Over the next few months at least a half-dozen companies will attempt to stake a claim on household entertainment budgets with unique streaming offers. But there may be a threshold for how many subscriptions consumers are willing to support, or at least for how much they're willing to pay.
Just over half (56%) of America already subscribes to between one and three services, according to new YouGov data. About a quarter (26%) of Americans seem ready to add a new subscription.
That number goes up when looking at current cord cutters, or those who have opted to use streaming services instead of a cable or satellite provider for video. A large portion (40%) of this group say they are somewhat or very likely to subscribe to more services.
When the question changes to money, the dynamics shift a bit. More than a third (37%) of all Americans say that between $1-$20 is the maximum they're willing to spend on entertainment subscriptions each month, according to YouGov's survey. That spending threshold is similar among cable subscribers. YouGov classified subscriptions as streaming TV and movie services such as Netflix and Hulu, as well as music services such as Tidal and Spotify.
As one might expect, the number of people willing to spend narrows as we go up the scale. On the top end of the scale, a small segment (5%) is willing to pay $71 or more per month.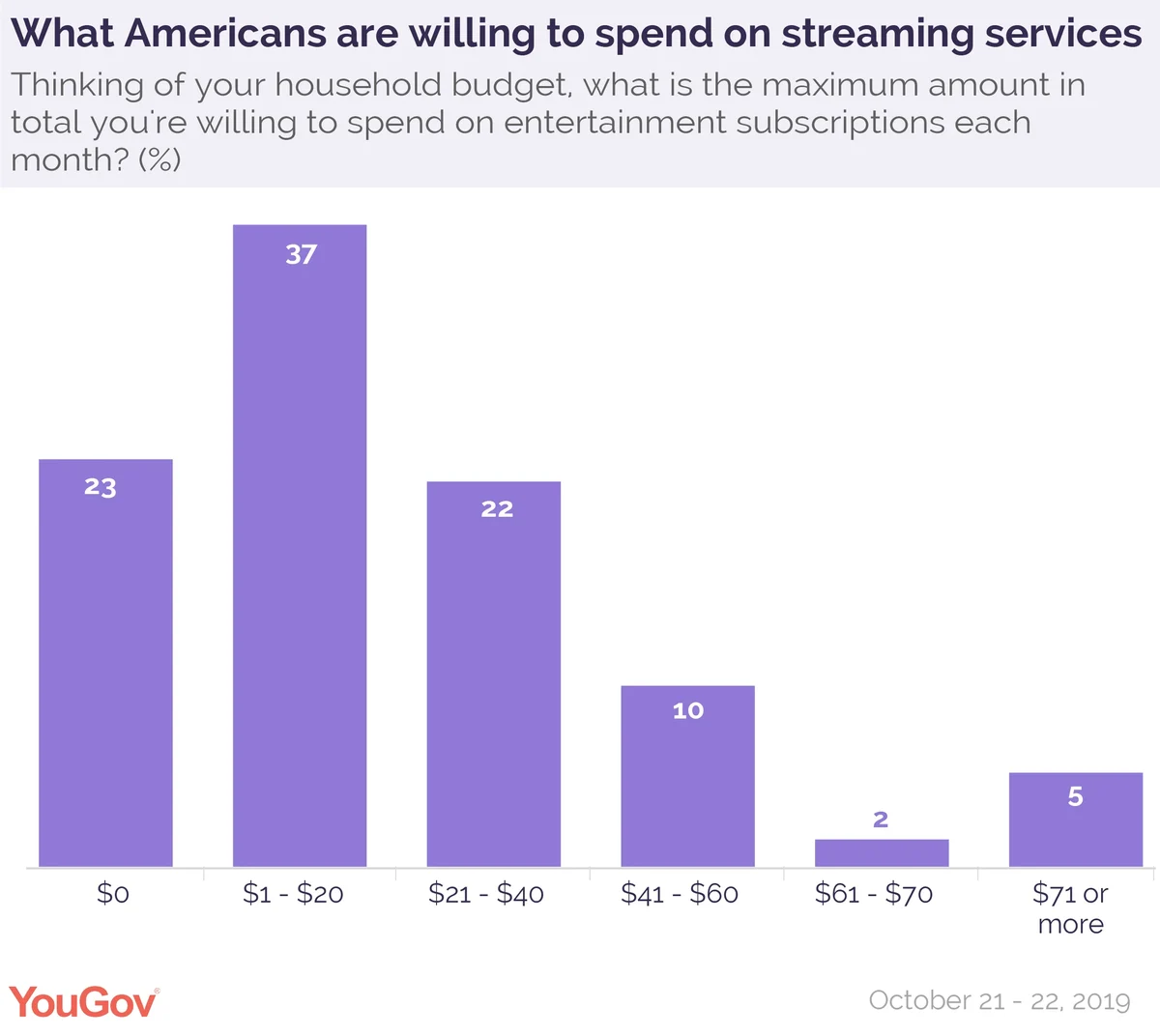 That data is important because each of the various competitors in the streaming market have different pricing structures.
Netflix's standard plan is $12.99 ($15.99 for Premium) per month;
Hulu's Basic plan is $5.99 ($11.99 for Premium) per month;
Apple TV+, launching Nov. 1, is $4.99 per month;
Disney+ launching Nov. 12, will be $6.99 per month;
NBCUniversal-owned Peacock, launching in April 2020, has no price announced yet;
HBO Max, launching in May 2020, will cost $14.99 per month
To retain and gain viewers, major streaming players are willing to spend big bucks on big-name TV series. WarnerMedia reportedly paid $425 million for Friends and more than $500 million for South Park, now in its 23rd season. NBCUniversal paid $500 million for The Office.
Those multimillion-dollar moves could very well prove to be good bets. Close to 40 percent of Americans say they are very or somewhat likely to subscribe to an entertainment subscription service to watch a specific show or series. For self-described cord cutters, that number jumps to 56 percent.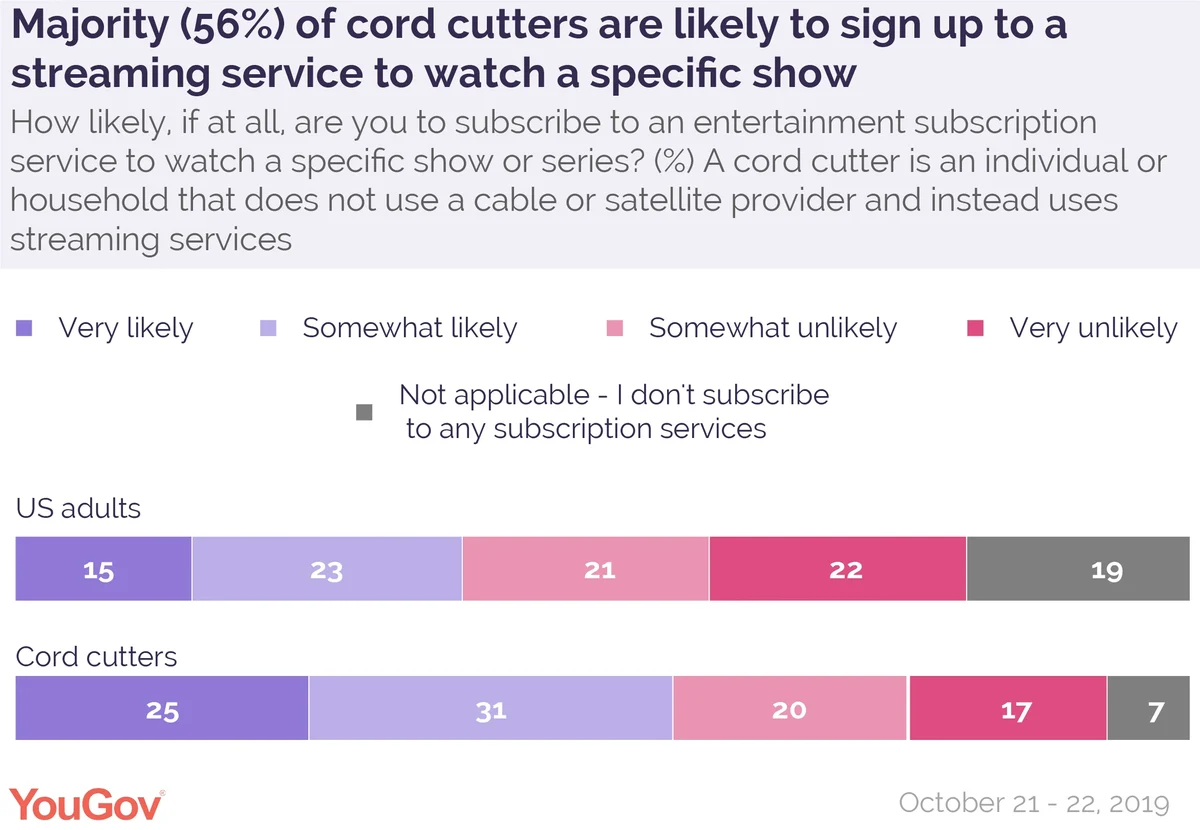 Attracting new subscribers is only half the fight — retention is key. When asked which subscriptions are "must-have" services, 42 percent said Netflix, 23 percent said Amazon Prime and 16 percent said Hulu.
Satisfaction among those current main players is high. More than half (57%) say they are somewhat or very satisfied with the quality of content on Netflix, while 49 percent say that of Amazon Prime and 24 percent say that of Hulu.
Half of Millennials consider themselves cord cutters, while 40 percent Gen Xers and 23 percent Baby Boomers give themselves that title.
According to YouGov Profiles data, Americans who are somewhat or very likely to subscribe to more services in the future are more likely than the general population to watch animated shows as well as shows about cars and motoring, fashion and beauty, music, and horror and fantasy.
Those likely to subscribe to more services are also more likely than the national average to consider themselves movie buffs, YouGov data shows.
See full results from this survey here.
Methodology: Total unweighted sample size was 1,200 US adults. Figures have been weighted and are representative of all US adults (ages 18+). Interviews were conducted online between Oct, 21 - 22, 2019.
Image: Getty