Weeks after Shepard Smith's abrupt departure from Fox News, CNN president Jeff Zucker said his network would be "open" to talks with the former anchor -- and that could be an ideal home for the long-time broadcast journalist, according to YouGov data.
Apart from Fox News, fans of Smith (those who give him a positive rating among TV personalities) are more likely than the general population to watch CNN to keep up with the news. Smith fans are also more likely to trust CNN as a news source.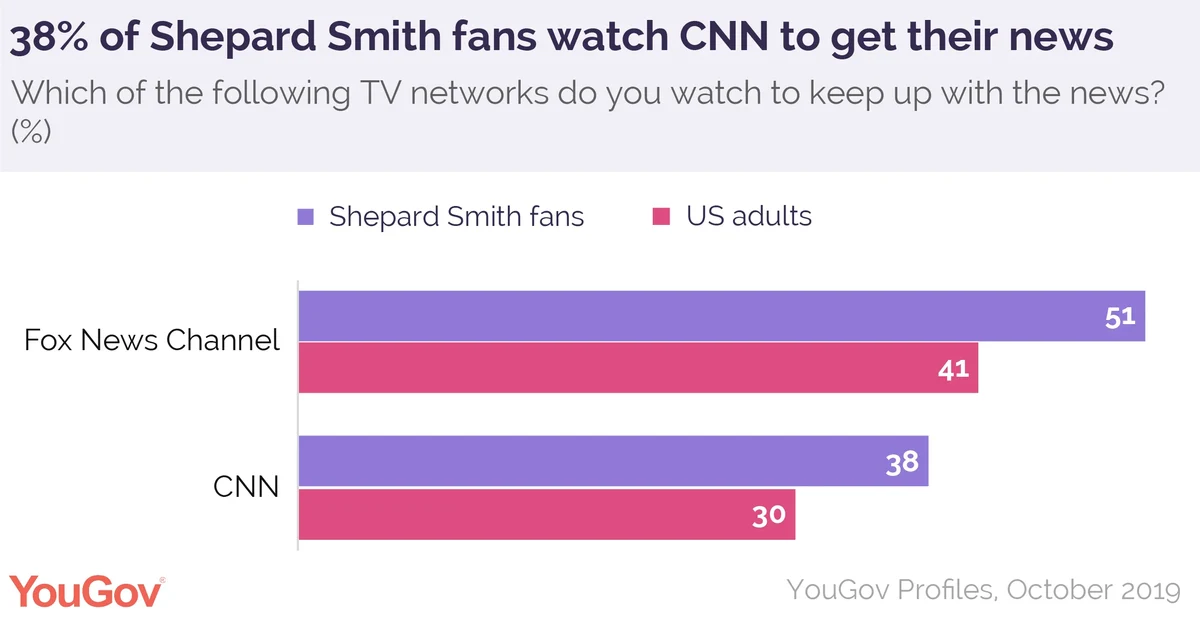 YouGov data also indicates Smith fans are also more likely than the rest of America to have watched CNN programs such as CNN Newsroom, CNN Tonight, and Erin Burnett Outfront in the last 30 days.
In recent years, Smith has been known to voice opinions against the Trump Administration, going against the well-known political leanings of Fox News and its audience.
Smith abruptly announced on air on October 11 that he was leaving the Fox after more than 20 years. In that announcement, he said, "I won't be reporting elsewhere, at least in the near future," alluding to a non-compete clause in his contract.
But that didn't stop Zucker from starting on October 24 that he'd be open to talking to Smith. "I think Shep's a great journalist," Zucker said, according to Variety.
Smith could be a good addition to CNN's stable of personalities and could bring a lucrative audience, should they follow him. Close to 40 percent of Smith fans are Millenials and are more likely to watch 40+ hours of TV per week.
According to YouGovBrandIndex, CNN has overtaken Fox News under the current customer metric, which asks, "Have you watched any of the following broadcast and cable networks in the past 30 days?"