Next week marks the premiere of Sesame Street's landmark 50th season. On November 9, the new season will begin with "Sesame Street's 50th Anniversary Celebration," a primetime special that will look at the show's history and bring back some beloved characters.
But who is the most popular Sesame Street character?
A recent survey of more than 22,000 Americans on YouGov's daily topical poll finds that Cookie Monster tops the list: 16 percent of Americans say that this muppet is their favorite Sesame Street character.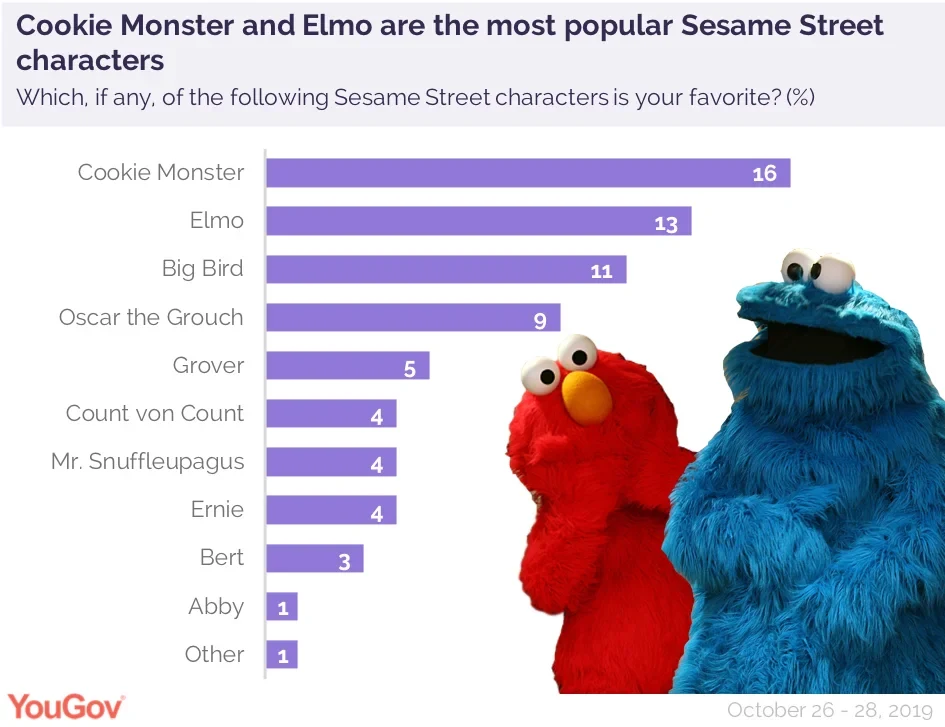 Elmo isn't far behind, with 13 percent choosing the furry red muppet as their favorite. Big Bird comes in with 11 percent, while another 9 percent say that Oscar the Grouch is their preferred pick.
Subscribe to the YouGov Daily Newsletter and get results from our topical questions in your inbox every day.
With 50 seasons so far, multiple generations of Americans have been able to grow up with the characters on the show. YouGov's data indicates that at least 75 percent of Americans under 55 have a favorite Sesame Street character. Almost two-thirds (65%) of those over 55 also have a favorite character, proving the show has multigenerational appeal.