Verizon is trying to entice new customers with free Disney+ subscriptions
—
and it's a match that could pay off for both companies.
Verizon announced on October 22 it will offer a free year subscription to Disney+ to new and existing wireless customers and to new Fios home internet and 5G home internet customers.
For Verizon, it could prove to be a lucrative deal to attract new customers willing to jump cellular carriers. And for Disney, it can give them a chance to increase early subscriptions to its $6.99-per-month Netflix-challenging streaming service.
YouGov Profiles data suggest customers of Verizon's main competitors (Sprint, AT&T and T-Mobile) who are very or somewhat likely to switch cellphone carriers are more likely than the general population to be fans of some of Disney's biggest titles. That includes Finding Dory,The Avengers, Avengers: Endgame, Black Panther and The Simpsons.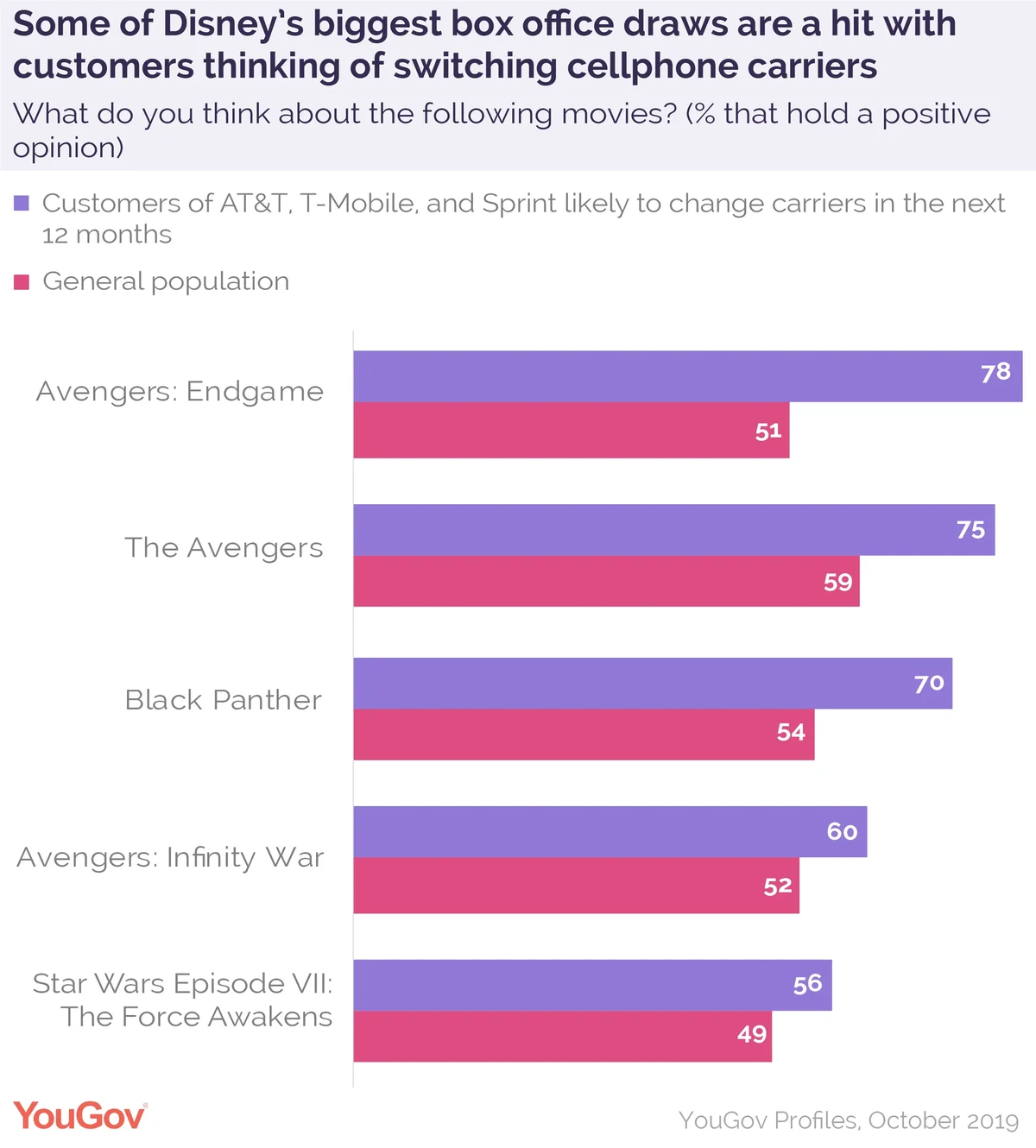 The Disney brand in general is strong among this segment. The group of customers likely to change carriers are more likely than the general population to have shopped at the Disney Store in the last 12 months; they are more likely to attend Disney on Ice; and they are much more likely to regularly watch Disney's current linear television channels (Disney Channel Disney XD and Disney Junior).
According to YouGov BrandIndex data, Verizon ranks highest in Quality and Value and among the four major American telecom companies.
BrandIndex figures for Verizon remain similar among parents with kids, which points to more good vibes from the deal. Disney+ will open the studio vault to its deep collection of children's movies, so there's little doubt parents will flock to the service.
Disney+, which launched November 12, will also offer Pixar, Marvel, Star Wars and National Geographic titles as well as a stable of new, original content.
Competition in the streaming market is about to intensify. Aside from Disney's strong offering, Apple TV+ launches Nov. 1, HBO Max launches in April 2020, AMC On Demand just launched this month. These services are ready to do battle with market veterans Netflix, Hulu and Amazon Prime Video.
Image: Getty
Related: How many streaming services are Americans willing to pay for?