Disney+ is the fairest of them all -- at least when it comes to advertising awareness.
Over the last month, Disney+ had one of the most significant increases in Ad Awareness, a YouGov metric that tracks whether someone has seen or heard an advertisement by a company in the past two weeks.
The streaming service saw huge gains in advertising awareness this past month surrounding its much-anticipated launch on November 12.
While the campaign included TV spots, it was so much more. Disney mounted an aggressive, months-long awareness blitz, using the full breadth of its media empire to get the word out.
At the end of October, Ad Awareness for Disney+ was at 15 percent. That figure shot up to 45 percent and is still trending up.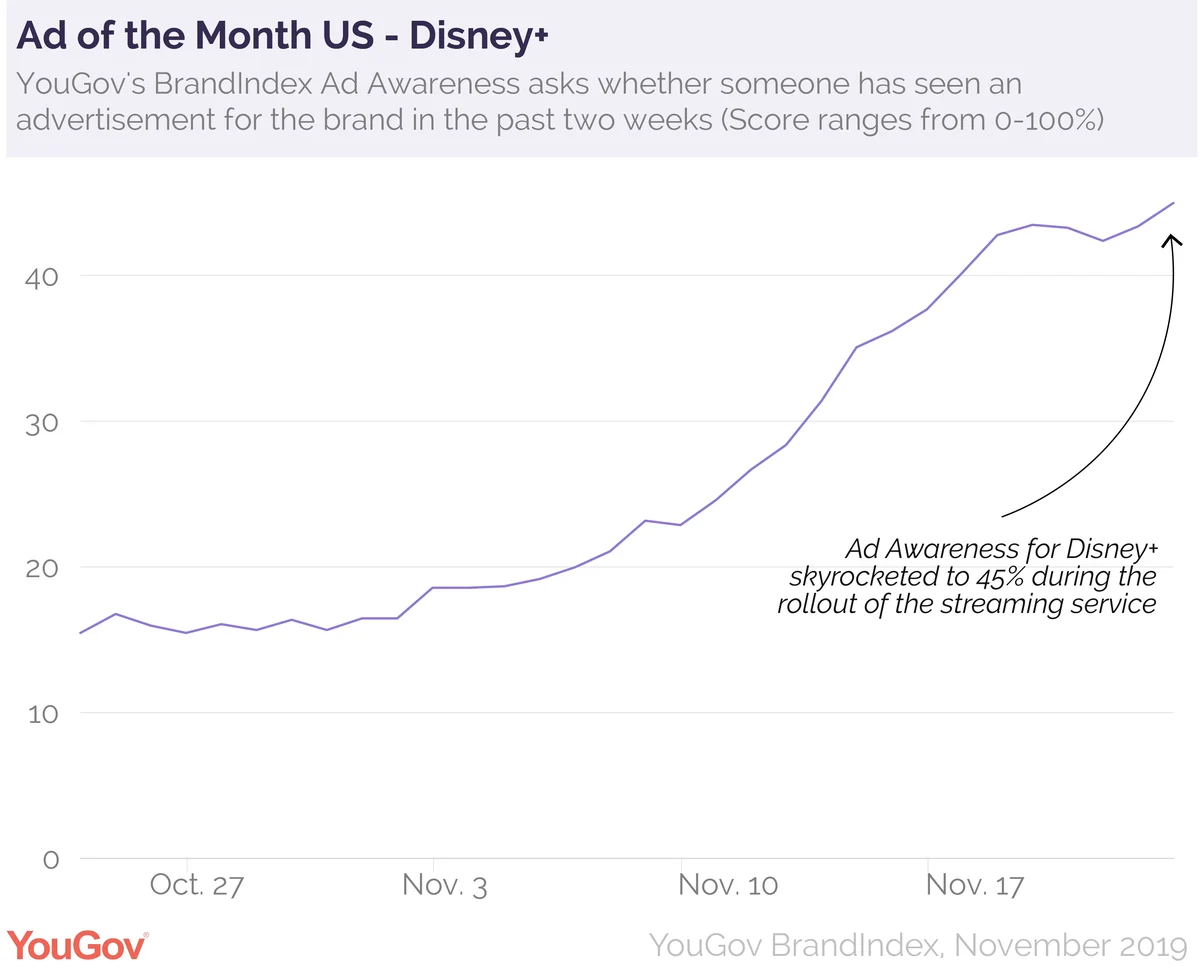 "It is going to be treated as the most important product that the company has launched, certainly during my tenure in the job, which is quite a long time," Disney CEO Bob Iger said in August prior to the streaming service launch.
The massive effort paid off: Disney+ reported it surpassed 10 million subscribers on its first day.
Disney+ brings together the company's biggest blockbuster properties into one service, including titles from Pixar, Marvel, Star Wars and National Geographic, along with an immense back-catalogue of Disney animated movies.
It's the latest service to take aim at stalwart subscribers of Netflix, Amazon and Hulu. Both NBC's Peacock and HBO Max enter the fight in spring 2020.
According to a YouGov study of streaming consumers, just over half (56%) of America already subscribes to between one and three services and about a quarter (26%) of Americans seem ready to add a new subscription.