The game itself might be the biggest part of the Super Bowl, but many Americans are also interested in other aspects of the big day: the unique advertisements, the chance to crack open a beer at a Super Bowl party, and of course, the halftime performances.
Many Americans are excited to watch this year's Super Bowl halftime performance with Jennifer Lopez and Shakira. Research from YouGov finds that close to three in 10 (28%) Americans say they are very interested (14%) or somewhat interested (14%) in watching performances from Jennifer Lopez and Shakira at the 2020 Super Bowl.

Some groups are especially interested: Hispanic Americans (43%) and Black Americans (42%) are especially likely to say they're interested in watching this year's halftime show. US adults who live in urban areas (38%) and Millennials (37%) are also more likely than other groups to say they're interested in watching.
America will have to wait until February 2 to see how this year's performance stacks up to the memorable halftime shows of years past from the likes of Bruno Mars, Lady Gaga, Coldplay, Beyonce, and others.
So which performance was the best halftime show of the decade? According to Americans with an opinion on the performances, the best shows were Bruno Mars and the Red Hot Chili Peppers in 2014, tied with Lady Gaga's performance in 2017.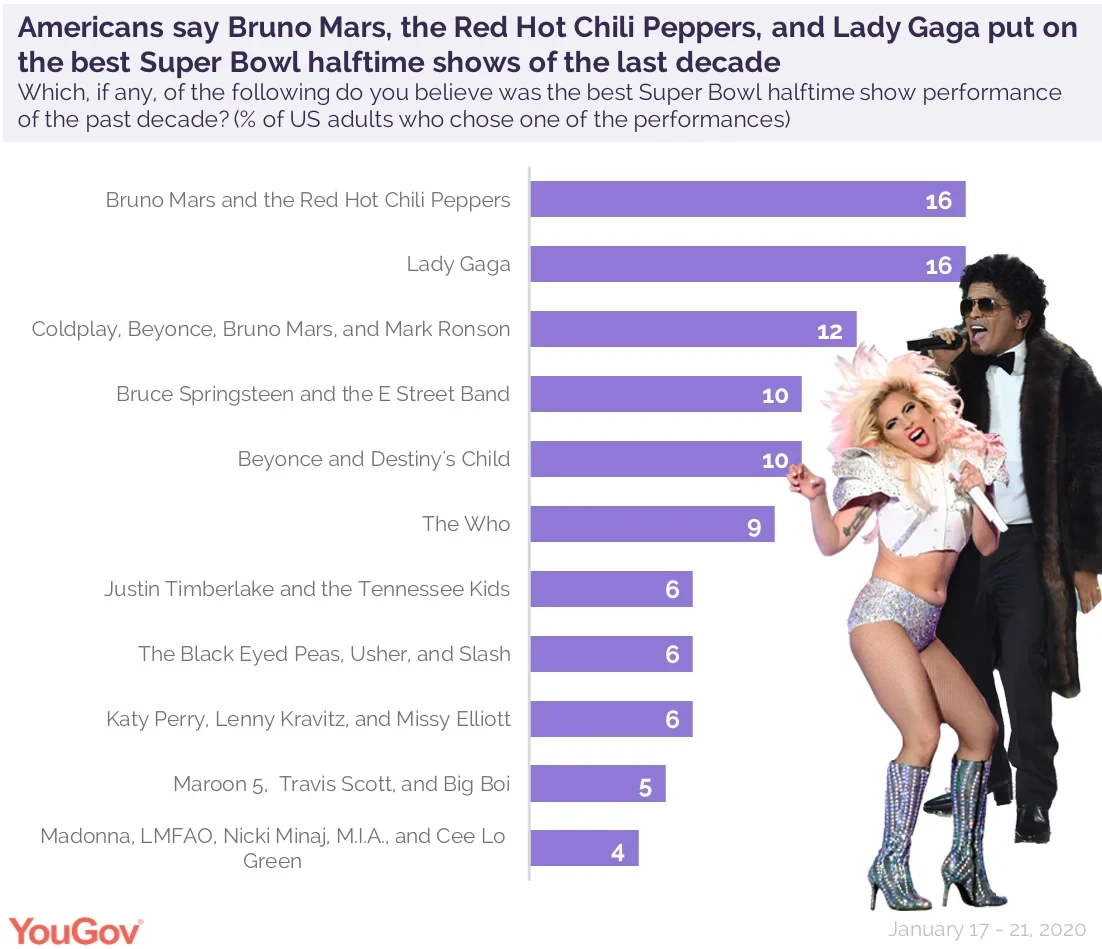 Other fan favorites included the 2016 halftime show featuring Coldplay, Beyonce, Bruno Mars and Mark Ronson (12%), Bruce Springsteen and the E Street Band in 2009 (10%), Beyonce and Destiny's Child in 2013 (10%), and The Who in 2010 (9%).
Six percent of US adults chose Justin Timberlake's 2018 performance with the Tennesee Kids (not the 2004 performance with Janet Jackson) as the best of the decade, while an equal percentage chose performances by The Black Eyed Peas, Usher, and Slash; or Katy Perry, Lenny Kravitz, and Missy Elliott.
Slightly fewer (5%) say the best performance of the decade was last year's show featuring Maroon 5, Travis Scott, and Big Boi.
Additional data from YouGov Profiles suggests that those who have a positive opinion of Jennifer Lopez are more likely than most Americans to say they plan to watch the 2020 Super Bowl halftime performance. They're also more likely than most to say they intend to watch the pre-game show this year, which will feature performances by Pitbull, Dan & Shay, and DJ Khaled.
Related: The beer brands 49ers fans and Chiefs fans can agree on
Methodology: Total unweighted sample size was 1,280 US adults, which included 618 US adults who chose the best performance from one of the listed Super Bowl halftime performances. The percentages reported from the question "Which, if any, of the following do you believe was the best Super Bowl halftime show performance of the past decade?" reflect those who selected a performance, and excludes those who selected "Not applicable," "don't know," or "none of these." The figures have been weighted and are representative of all US adults (ages 18+). Interviews were conducted online between January 17 - 21, 2020.

Images: Getty