The Super Bowl might be the year's biggest attraction for brands looking to reach viewers, but advertisers shouldn't sleep on the following week's major TV event: the Academy Awards.
A January poll of more than 1,300 US adults finds that 12 percent of Americans plan to watch the entire Oscars ceremony on February 9, while 14 percent say they'll tune in for parts of the event.
Those who won't be watching the event live may still be paying close attention. One in 10 Americans says they won't be watching the ceremony, but they will be following the events on social media. Millennials (16%) are more likely than other generations to say they plan to follow the evening's happenings exclusively on social media.
Brands who want to reach Oscar viewers during the ceremony may want to turn to popular social media platforms.

Among those who plan to watch the Oscars live and/or follow the events on social media, 40 percent predict they'll be using Facebook to follow the event as it happens. Almost three in 10 will be using Twitter (29%), Instagram (28%), and YouTube (27%) to follow along.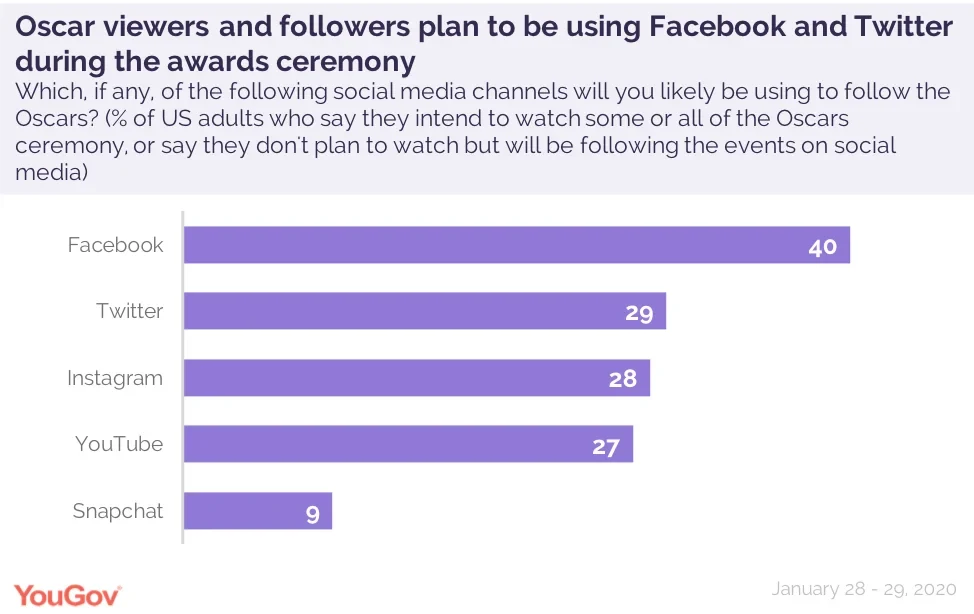 For brands looking to catch the attention of Millennial viewers, Twitter is the place to be: 45 percent of Millennials who plan to watch or follow the Oscars say they'll be using Twitter. Slightly fewer will be on Facebook (38%) or Instagram (37%).
Additional data from YouGov Profiles suggests that Academy Award viewers may be more willing to pay attention to advertisements they see on social media. Among those who watched the Oscars in 2019, about one-third (34%) agree with the statement "I'm more likely to engage with advertisements on social media than on regular websites."
The Oscars often tend to have political moments, whether it's a pointed joke by a presenter or an earnest speech from an award winner. Advertisers may want to be prepared to react to these moments on social media: two-thirds (66%) of Americans who watched the Oscars in 2019 agreed with the statement "I like brands that are willing to get involved in social issues."
One thing brands shouldn't do if they're trying to appeal to Oscar viewers on social media? Use emojis.

Research from YouGov Profiles finds that a majority (56%) of people who watched the Oscars in 2019 agreed with the statement "I think businesses are trying too hard when they use emojis in their advertisements/communications."
See full results from this survey here and learn more about YouGov Profiles.
Methodology: Total unweighted sample size was 1,314 US adults. The figures have been weighted and are representative of all US adults (ages 18+). Interviews were conducted online between January 17 - 21, 2020. For additional analysis regarding YouGov Profiles data, please contact pr@yougov.com