Movie trailers are an essential component of any film's marketing campaign. A successful trailer needs to offer context and intrigue potential viewers, without spoiling the plot itself. A well-cut preview can start conversations on social media, supercharge a box office opening or sustain an awards season campaign.
Each week, we ask a group of users to watch movie trailers, and then we report on what they say. Using YouGov Direct, we investigate how effective movie trailers are in persuading people to consider going to see a film in theaters, what users think about the content of the trailer, and how good or bad they expect the movie to be. Hundreds of people are able to provide immediate feedback on movie trailers using this tool.
This week, the trailer that turned the most heads was for "The Invisible Man," a sci-fi horror film that stars Elisabeth Moss as a woman who is continuing to be abused by her former partner that everyone thinks is dead.

Before viewing the trailer, 22 percent of YouGov Direct users said that they were likely to see this movie in theaters in the coming weeks. After viewing the trailer, 33 percent said they were somewhat or very likely to see "The Invisible Man" - a jump of 11 percent.

So why did this film stick out? We also ask users what they enjoyed about the trailers they see.
About half (48%) say they liked the story or theme shown in the trailer for "The Invisible Man." Almost two in five (37%) say they like the look of the trailer, while 18 percent say they like one or more of the actors.
Fans of genres like horror (44%) and thrillers (38%) are more likely to show an interest in heading to the theater to see "The Invisible Man," according to YouGov data.
"The Invisible Man," a wide-release film with a production budget of around $7 million, may have turned out an effective trailer, but a smaller film made some interesting noise, too. "Burden," a drama about racial tensions in a small South Carolina town scored better on our lift measure than the bigger budget "The Invisible Man" in YouGov Direct's weekly survey.

Before viewing "Burden's" trailer, 8 percent of respondents said they were likely to see this film in theaters in the coming weeks, but after viewing, 39 percent said they were somewhat (26%) or very (13%) likely to do so - a lift of 31 percent.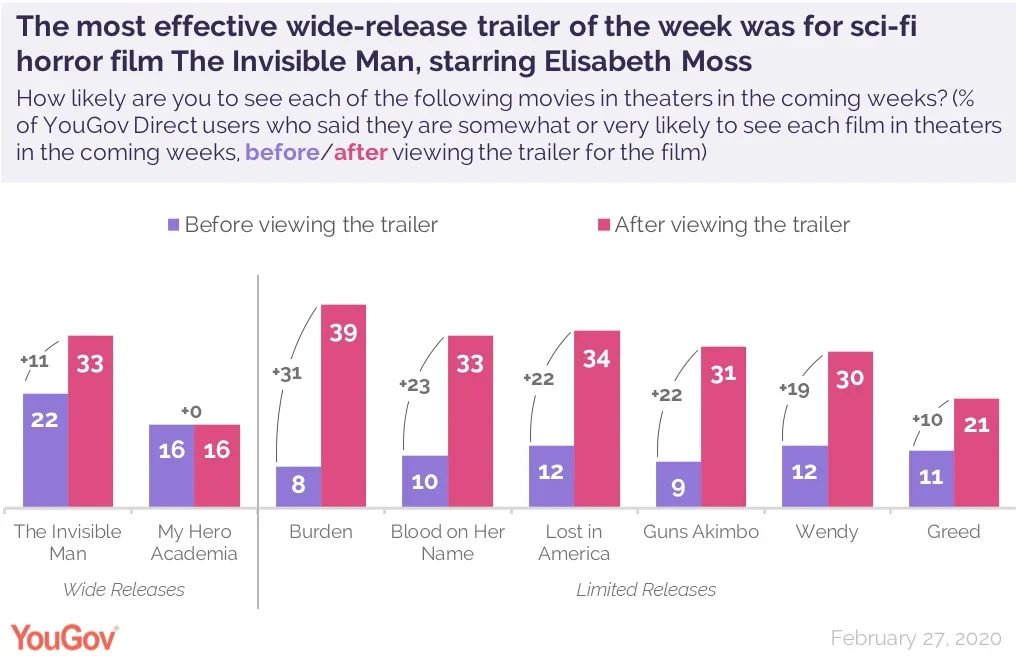 YouGov Direct also offers users the opportunity to look at showtimes and ticket purchasing options in their area through Fandango.
About two percent of YouGov Direct users who saw the trailer for "The Invisible Man" clicked through to Fandango, which is twice the number of people who clicked through for the other wide-release film of the week. Fewer than two percent of the users clicked through to see Fandango options for the other films surveyed.
Learn more about YouGov Direct.
Image: Getty

Methodology: Data is based on 4,000 interviews, including 400 responses for The Invisible Man, 400 responses for My Hero Academia, 400 responses for Burden, 400 responses Blood on her Name, 400 responses Lost in America, 400 responses for Guns Akimbo, 400 responses for Wendy, and 400 responses for Greed. Interviews were conducted through the YouGov Direct app on February 28, 2020.