Movie theaters may largely be closed thanks to the social distancing measures in place across the country. But that doesn't mean people aren't watching the latest films.
Several studios have announced plans to release their latest offerings on streaming services so viewers can watch them at home instead of waiting for delayed theatrical releases.
What does this mean for movie trailers? Viewers may be watching from the comfort of their couch rather than in a theater, but many will still want to see a trailer before making the decision of what to purchase and stream.
Each week, we ask a group of YouGov Direct members to watch movie trailers, and then we report on what they say. We investigate how effective movie trailers are in persuading people to consider going to see a film in theaters, what users think about the content of the trailer, and how good or bad they expect the movie to be. Thousands of people are able to provide immediate feedback on movie trailers using the YouGov Direct platform.
The most effective trailer this week was for "Resistance," starring Jesse Eisenberg. He plays Marcel Mangel, an aspiring Jewish actor who joined the French Resistance to save the lives of thousands of children orphaned at the hands of the Nazis.

Before viewing the trailer, 9 percent of YouGov Direct users said they were likely to see this movie in the next few weeks. After viewing the trailer, about one-third (34%) said they were somewhat or very likely to see "Resistance."

Of those who are likely to see it, 69 percent of respondents say that given the choice, they would prefer to see the movie immediately via a streaming or paid download service. Meanwhile, 31 percent of this group says they would prefer to wait several months to see it in a theater.
What did they like about the trailer? Over half (58%) of respondents liked the story or theme while 32 percent liked the look of the trailer.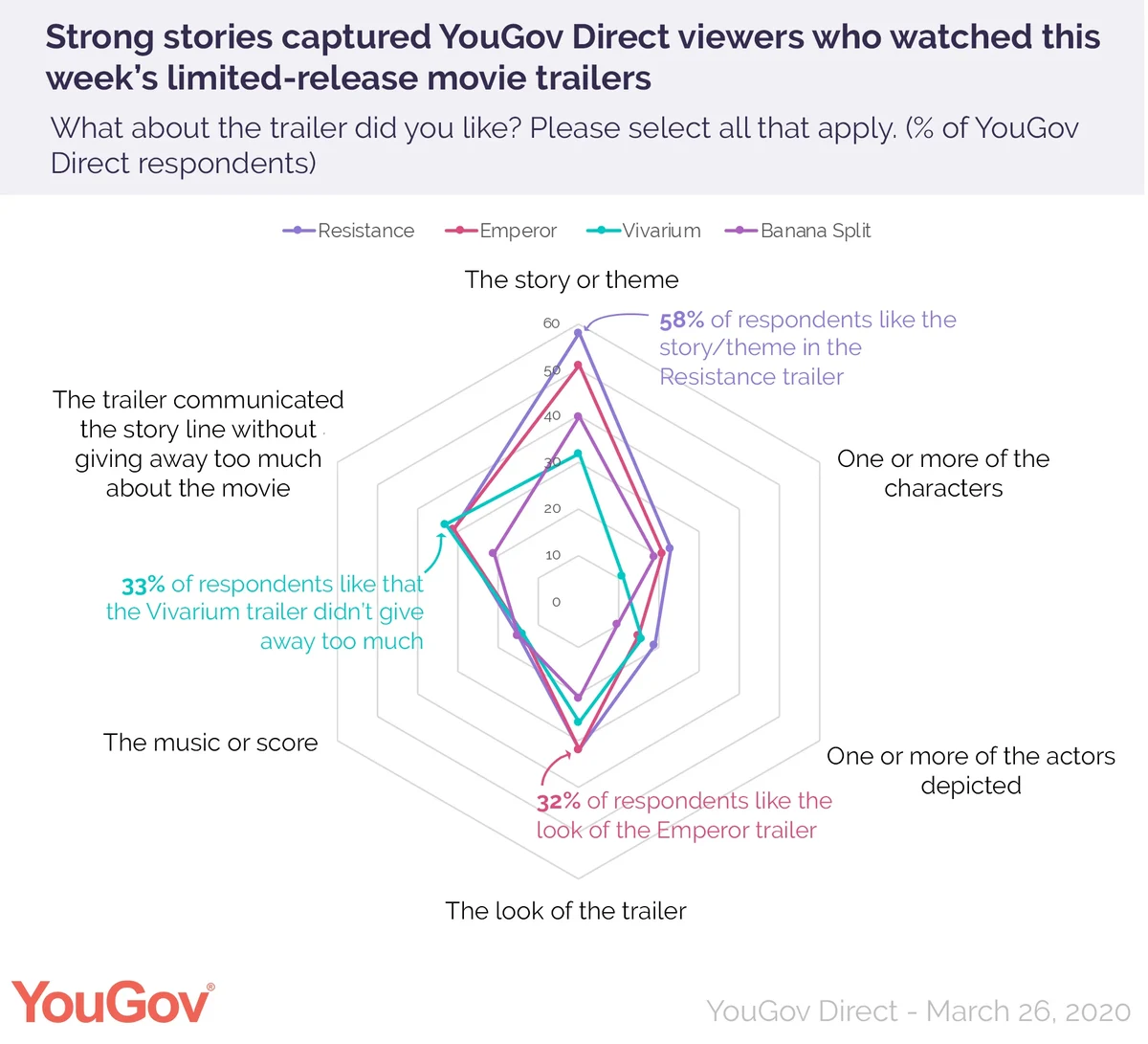 But "Resistance" actually isn't the only Jesse Eisenberg film that made waves this week.

The same actor also stars in "Vivarium," a sci-fi thriller about a young couple who find themselves trapped in a bizarre suburban neighborhood.
Before seeing the trailer, fewer than one in twelve (7%) respondents said they were likely to see "Vivarium." Post-trailer, one-quarter (25%) of YouGov Direct users said they were likely to see this film.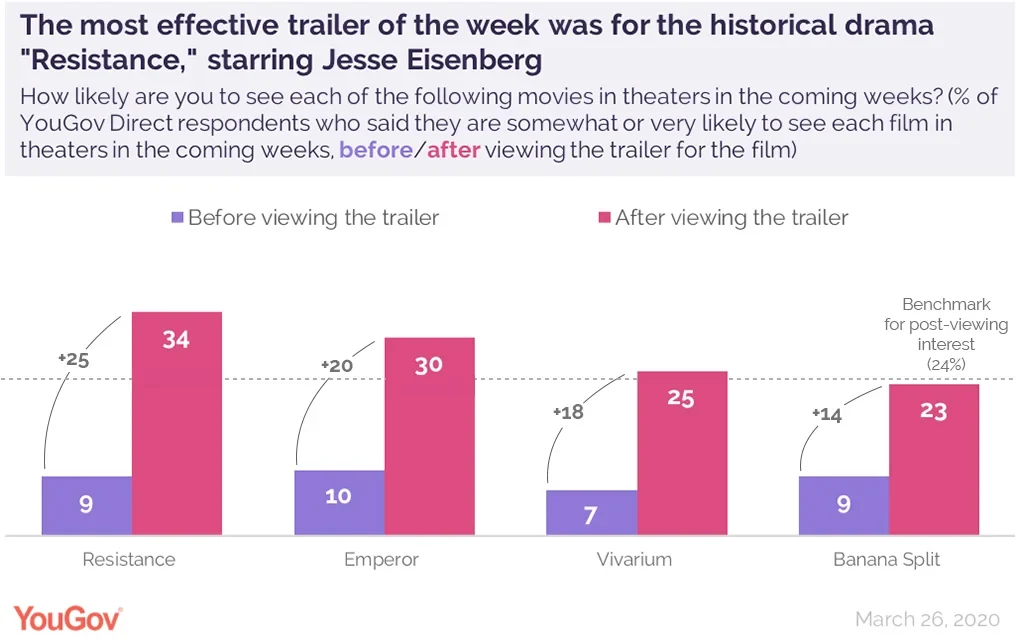 Among those who say they're likely to see "Vivarium," most (68%) would prefer to see it on streaming or paid download services.
Two other limited-release films turned heads this week.
The historical drama "Emperor" follows Shields 'Emperor' Green, a descendant of African kings turned outlaw slave in the pre-Civil War South, as he seeks freedom for his family.
Prior to seeing the trailer, 10 percent of YouGov Direct respondents said they were likely to see this film. After viewing the trailer on the YouGov Direct App, 30 percent said they were likely to see it - a lift of 20 percentage points.
Lastly, the comedy "Banana Split" also attracted attention from potential viewers. The film follows April, a young woman recovering from heartbreak during the summer between high school and college. She meets her ex-boyfriend's new girlfriend, and against all odds, the two begin to develop a friendship.
Before seeing the preview, 9 percent of viewers said they were likely to see this film. Post-trailer, 23 percent said they were likely to do so. This film may appeal especially to younger audiences: 33 percent of YouGov Direct users between the ages of 18 and 30 say that they are likely to see this film.
YouGov Direct also asks respondents to tell us how good or bad they think a movie will be, based on the trailer. "Resistance" comes out on top of this measure, with a score of 4.0 vs. a maximum score of 5.0 and a median score of 3.5 for all trailers tested to date.
Finally, YouGov Direct also offers members the opportunity to look at viewing options in their area through Fandango.
Roughly 2 percent of YouGov Direct users who saw the trailer for "Emperor" clicked through to Fandango, compared to a benchmark of approximately 1 percent for the typical trailer tested on the platform.
Related:
Image: Getty
Methodology: Data is based on 4,000 interviews, including a minimum of 400 responses for each movie trailer tested. Interviews were conducted through the YouGov Direct app on February 26, 2020.