Cinemas are closed and film festivals have been canceled, but movies are still streaming online. Every day, new films that once may have been destined for theaters are released onto streaming services.
Film studios continue to figure out what the Covid-19 means for watching movies, but movie trailers are still being released. Each week, we ask a group of YouGov Direct members to watch movie trailers, and then we report on what they say. We investigate how effective movie trailers are in persuading people to consider going to see a film,, what they think about the content of the trailer, and how good or bad they expect the movie to be. Thousands of people are able to provide immediate feedback on movie trailers using the YouGov Direct platform.
This week, two limited release documentaries captured consumers' attention. The most successful was "Slay The Dragon", a political documentary about gerrymandering in the United States.
Before viewing the trailer, 10 percent of YouGov Direct users said they were likely to see this movie in the next few weeks. After viewing the trailer, that number jumped to 36 percent. That's a 26 percentage point lift and the largest increase since we showed YouGov Direct users the trailer for the Forest Whitaker film "Burden."
What did people like about the trailer? Well, over half (52%) said it was the story or theme that jumped out at them. That certainly makes sense given its timely political subject.
Of those who said they were likely to watch the documentary 25 percent said they would prefer to wait to see it in cinemas. Meanwhile, 76 percent said they would rather watch it immediately via streaming or download services.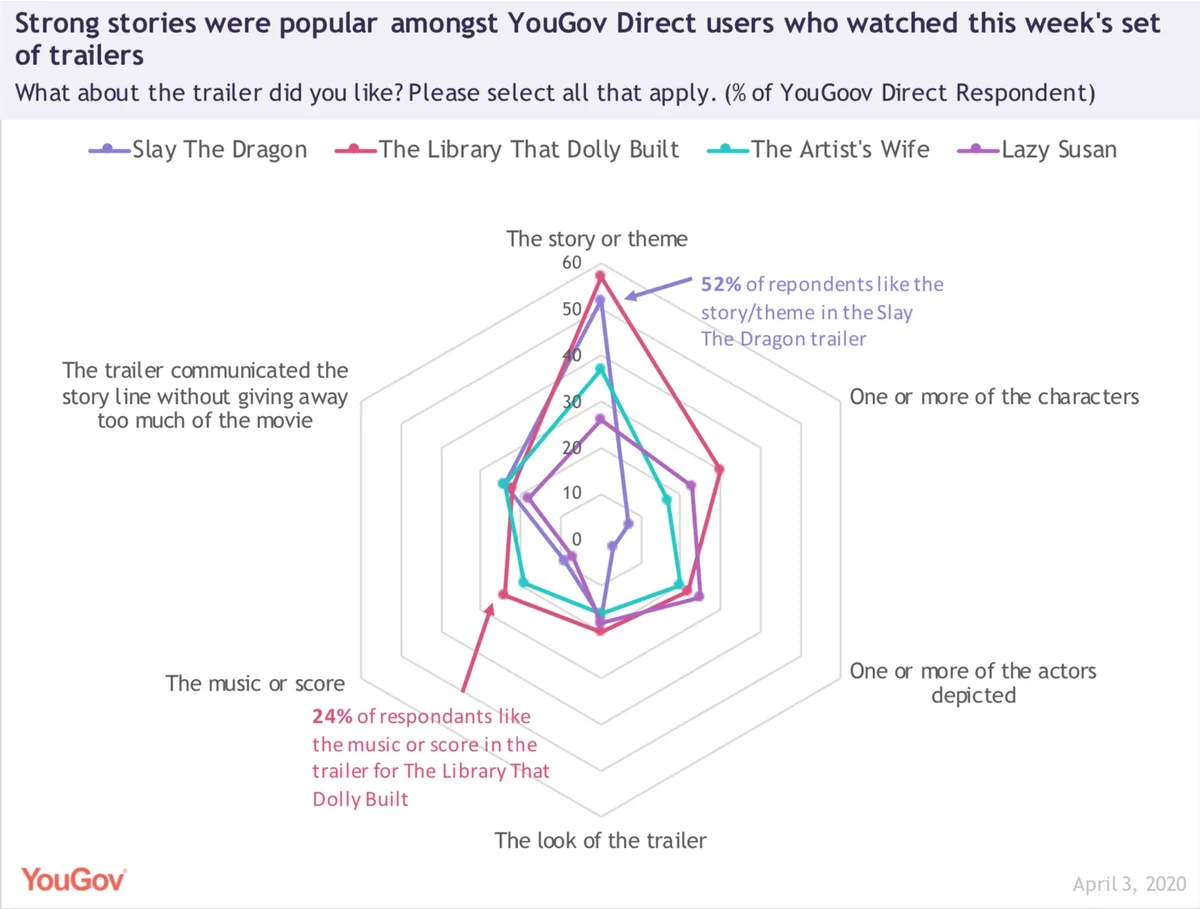 Another documentary trailer has been making waves this week. "The Library That Dolly Built" is a behind-the-scenes glimpse into a non-profit founded by country music superstar Dolly Parton that focuses on literacy.
Before checking out this heartwarming trailer 8 percent of users said they were likely to see it. But after watching, those percentage points were lifted to 30.
When YouGov Direct asked respondents to tell us how good or bad they think a movie will be (based on the trailer) the film about Parton performed the best, with a score of 3.9. This is out of a possible 5.0 and compared to a median score of 3.4 for all trailers tested to date.
Most respondents liked the story or theme (57%),while another 30 percent of respondents enjoyed one or more characters. Music was also a major reason why respondents enjoyed the trailer (24%). Not surprising given the classic Dolly hits, like "9 to 5" and "Better Get To Livin'' that played throughout.
Sadly the documentary's release was postponed at the end of last month.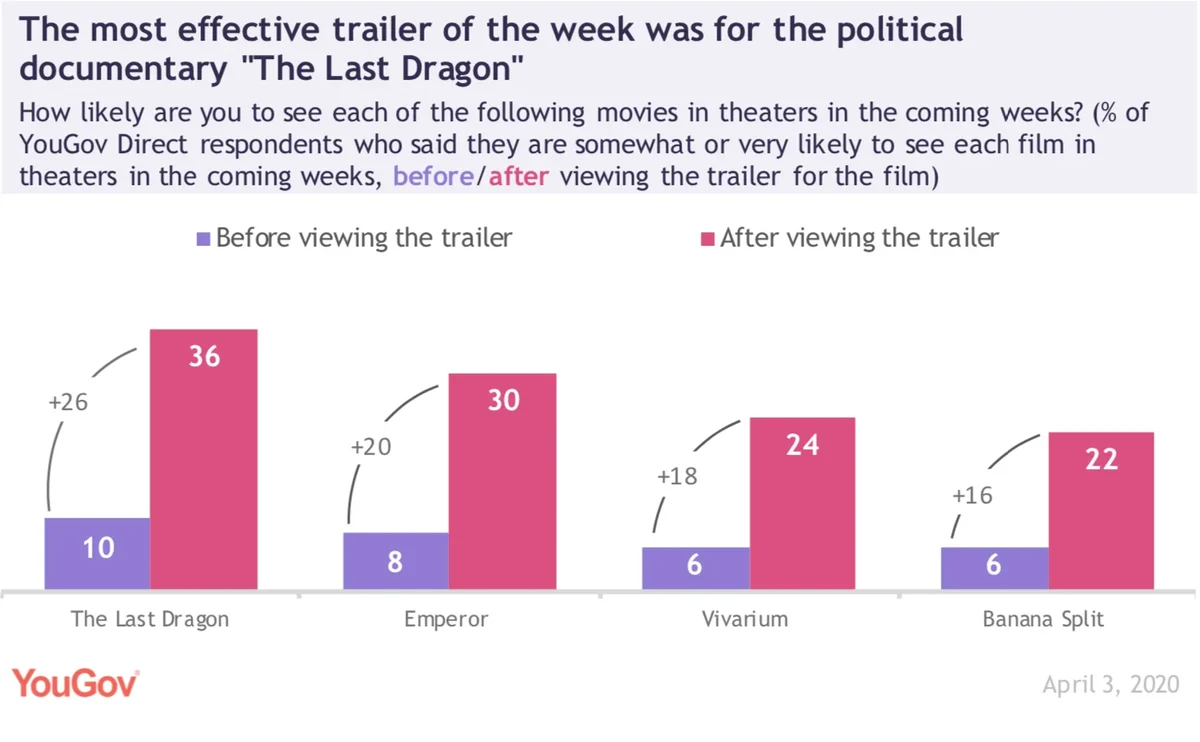 Two other limited-release films are out this week, both with big name casts. But despite their starry lineups, these films were beaten by the previous two documentaries in terms of popularity amongst YouGov Direct users.
The first up is "The Artist's Wife." The film follows the wife of a famous artist as she tries to contact his estranged family before his dementia worsens. It stars Oscar nominees Lena Olin and Bruce Dern.
Embed -
Before watching the trailer 6 percent of users said they would watch this independent film. But after watching the trailer 24 percent said they would tune in.
Unusually, a lot more respondents said they would rather wait to see this film on the big screen. Of those who were likely to see the film, 48 percent said they would prefer to wait until it was released in a cinema while 52 percent said they would rather watch it immediately on streaming or download services.
Finally, the "Lazy Susan" trailer turned heads this week. But perhaps not for the right reasons.
The film is a slice-of-life comedy about a woman on the edge with nowhere to go but over. It has an all star cast including Emmy Award winner Sean Hayes and Oscar winner Allison Janney. Before seeing the trailer, 6 percent of users said they would likely watch the film. After watching the trailer that number increased to 22 percent.
When we asked users to rate "Lazy Susan" on its trailer it scored 3.1, the lowest of this week and lower than the median score (3.4). What's more when asked what they liked about the trailer, 24 percent of users responded "I didn't like anything about the trailer".
YouGov Direct also offers members the opportunity to look at viewing options in their area through Fandango. "The Artist's Wife" had a high click through rate of 3.9 percent - the highest recorded - compared to a benchmark of approximately 1 percent for the typical trailer tested on the platform.
Related:
Image: Getty
Methodology: Data is based on 4,000 interviews, including a minimum of 400 responses for each movie trailer tested. Interviews were conducted through the YouGov Direct app on April 2, 2020.