Break out the popcorn. This week, Cinemark announced a plan to reopen its shuttered cinemas by July 1. The company hopes to have theaters running in time for the summer blockbuster season, starting with Christopher Nolan's highly anticipated spy thriller "Tenet" (set to be released on July 17).
In the meantime, viewers will have to continue to watch films from the comfort of their couch and many will still want to see a trailer before making the difficult decision of what to stream.
Each week, YouGov Direct asks a group of its members to watch movie trailers. We then report on what they say. YouGov Direct's surveys investigate how effective movie trailers are in persuading people to consider going to see a film, what they think about the content of the trailer, and how good or bad they expect the movie to be. Thousands of people provide immediate feedback on movie trailers using the YouGov Direct platform.
The most effective trailer this week was undoubtedly "My Spy," starring Dave Bautista ("Guardians of the Galaxy"). He plays a hardened CIA operative who finds himself at the mercy of a precocious 9-year-old girl, having been sent undercover to surveil her family.
"My Spy" was the most anticipated film this week amongst YouGov Direct users. Of those who took the survey, 74 percent were already aware of the film and 33 percent of users said they were already likely to see the movie before watching the trailer. After viewing the trailer that number rose to 42 percent, a lift of 9 percentage points in intent.
Users may have been drawn to the bodybuilding babysitter plotline. When asked what they enjoyed most about the trailer, 45 percent said it was the story or theme. In "My Spy" Bautista will follow the well-trodden path of Arnold Schwarzenegger ("Kindergarten Cop"), Vin Diesel ("The Pacifier") and Hulk Hogan ("Mr Nanny"), muscle men who take care of kids.
YouGov Direct also asks respondents to tell us how good or bad they think a movie will be, based on the trailer. "My Spy" took the lead this week with a score of 3.8. This is out of a possible 5.0 and compared to a median score of 3.5 for all trailers tested to date.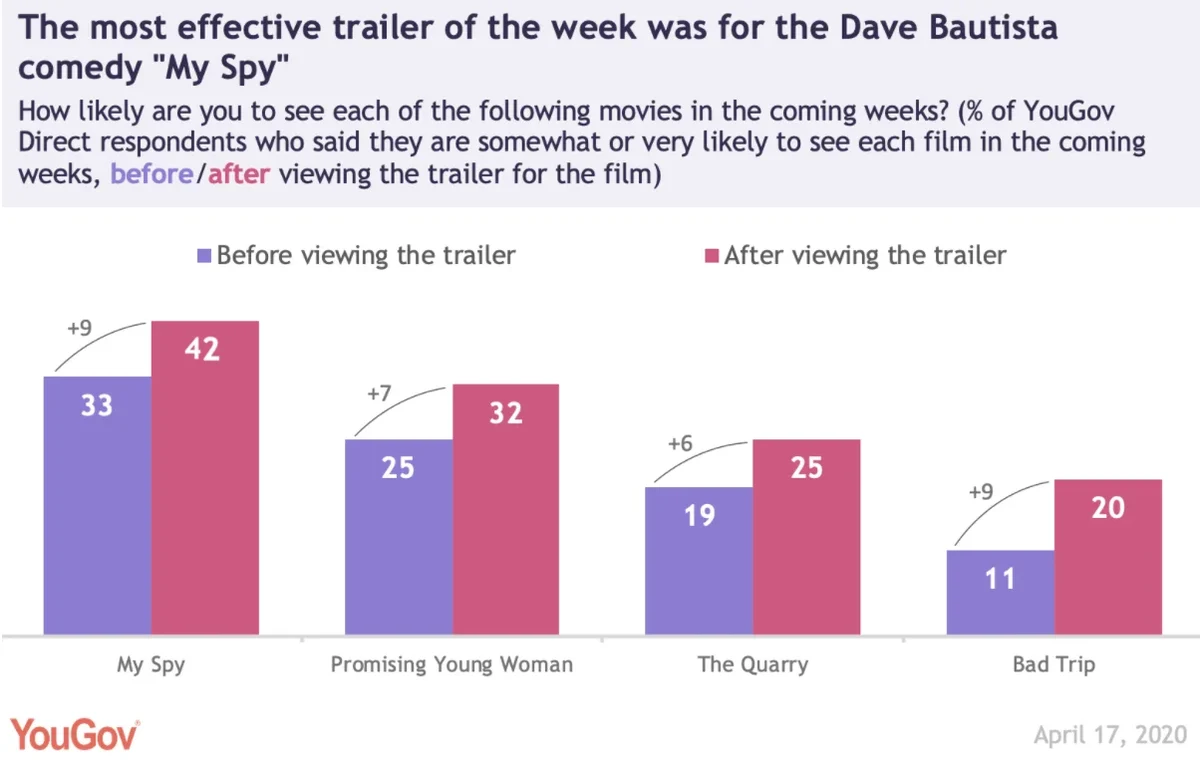 The limited-release movie "Promising Young Woman" also piqued interest among potential audiences this week. The black comedy thriller follows a young woman, traumatized by a tragic event in her past, as she seeks out vengeance against those who cross her path.
The Carey Mulligan led movie premiered at this year's Sundance Film Festival. Critics adored the film, calling it a thriller 'for the #MeToo era.' Other cast members include Adam Brody, Jennifer Coolidge and comedian Bo Burnham.
Prior to seeing the trailer, 25 percent of YouGov Direct users said they were somewhat or very likely to see the film. After viewing the trailer, 32 percent of respondents said they were likely to see this film.
What did respondents like about the trailer? The majority of users (42%) said it was the story or theme that stood out the most, perhaps unsurprising given the topical nature of this female revenge fantasy. A further 27 percent said they liked the look of the candy colored trailer.
Of those who said they were likely to see the film, two thirds (67%) said they would prefer to see it via streaming or download services. Only 33 percent said they would rather wait to see it in cinemas.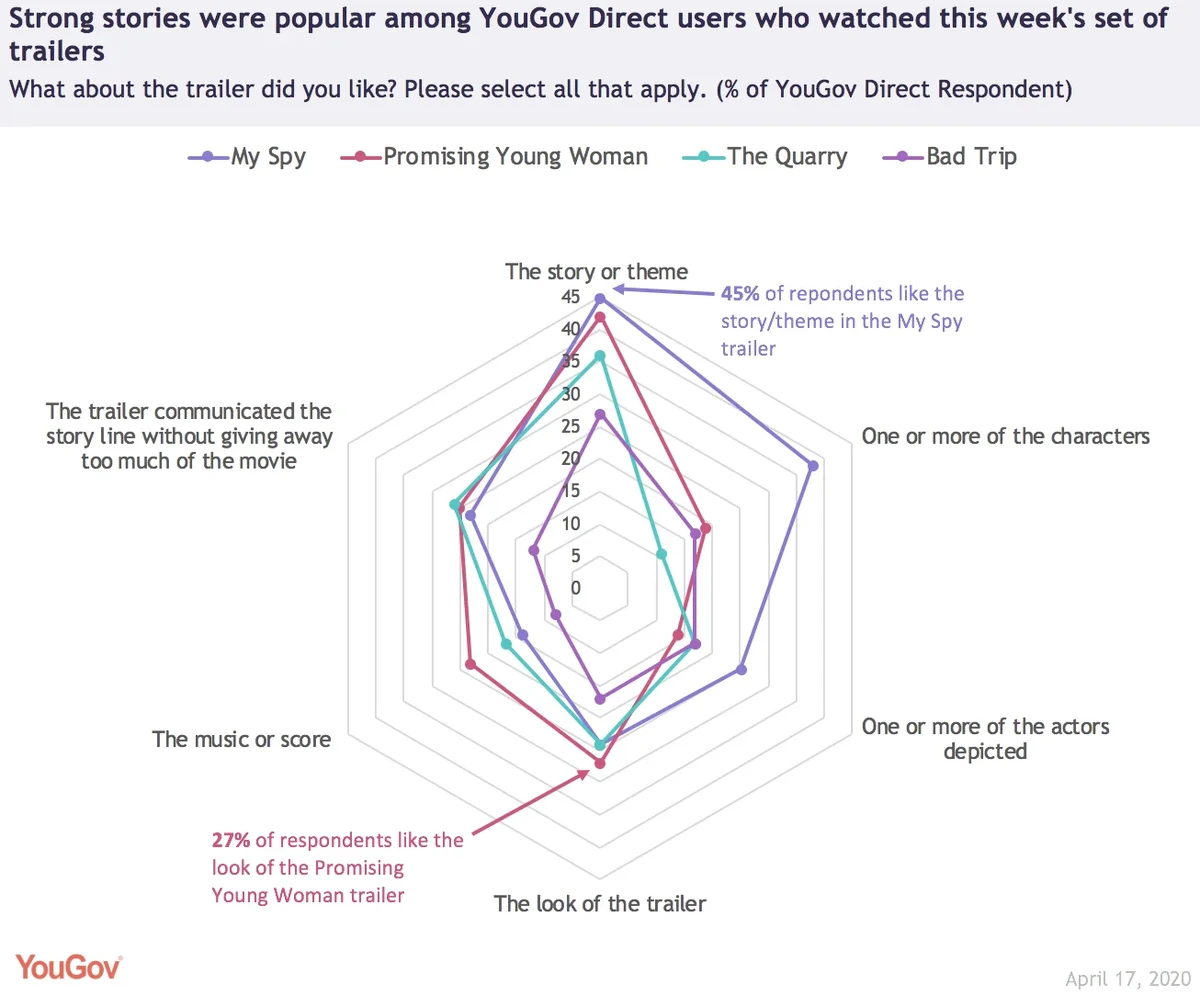 Another limited-release trailer turned some heads this week. "The Quarry" tells the horrifying story of a drifter who kills a traveling preacher then takes up his place at a small-town church. It marks the reunion of "Boardwalk Empire" co-stars Micheal Shannon and Shea Whigham.
The trailer for this slow-burning neo-noir did not appear to impress respondents. Before viewing, 19 percent of respondents said they would like to see the film. Post-trailer that number did not increase by much, with 25 percent now saying they were likely to see the movie. That's a lift of 6 percent percentage points in intent, the lowest recorded this week.
Over a third of viewers said they enjoyed the story or theme in the trailer (36%), while 26 percent thought that the trailer communicated the storyline without giving away too much of the movie. Critics responded a bit differently to the storyline with The New York Times claiming "the film plays as if it's been smothered under a pile of rocks."
Rounding out this week is "Bad Trip." The film follows two best friends (Eric André and Lil Rel Howery) on a road trip playing pranks on unwitting real-life people. Originally set to premiere at this year's SXSW Festival, "Bad Trip" is one of many films finding a home on Amazon Prime Video.
The hidden camera comedy failed to play well with most YouGov Direct users. Before watching the trailer, 11 percent said they would watch the comedy. After viewing, that number increased to 20 percent. When asked what they enjoyed the most about the trailer, 29 percent of users responded "I didn't like anything about the trailer". Users also rated the film 2.9 out of a possible 5.0 when asked to tell us how good or bad they think a movie will be, based on the trailer.
Related:
Image: Getty
Methodology: Data is based on 4,000 interviews, including a minimum of 400 responses for each movie trailer tested. Interviews were conducted through the YouGov Direct app on April 16, 2020.