Hollywood is in uproar. This week, two major cinema chains said they'll refuse to screen any new movies made by Universal Pictures. The real-life drama all started when NBCUniversal CEO Jeff Shell proudly announced the financial success of the "Trolls" sequel's straight-to-digital release plan to the Wall Street Journal, unsettling the owners of AMC and Cineworld in the process.
The family animation was originally scheduled to be released in cinemas on April 10, but due to the coronavirus pandemic it went straight to streaming.
But as these Hollywood titans continue to battle it out, movie lovers continue to watch films at home, and many will still want to see a trailer before deciding what to stream. Each week, YouGov Direct asks a group of its members to watch movie trailers. We then report on what they say. YouGov Direct's surveys investigate how effective movie trailers are in persuading people to consider going to see a film, what they think about the content of the trailer, and how good or bad they expect the movie to be. Thousands of people provide immediate feedback on movie trailers using the YouGov Direct platform.
YouGov Direct users were up for some somber content this week. Dour refugee drama "The Flood" was the most popular film among respondents. The film follows a hardened immigration officer - played by "Game of Thrones" star Lena Headey - as she decides the fate of a dangerous asylum seeker.
Before seeing the trailer, 16 percent of YouGov Direct users said they were somewhat or very likely to see this immigration tale. After viewing the trailer, that number increased to 28 percent. That's a lift of 12 percentage points in intent, the highest lift this week.
A number of users liked that the trailer kept its cards close to its chest. When asked to say what they enjoyed most about the trailer, nearly a third of respondents (28%) said they liked that the trailer communicated the storyline without giving too much away. Most users, however, said that it was 'story or theme' that jumped out the most (43%). This is perhaps unsurprising given the film's topical subject matter.
Despite tackling one of the most incendiary topics in modern politics, the trailer appeared to have a significant amount of cross-party appeal. After watching the trailer.
26 percent of respondents who identified as politically 'conservative' and 26 percent of respondents who identified as politically 'liberal' said they were likely to watch the movie.
"The Flood" was originally scheduled for a limited cinematic release in America, but maybe it's a good thing that the film is coming to on-demand services early. Among those who say they're likely to see "The Flood," most (65%) would prefer to see it on streaming or paid download services.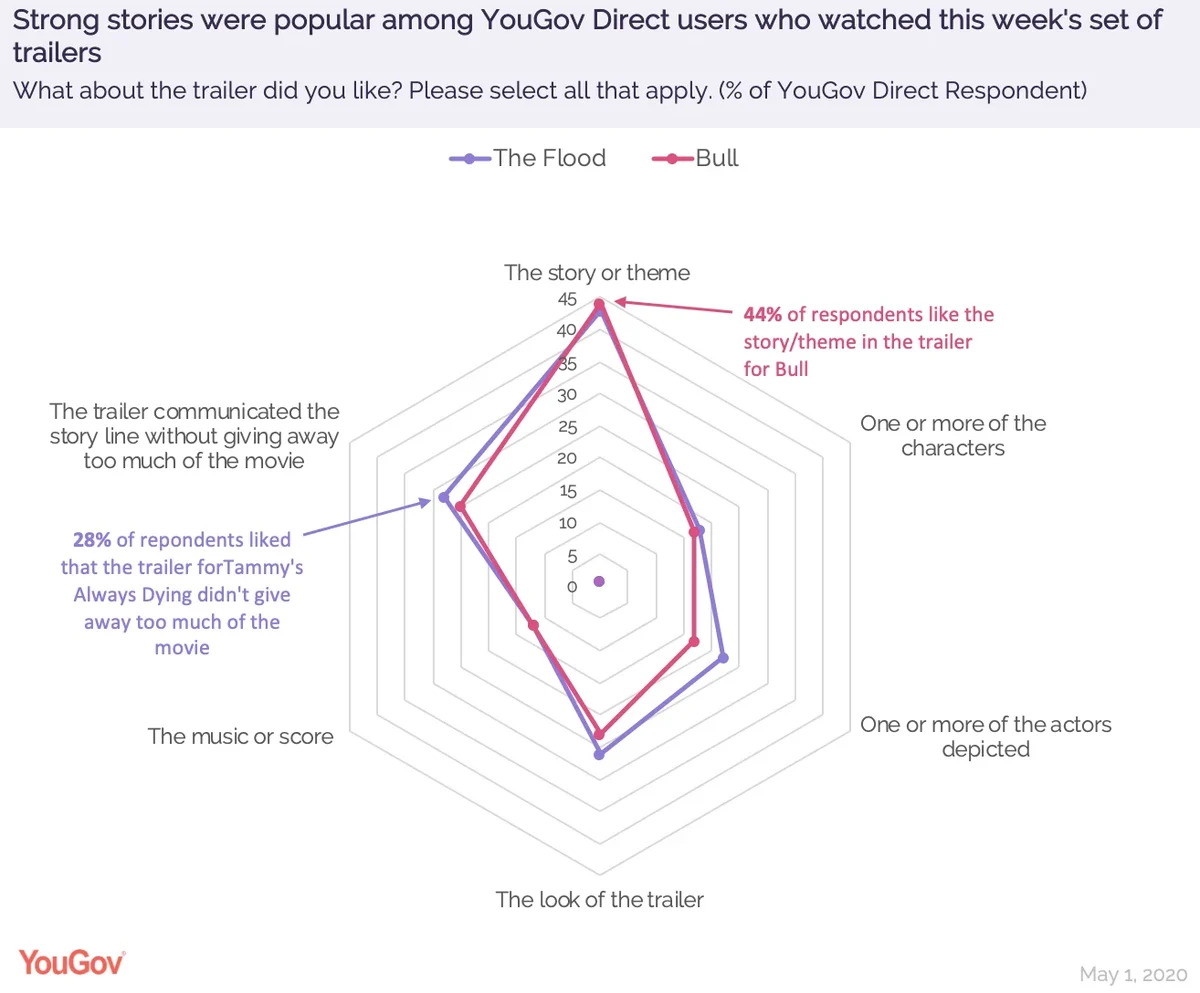 Gritty rodeo drama "Bull' also intrigued potential moviegoers this week. This intimate film tells the story of a wayward teen who strikes up a bond with an aging bullfighter who's already seen his best days in the arena.
Pre-trailer, 16 percent said they were likely to see this movie. Post trailer, that number rose to 27 percent. Users who identify as fans of Westerns were especially excited. Of those who watched the trailer 38% said they were somewhat or very likely to see it.
YouGov Direct also asks respondents to tell us how good or bad they think a movie will be, based on the trailer. "Bull" shared the highest rating with "The Flood", with both scoring 3.6. This is out of a possible 5.0 and compared to a median score of 3.5 for all trailers tested to date. Critics have also been positive about the film. "It's a stoic work" writes Vulture film critic David Edelstein, "but it's stoicism looks, in the end, like mercy".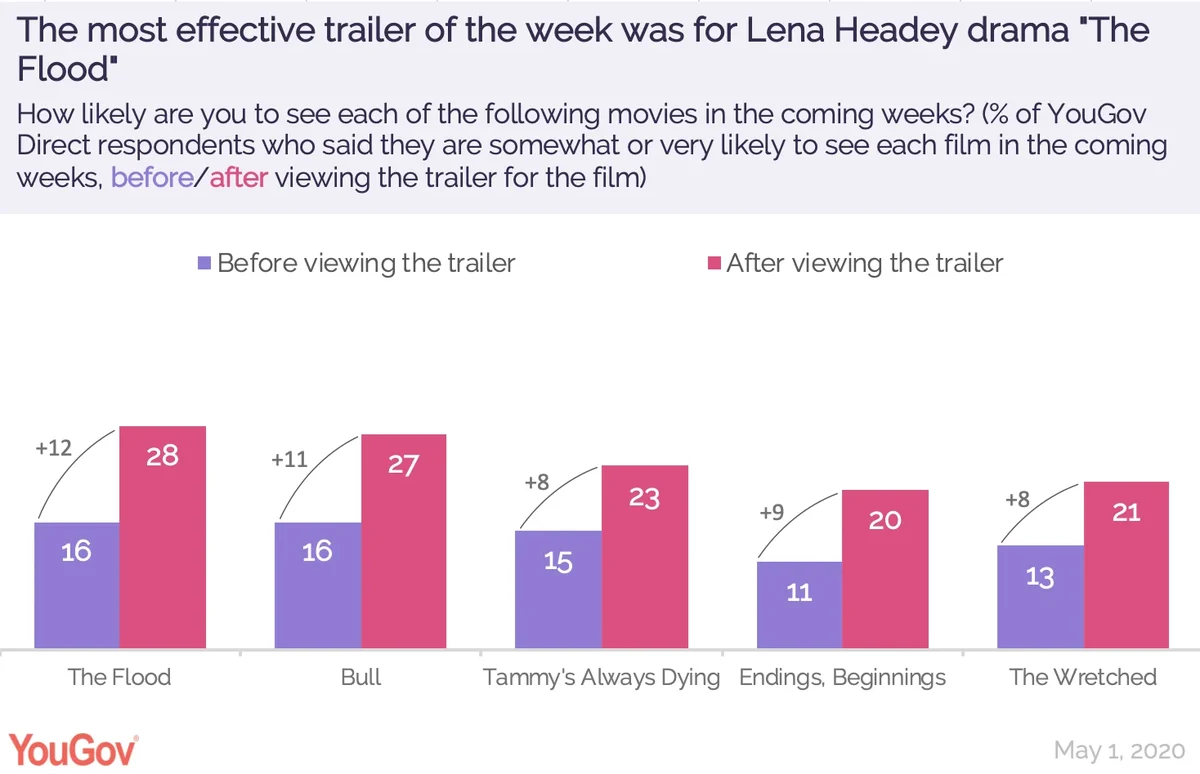 Coming in third was a film with a (un)healthy dose of dark humor. When the eponymous hero of "Tammy's always Dying" is diagnosed with terminal cancer, her daughter Catherine invites a television producer to document her process of caring for her mother in an attempt to profit from their misfortune. But Catherine finds her plans complicated by Tammy's persistent refusal to actually die.
The film stars Felicity Huffman, who was sentenced to 14 days in jail last year for her part in the college admissions scandals.
Prior to seeing the trailer, 15 percent of YouGov Direct respondents said they were likely to see this film. But after viewing the trailer on the YouGov Direct App, 23 percent said they were now likely to see it. The film may appeal especially to female audiences: 30 percent of users who identify as female said they were likely to see this film after viewing the trailer, whereas for male respondents that number was only 17 percent.
Related:
Image: Getty
Methodology:
Data is based on 4,000 interviews, including a minimum of 400 responses for each movie trailer tested