Although movie theaters around the world remain largely closed, studios are finding some success with releasing their films on streaming or on-demand video services. But many viewers still want sneak peeks before they decide what to stream or buy for in-home viewing.
Each week, YouGov Direct asks a group of its members to watch movie trailers. We then report on what they say. YouGov Direct's surveys investigate how effective movie trailers are in persuading people to consider going to see a film, what they think about the content of the trailer, and how good or bad they expect the movie to be. Thousands of people provide immediate feedback on movie trailers using the YouGov Direct platform.
This week, users were drawn in by a documentary about the life of actress Natalie Wood. She starred in movies including "West Side Story," "Gypsy," and "Splendor in the Grass," but much of the continuing cultural conversation about Wood has been about her mysterious death. She drowned under uncertain circumstances in 1981.
With "Natalie Wood: What Remains Behind," her daughter, Natasha Gregson Wagner, explores Wood's life as a mother and star.

Before seeing the trailer, 15 percent of YouGov Direct users said they were somewhat or very likely to see this documentary. After viewing the trailer, that number increased to 38 percent. That's a lift of 23 percentage points in intent, the highest lift this week.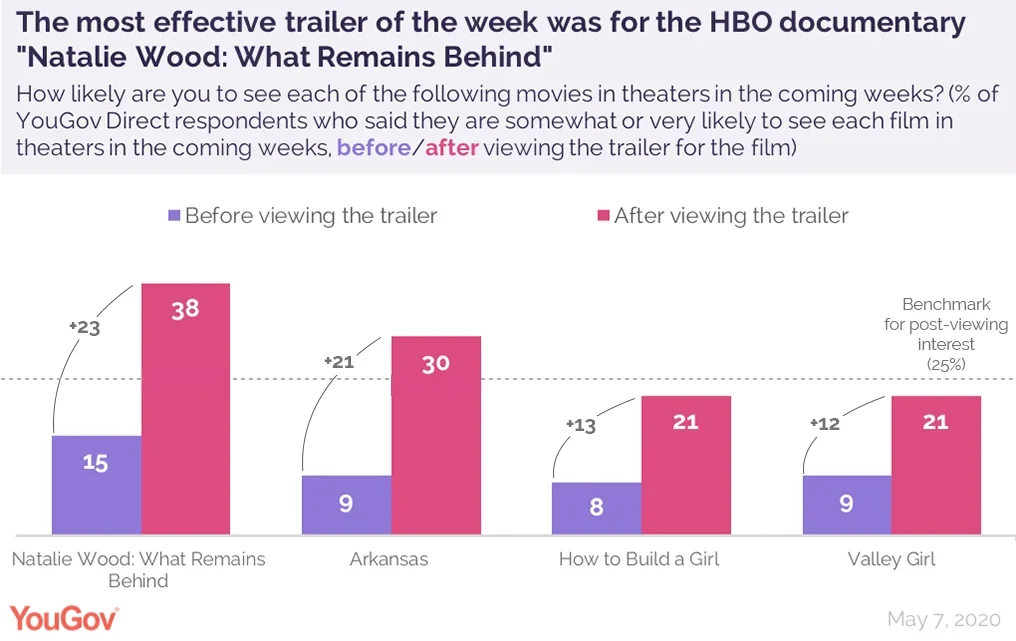 Among those respondents who like documentary films, 49 percent say they're somewhat or very likely to see this movie. Women (44%) are also more likely than men (33%) to say they're interested in this film about the star's life.
Another trailer that captivated viewers this week was the trailer for "Arkansas," a neo-noir thriller starring Liam Hemsworth and Vince Vaughn as two men involved in an interstate drug smuggling ring.
About one in 10 (9%) users said they were likely to see this film, prior to seeing the trailer. After seeing the action-packed trailer, 30 percent of users said they were likely to see it.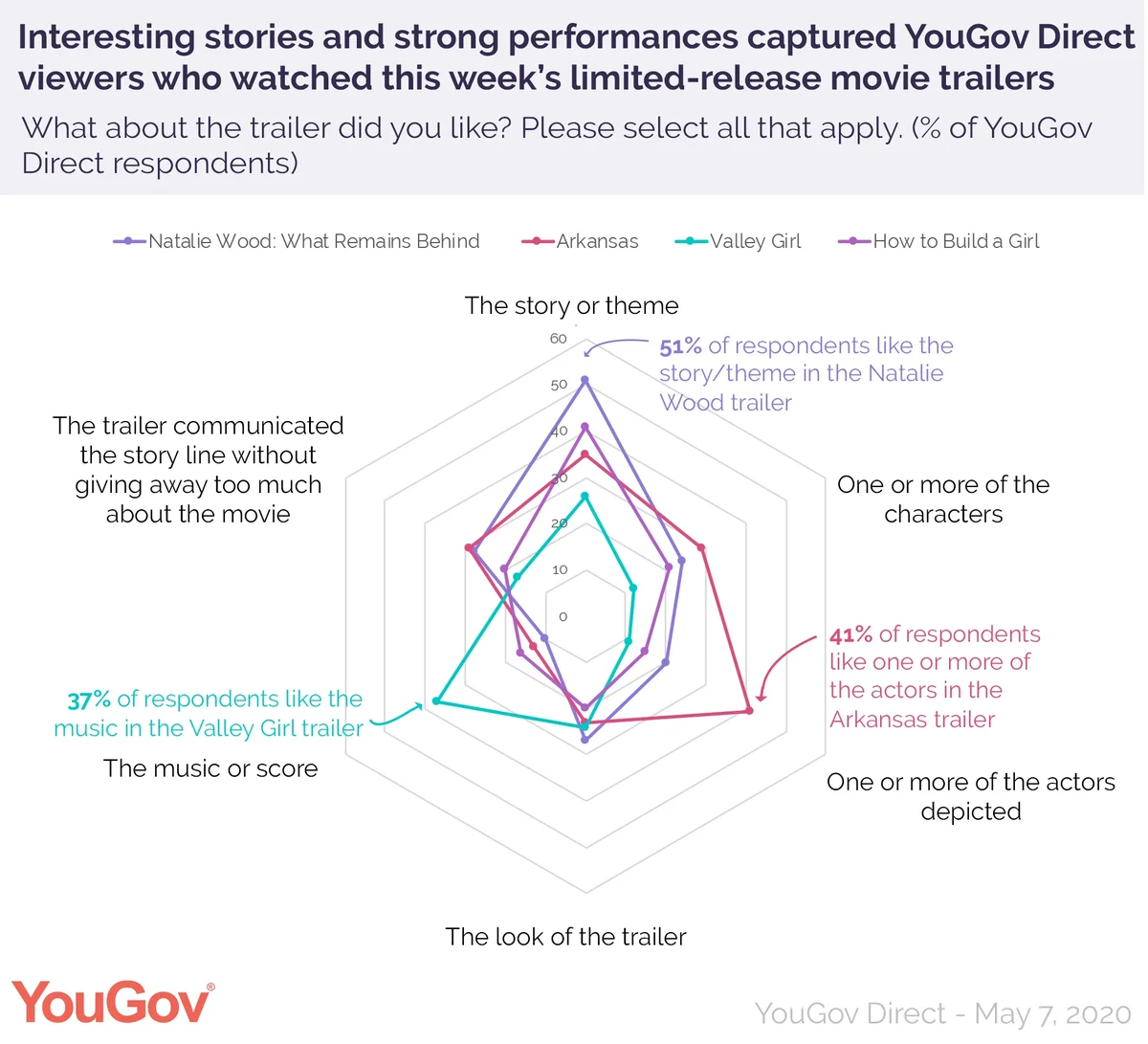 Among those who said they were likely to see Arkansas, 44 percent would rather wait to see it on the big screen, while 56 would want to watch it via streaming or video on demand.
Two other trailers of the week also saw modest lifts in viewing intention.
"Valley Girl," a remake of the 1983 film of the same name, looks to be a peppy romantic comedy about Randy and Julie, a couple from different sides of the tracks who fall in love.
The film features covers of popular '80s hits like "We Got the Beat" and "Girls Just Want to Have Fun." Respondents were especially charmed by the retro soundtrack: 37 percent say they like the music in this trailer.
Pre-trailer, 9 percent of YouGov Direct respondents said they were likely to watch. Post-trailer, more than twice as many (21%) said they were likely to see it.
Lastly, the trailer for "How to Build a Girl" also turned a few heads.
This coming-of-age comedy finds Beanie Feldstein (who viewers might recognize from "Booksmart" or "Lady Bird") playing Johanna, a socially awkward high school student who decides to reinvent herself as "Dolly Wilde," a hard-partying rock journalist.
Fewer than one in 10 (8%) of YouGov Direct users initially said they were likely to see this movie. After seeing the trailer, 21 percent did.
YouGov Direct also asks respondents to tell us how good or bad they think a movie will be, based on the trailer. This week, the trailer for "Natalie Wood: What Remains Behind" topped the list with a score of 3.8, slightly above the median score of 3.5 for all trailers tested to date.
Related:
Image: Getty
Methodology: Data is based on 4,000 interviews with YouGov Direct panelists, including a minimum of 400 responses for each movie trailer tested. Interviews are conducted through the YouGov Direct app.