Tired of watching movies at home? Amazon is hosting special screenings of their new 1950s sci-fi flick "The Vast of Night" at select drive-in theaters across the country on May 15 and 16. It's a neat way to catch up with the latest films while keeping a safe social distance.
Whether audiences are viewing from the back of their car or the comfort of home, many will still want to see a trailer before deciding on what to watch. Trailers can often help drum up audience interest for a movie, and "Vast of Night" appears to be among the films with an effective trailer.
Each week, YouGov Direct asks a group of its members to watch movie trailers. We then report on what they say. YouGov Direct's surveys investigate how effective movie trailers are in persuading people to consider seeing a film, what they think about the content of the trailer, and how good or bad they expect the movie to be. Thousands of people provide immediate feedback on movie trailers using the YouGov Direct platform.
YouGov Direct users were intrigued by "The Vast of Night" right from the start.
Pre-trailer, 28 percent said they were likely to see this alien abduction story. That's the highest pre-trailer figure this week. Post trailer, that number rose to 35 percent.
Users who identified as fans of science fiction films were especially excited. Of those sci-fi fans who watched the trailer, 47 percent said they were somewhat or very likely to see the thriller.
What did users enjoy about the trailer? Over a third of respondents (34%) said they liked the look of the "Twilight Zone" inspired clip. A further 39 percent said it was the suspenseful story or theme that stood out for them.
The other trailer turning heads this week was "Scoob!, a new take on the classic Hanna-Barbera characters. In "Scoob!" Scooby-Doo and the Mystery, Inc. team are back and facing their most challenging mystery ever: a plot to unleash the ghost dog Cerberus upon the world.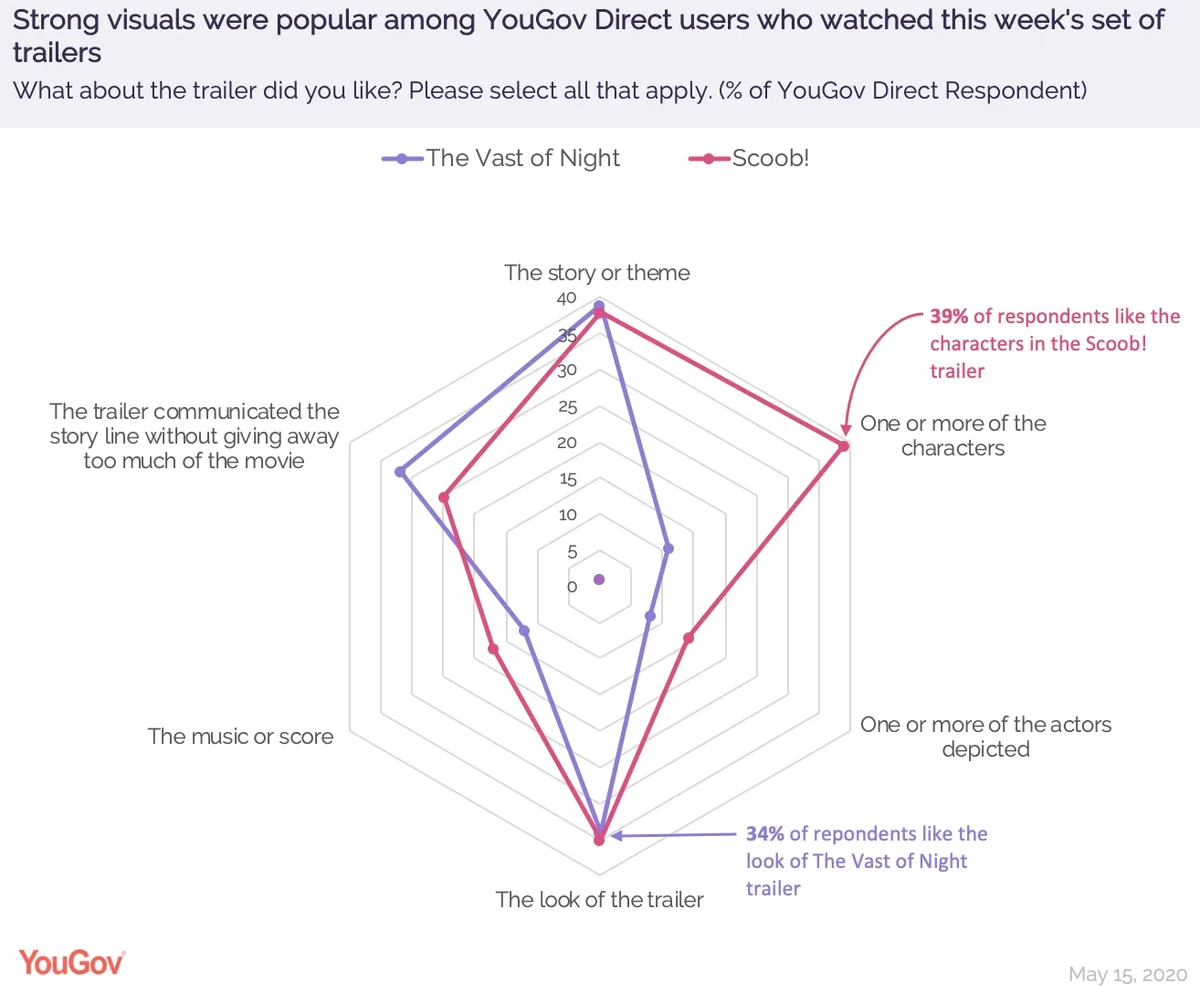 Before watching the trailer 13 percent of YouGov Direct users said they were somewhat or very likely to watch the new film. After viewing the trailer, that number increased to 34 percent. That's a lift of 21 percentage points in intent, the highest lift this week. The family friendly animation seemed especially appealing to female audiences: 43 percent of YouGov Direct users who participate in trailer questions and identify as female say that they are likely to see this film, compared with 28 percent of those who identify as male.
The beloved cartoon character turned 50 years old last year and YouGov Direct users - both men and women - may have been hungry for some childhood nostalgia. When asked what they liked best about the trailer, nearly two fifths (39%) of respondents said it was one or more of the characters.
"Scoob!" was initially scheduled for a wide release in US cinemas this May. By skipping the theatrical window Warner Bros. might be hoping to replicate the controversial success of "Trolls: World Tour," which last month fetched Universal more profit from VOD sales in three weeks than the original did in US theaters over five months.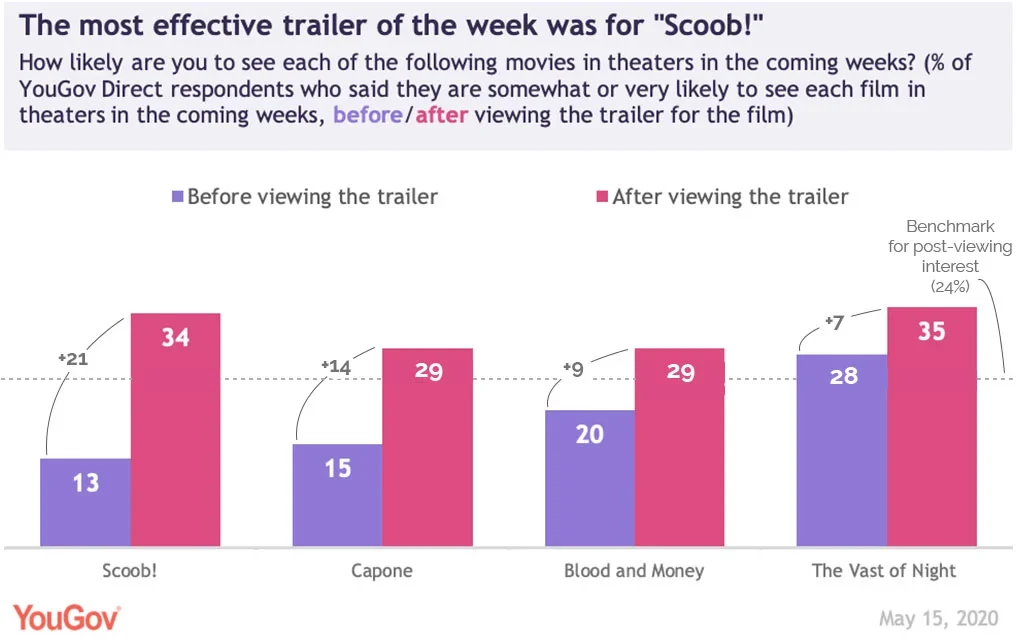 Rounding out this week is "Capone." The biographical drama tells the story of infamous mob boss Al Capone who, after 10 brutal years in prison, comes to be haunted by his violent past. This study of a gangster in terminal decline features a "mumbly method showboat" performance by Tom Hardy.
Prior to seeing the trailer, 15 percent of YouGov Direct respondents said they were likely to see this film. After viewing the clip on the YouGov Direct App, 29 percent said they were likely to see this gloomy, grandiose drama.
YouGov Direct asks respondents to tell us how good or bad they think a movie will be, based on the trailer. The highest rating this week went to indie crime thriller "Blood and Money", with a rating of 3.7. This is out of a possible 5.0 and compared to a median score of 3.5 for all trailers tested to date. "Capone" and "Scoob!" came in close second with 3.6.
Related:
Image: Getty
Methodology:
Data is based on 4,000 interviews, including a minimum of 400 responses for each movie trailer tested.