Summer blockbuster season may have started but for the first time ever movie lovers will have to watch the season's latest films from the comfort of a couch rather than a cineplex. But regardless of whether the film you are watching is on a big screen or a small one, many viewers will still want to see a trailer before making the difficult decision of what to watch.
Each week, YouGov Direct asks a group of its members to watch movie trailers. We then report on what they say. YouGov Direct's surveys investigate how effective movie trailers are in persuading people to consider seeing a film, what they think about the content of the trailer, and how good or bad they expect the movie to be. Thousands of people provide immediate feedback on movie trailers using the YouGov Direct platform.
The most effective trailer this week was undoubtedly "The Lovebirds," starring Issa Rae and Kumail Nanjiani. Madcap misadventure abounds in this Netflix comedy about a couple that find themsevles unintentionally embroiled in a bizarre murder mystery. As they get closer to clearing their names and solving the case, they need to figure out how they, and their relationship, can survive the night.
"The Lovebirds" was the most anticipated film this week amongst YouGov Direct users. Of those who took the survey 77 percent were already aware of the film and 32 percent of users said they were already likely to see the movie before watching the trailer. That number rose to 42 percent post trailer. The trailer was a particular hit with female audiences: 50 percent of YouGov Direct users who participate in trailer questions and identify as female said that they were likely to see this film, compared with 34 percent of those who identify as male.
This screwball comedy looks like it might be a bit of comfort in these challenging times. And it seems like Paramount Studios made a smart decision to skip the cinematic release and sell the film to Netflix instead. Of those users who said they were likely to see this rom com only 17 percent said they would rather wait to see it in cinemas. Over four-fifths of respondents (83%) said they would much prefer to watch this couple-on-the-run comedy via streaming or download services.
YouGov Direct also asks respondents to tell us how good or bad they think a movie will be, based on the trailer. Despite receiving the highest amount of audience interest both before and after viewing the trailer, "The Lovebirds" received a rating of 3.5, the lowest this week. This is out of a possible 5.0 and compared to a median score of 3.5 for all trailers tested to date.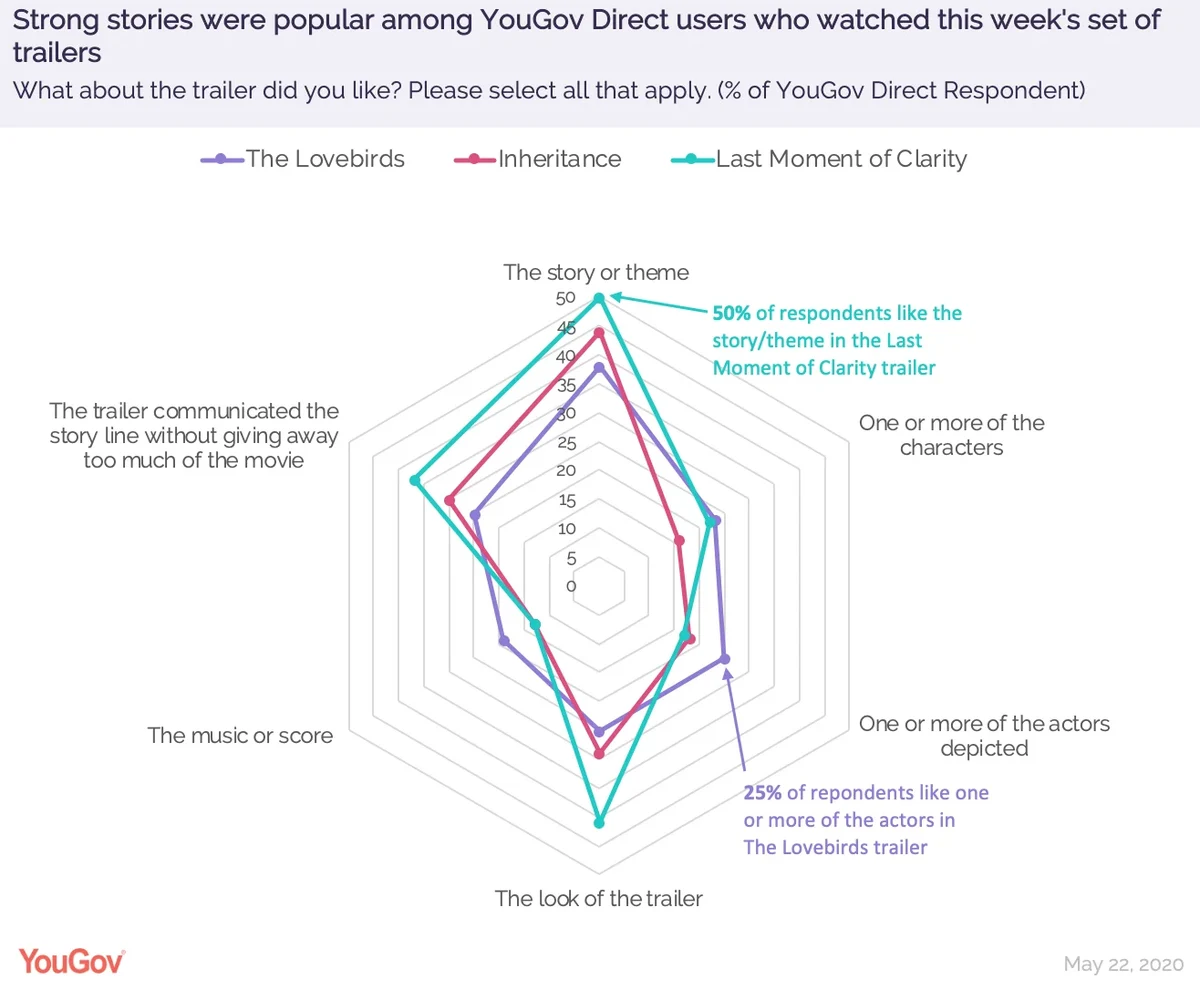 The highest rating this week (3.7) went to "Inheritance", a psychological thriller starring Simon Pegg and Lily Collins. This dark drama kicks off when the patriarch of a wealthy and powerful family suddenly passes away, leaving his wife and daughter with a shocking secret inheritance that threatens to unravel and destroy their lives.
Like "The Lovebirds", the trailer for "Inheritance" was well received by YouGov Direct users. Before seeing the trailer, 24 percent of users said they were somewhat or very likely to see this sins-of-the-father style thriller. After viewing the trailer, that number increased to 35 percent. That's a lift of 9 percentage points in intent. Thriller fans were especially excited for this film. Of those who watched the trailer 48 percent said they were somewhat or very likely to see it.
A lot of users - both thriller fans and not - liked that the trailer kept its cards close to its chest. When asked what they enjoyed most about the trailer, nearly a third of respondents (30%) said they liked that the trailer communicated the story line without giving too much away. Fortunately users won't have to wait long to unravel the movie's central mystery. They can watch the flick on any major online download service from today onwards.
But "Inheritance" wasn't the only drama to catch YouGov Direct users' attention. The trailer for "Last Moment of Clarity" also turned some heads this week. This twisty thriller follows a broken man still reeling from the murder of his fiancée three years ago. Until one day at a Parisian cinema he sees an actress who looks a lot like his dead love.
Prior to seeing the trailer, 27 percent of YouGov Direct respondents said they were likely to see this movie. But after viewing the trailer on the YouGov Direct App, 33 percent said they were now likely to see it.
What did viewers like about the trailer? Over two fifths (41%) of viewers said they enjoyed the somber look of this "Hitchcockian" style thriller. But it was the trailer's mystery and madness plotline that really made a mark. 50 percent of respondents said it was the suspenseful story or theme that stood out for them. In this opinion,
users are somewhat at odds with most movie reviewers. Writing for CBR.com, film critic
calls the film "a forgettable straight-to-video thriller".
Related:
Methodology: Data is based on 4,000 interviews, including a minimum of 400 responses for each movie trailer tested.
Image: Netflix