Three major streaming services will battle for your attention this weekend with new movie offerings. But it looks like the trailer for Netflix's new action film "The Old Guard" won this week's competition.
Each week, YouGov Direct asks a group of its members to watch movie trailers. We then report on what they say. YouGov Direct's surveys investigate how effective movie trailers are in persuading people to consider seeing a film, what they think about the content of the trailer, and how good or bad they expect the movie to be. Thousands of people provide immediate feedback on movie trailers using the YouGov Direct platform.
Learn more about YouGov Direct and find YouGov Direct on the App Store and on Google Play.
Adapted from Greg Rucka's graphic novel series, "The Old Guard" follows an immortal group of mercenaries fighting to keep their secret safe.
"The Old Guard" dominated this week's movie trailer survey. It was the most popular film with users both before and after viewing the trailer. Prior to seeing the trailer, 28 percent of YouGov Direct respondents said they were likely to see this action flick. But after viewing the trailer on the YouGov Direct App, 47 percent said they were now likely to see it. That's a lift of 19 percentage points in intent, the highest this week.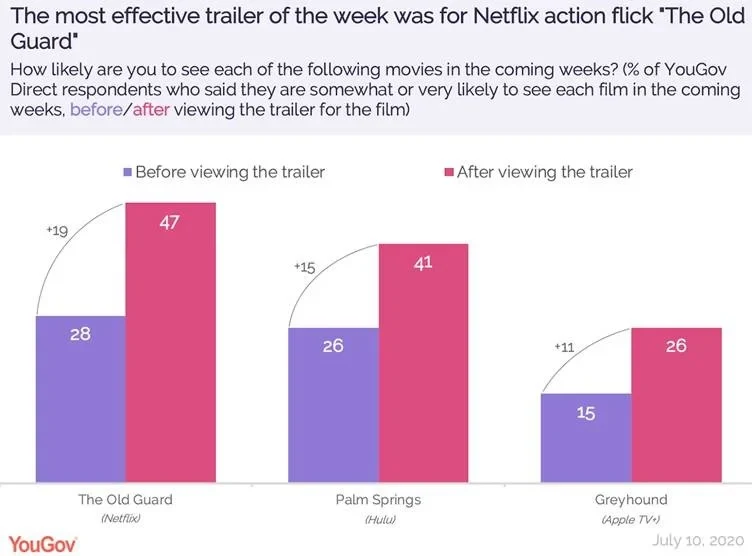 What made the trailer so popular? A number of users liked that the trailer kept its cards close to its chest. When asked to say what they enjoyed most about the trailer, a third of respondents (34%) said they liked that the trailer communicated the storyline without giving too much away. Most users, however, said that it was the movie's gritty superhero 'story or theme' that jumped out the most (40%).
The trailer for "The Old Guard" was also the most effective at persuading people to consider subscribing to its streaming service. Before watching the trailer, 35 percent of users said they were likely to subscribe to Netflix. After watching the trailer that number rose to 39%. That's a lift of 4% percentage points in intent to subscribe, and once again the highest lift of the week.
But "The Old Guard" wasn't the only film turning heads this week. Netflix rival Hulu also has a horse in the race with the time-loop rom-com "Palm Springs," which stars SNL alum Andy Samberg as a wedding guest who, along with a partner, is destined to relive the same day over and over again.
Hulu executives took a gamble with "Palm Spring," purchasing the film at the Sundance Film Festival for a record-breaking $22 million. Those executives may be in for some disappointment as the trailer for "Palm Springs" was not quite as effective as Netflix's "The Old Guard."
Before viewing, 26 percent of respondents said they were likely or somewhat likely to see this inventive comedy. After watching the trailer, that number increased to 41 percent. Comedy fans were especially excited about the Hulu film. Of those who watched the trailer and said they were fans of the comedy genre, 45 percent said they were somewhat or very likely to see it.
Users might have felt a sense of déjà vu after watching the trailer. But the "Groundhog Day" inspired comedy proved that this well-worn premise still has some mileage. Most users (43%) said that the thing they liked best about the trailer was it's time loop 'story or theme'. Many film critics are in agreement with YouGov direct users on this point. "You can see where the story is headed," writes Los Angeles Times film critic Justin Chang, "and you don't mind in the slightest."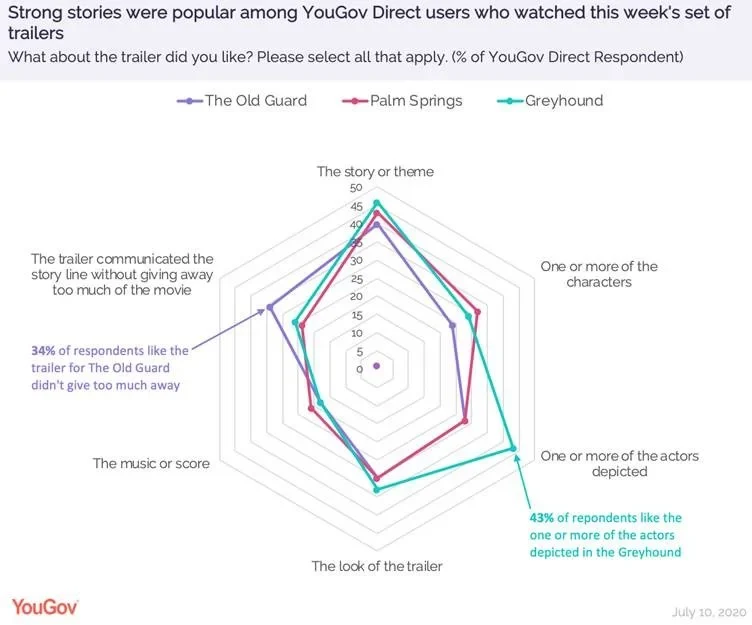 Rounding out this week is Apple TV+ WWII drama "Greyhound." The film tracks an inexperienced U.S. Navy captain as he leads an Allied convoy against a pack of Nazi U-boats.
YouGov Direct asks respondents to tell us how good or bad they think a movie will be, based on the trailer. When we showed YouGov Direct users the first trailer for "Greyhound" back in February, they awarded it a record score of 4.1. This is out of a possible 5.0 and compared to a median score of 3.5 for all trailers tested to date.
However, this Navy thriller, written by and starring Tom Hanks, was the least effective trailer of the week. Pre-trailer, 15 percent said they were likely to see this movie. Post trailer, that number rose to 26 percent. Likewise, the trailer had little effect on users' interest in subscribing to Apple's new streaming service. The lift between the post trailer and pre trailer intention to subscribe to Apple TV+ was 0%.
Methodology: Data is based on 4,000 interviews, including a minimum of 400 responses for each movie trailer tested. Surveys were conducted online on July 9, 2020.
Related:
Image: Getty